Dave Kerzner's project "In Continuum" releases a new lyric video for the song "Crash Landing" featuring special guest guitarist Steve Hackett with both Kerzner and Jon Davison of Yes on vocals. Fellow Sound of Contact band mate Matt Dorsey joins on bass with Marco Minnemann is on drums. You can see the video here:
"This song sets up the story of our sci-fi concept album called 'Acceleration Theory'" says Kerzner "it explains how one of the main characters AlienA, played by vocalist Leticia Wolf, goes to Earth to try to help us but ends up captured in some kind of Area 51 type place until she escapes and meets Kai, played by vocalist Gabriel Agudo."
When asked about Steve Hackett's participation as guest guitarist Kerzner added "Steve and I really enjoy working together and we've done it quite a bit over the past 5 years or so. This time we're doing something more upbeat and trying out new things. I've always been a huge fan of his work with Genesis and his solo albums. He's incredibly active and prolific. We're all so honored and thrilled to have him as a special guest on our album!"
The "Crash Landing" lyric video was created by Ewa Karolina Lewowska who did the main visuals and editing. Lyric effects by Christian Rios with additional visuals edited by Christine Leakey. The song also features Fernando Perdomo and Randy McStine on guitars and guitar effects.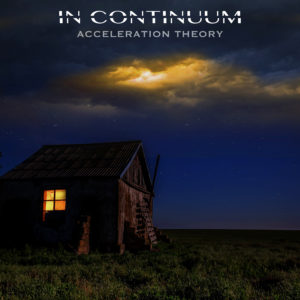 'Acceleration Theory' will be available world-wide on CD and digital download mid-November, 2018 and can be pre-ordered on CD directly from http://sonicelements.bandcamp.com/merch