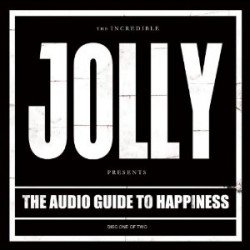 Jolly – The Audio Guide to Happiness Parts 1 and 2
This is a new feature section called "In Case You Missed It" where we will post reviews or articles about bands and albums you might not have heard of.  In the first installment we will focus on the New York based band Jolly.
Jolly are one of a few new up and coming Prog bands. They are signed to Inside Out records, home to bands like Transatlantic, Riverside, Sound of Contact, Neal Morse  and many more well-known Prog acts from the last 20 years.  I first heard Jolly when they opened for Flying Colors at their NY show in 2012.  Not knowing any of their material I was impressed but let me be truthful, I was there to see Flying Colors and unfortunately did not revisit the band until much later.
In 2011 the band released the album: The Audio Guide to Happiness Part 1.  This was followed by Part 2 which came out in March of 2013.  Together these albums make up what is a massive display of musicianship, songwriting, and diverse styles ranging from bossa-nova ballads to death metal. All of which is brilliantly wrapped up by four "Guidance" sections (1-4) which are meant to guide the listener thru this aural experience with the intention of leaving the listener "happy" (maybe even "Jolly").
Part 1 starts off with the heavy rocker: "Ends Where it Starts".  It is a typical rock song that is certainly not a sign of what's ahead, but a solid place to start.  From then on we have a keyboard driven arena rocker "Joy", followed by the old-timey piano beginning of "Pretty Darlin'."  Next comes the highlight of disc 1: "The Pattern", which is as much Muse as it is Dream Theater influenced.  The intricate time play with the ending riff is challenging indeed.  By this point in the album you don't know what to make of this band.  What are they?  The best part is this is just the "Guidance 1" section.   
Oddly enough, there actually are not any other typical heavy rockers on disc 1.  "Guidance 2" is a bit more mellow featuring the standout track "Where Everything's Perfect", where the band channels their inner Faith No More.  The video for this song is worth checking out as well.    Jolly has a great sense of humor with their videos which is another reason to expect big things from this band.
Part 2 is where the band really flexes their muscles.  Kicking off with the interlude "Guidance 3" you then get your mind blown away by Firewell, which in my opinion is the band's best track and easily one of the best songs of 2013.  It packs a punch even Pantera would be impressed with.  The heavy bass sound is front and center with the bass drum perfectly loud enough where you hear but it doesn't blow your speakers.  The song weaves thru a heavy verse/chorus structure followed by soft Queen-like harmonies and then shifts into death metal mode while still maintaining its melodic elements.  Much like disc 1, the next track features more of the Jolly's melodic side with "You Against the World", an acoustic guitar based track that could easily be a radio single.  Another impressive track is the overpowering "Dust Nation Bleak" which I like even for the interesting title.  The shotgun double bass lies under a deceptively catchy chorus and makes this a song that gets stuck in your head for days.  Think of A Perfect Circle but heavier.  It's the type of simple metal song that bands just don't make anymore. 
The "Guidance 4" section is perhaps the most diverse, kicking off with the synth based "Lucky" which clocks in at two and half minutes. "Despite the Shell" is a song you might hear Porcupine Tree do in their Fear of a Blank Planet era and is probably the bands most official Prog rock track.  Unlike most bands would do, they follow this song with a non-traditional ballad "As Heard On Tape" where the band is able to incorporate the bagpipe so effortlessly, it's as if the song would not have worked without it.  The album closes perfectly with "Grand Utopia" starting off with musical-box piano melody and sounding like the theme to an insane circus. 
Once done with both discs, it is so hard to grasp all of what you heard, which songs were the heavy ones, which one had that part I liked, that you immediately have to go back and listen again.  It makes for an interesting and challenging ride, reminiscent of older Queen cds like Sheer Heart Attack in its diversity.  In many cases with albums done as part 1 and 2, you usually find only one disc's worth of music.  There are a couple of tracks that might have been easily left off, but overwhelmingly these are 2 albums worth having on their own, and definitely in tandem. 
Jolly are not a Prog band in the traditional sense, falling closer to bands like Porcupine Tree and A Perfect Circle.  But fans of heavier Prog acts like Dream Theater will definitely appreciate this band and they might be heavy enough to draw fans of more mainstream acts over to check out some more Prog bands as well. 
http://www.jollyband.com/NewWebsite/index.html