With the release of their highly anticipated new and seventh album Through Shaded Woods, only days away Lunatic Soul have released a new track and video, for "The Fountain".
"The Fountain" is the final track of "Through Shaded Woods" and it's the last music phrase, played on the piano, repeating the sounds which you hear in the opening track, "Navvie", which creates an interesting framing device. Lyrically this song talks about breaking free from darkness and going through to the bright side, I really feel it's definitely a strong point in the new "Through Shaded Woods". Mariusz Duda.
Watch the video here:
On album number seven Mariusz Duda, the multi-instrumentalist, vocalist, and mastermind behind Lunatic Soul is extending his musical explorations to include dark Scandinavian and Slavic folk referencing bands like Heilung or Wardruna. Following the heavily electronic sound of previous albums Fractured and Under the Fragmented Sky, Through Shaded Woods is completely devoid of electronics and is the first album in Duda's discography, on which he plays all instruments.
Mariusz found his inspiration for the album from his childhood home, an area of Poland known for its forests and lakes, " I think I have always wanted to create an album steeped in nature and woodlands. These bring to my mind freedom, breathing and a dance ritual of coming back to nature, so I wanted the album to include such ritualistic primal dances, shamanic, Slavic and Viking moods. I wanted to mix it all up and put it all together, making "Through Shaded Woods" the most intense, dynamic and the most danceable album in my career."
Mariusz Duda appears to have put the personal darkness that inspired his previous albums behind him, as more optimistic elements shine through in his new music. The album becoming musically "brighter" as it progresses – from the atmospheric introduction of "Navvie" through to the title track, which leads the listener to a melodious, trance like "Oblivion", echoing the style of Dead Can Dance.
Through Shaded Woods will be released on CD; 2 CD featuring a bonus disc of 3 additional tracks including a 26-minute suite called "Transition 2; black vinyl LP in gatefold sleeve and digitally and is available to pre-order HERE (https://lunaticsoul.lnk.to/ThroughShadedWoods)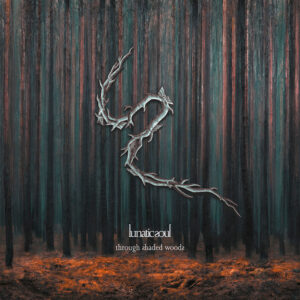 Tracklisting:
Navvie [04:03]
The Passage [08:57]
Through Shaded Woods [05:51]
Oblivion [05:03]
Summoning Dance[09:52]
The Fountain [06:04]
Additional bonus tracks contained on disc 2 of the Ltd Ed CD format:
Vyraj [05:32]
Hylophobia [03:20]
Transition II [27:45]