Haken have announced the release of an EP titled "Restoration" due out on Nov 11th, 2014 in the US.  The release is digital only and is the follow up to the the critically acclaimed "The Mountain."
Restoration' is comprised of three reworked and updated songs which originally appeared on their 2007/08 self-produced demo, and the release has been mixed & mastered by Jens Bogren at Fascination Street Studios.
Vocalist Ross Jennings explains: 'Redoing a few of our favourite tracks from the demo is something we've talked about doing for ages and the fans have been asking for it constantly. We were also excited about working creatively with our new bassist Conner Green, so this seemed like the perfect way to welcome him aboard.'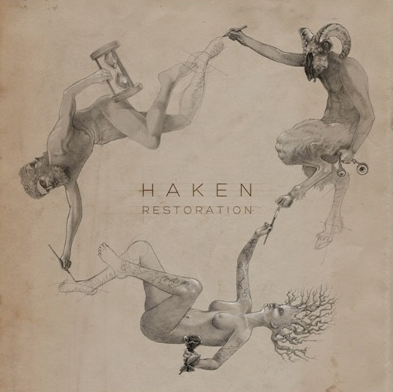 The track list and playing times are as follows:
1. Darkest Light (6:44)
2. Earthlings (7:52)
3. Crystallised (19:23)
The final track is a no holds barred epic including guest 'cameo' appearances by Pete Rinaldi (Headspace) and Mike Portnoy (Transatlantic / Flying Colors).
The band is touring with label-mates Leprous & Maschine later this year.
Haken, Leprous & Maschine:
Presented by Prog Magazine
23rd October, 2014 – London, The Garage
24th October, 2014 – Leamington Spa, Assembly
26th October, 2014 – Bristol, The Fleece
27th October, 2014 – Wolverhampton, Robin 2
29th October, 2014 – Dublin, The Village
30th October, 2014 – Liverpool, O2 Academy 2
31st October, 2014 – Manchester, Club Academy
1st November, 2014 – Edinburgh, The Liquid Room
2nd November, 2014 – York, The Duchess
HAKEN online:
www.hakenmusic.com
www.twitter.com/Haken_Official
http://www.facebook.com/HakenOfficial