In a statement on Facebook on Monday, Nov 22nd, Haken and keyboardist Diego Tejeida have parted ways.
The band said: "Dear all, we unfortunately have to announce that Diego is leaving us for pastures new. We'd like to thank him for sharing the journey with us so far and we couldn't be more proud of the music we've created over the years. We are so grateful for all of the accomplishments, adventures and good times we've shared together. But never fear! Haken will continue with its mission to bring you the music we are passionate about (and we'll have news on that soon), but in the meantime, join us in wishing Diego all the best in his future musical adventures."
Tejeida added: "I am very proud of what Charlie, Conner, Ray, Richard, Ross, and I have accomplished together. Looking back from the point where the band is now, it's crazy to think that almost 13 years ago, we were a local London band with big dreams, playing to small crowds. With every album and every show, we grew immensely as both musicians and individuals. However, as in every human relationship, sometimes people grow apart.
You can see the full statement here: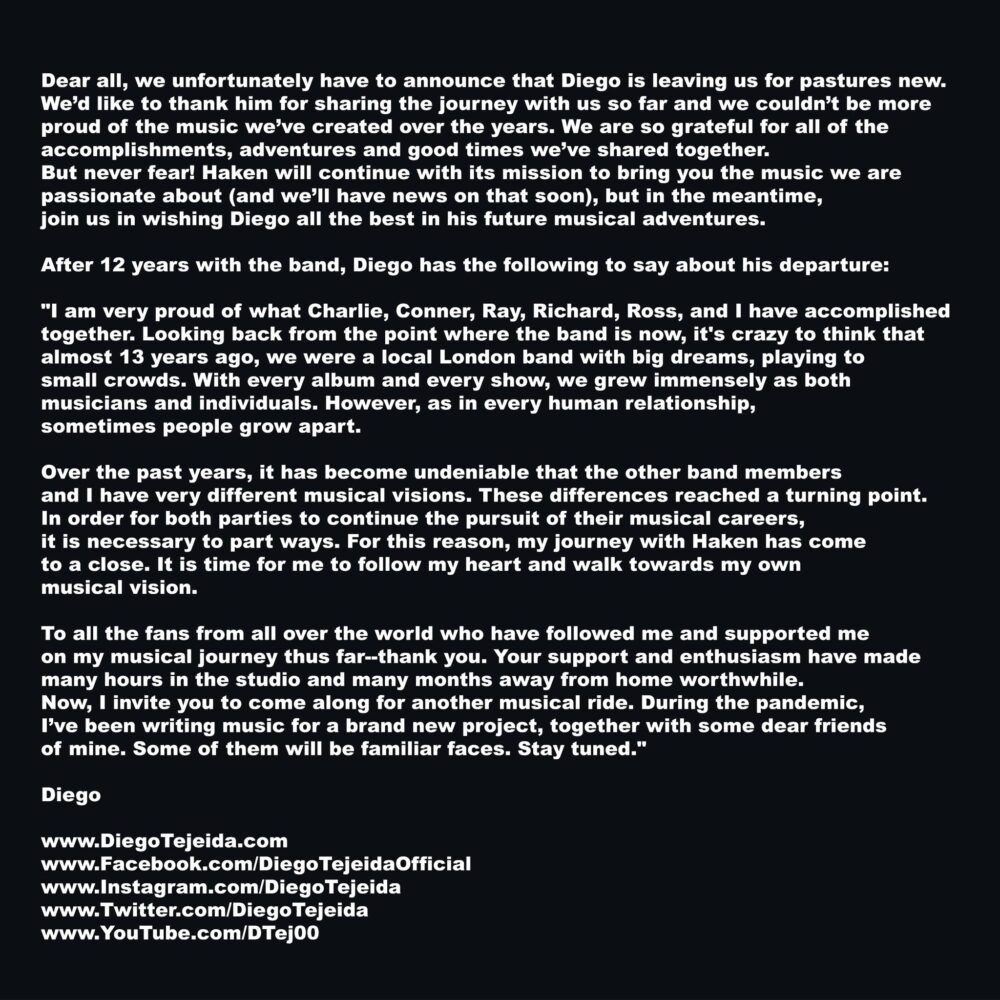 HAKEN is making its much anticipated return to North America, joining prog metal legends Symphony X on a co-headlining tour in 2022. Symphony X are celebrating their 25th anniversary! Trope will also be on the tour as opening act.
The full list of dates can be found below:
https://bnds.us/skoeej
10th May – New York, NY – Irving Plaza
11th May – Glenside, PA – Keswick Theatre
12th May – Worcester, MA – The Palladium
13th May – Quebec City, QC – Imperial Bell
14th May – Montreal, QC – Corona Theatre
15th May – Toronto, ON – The Danforth Music Hall
17th May – Cleveland, OH – Agora Theatre
18th May – Detroit, MI – Majestic Theatre
19th May – Chicago, IL – Park West
20th May – St Louis, MO – Red Flag
21st May – Minneapolis, MN – Varsity Theater
23rd May – Denver, CO – The Oriental Theater
24th May – Salt Lake City, UT – The Complex
26th May – Seattle, WA – The Showbox
27th May – Vancouver, BC – The Rickshaw Theatre
28th May – Portland, OR – Hawthorne Theatre
29th May – San Francisco, CA – The Regency Ballroom
31st May – Santa Ana, CA – The Observatory
1st June – Los Angeles, CA – The Belasco Theater
2nd June – Mesa, AZ – Nile Theater
4th June – Austin, TX – Empire Garage
5th June – Dallas, TX – Amplified Live
7th June – Atlanta, GA – Heaven at the Masquerade
8th June – Orlando, FL – The Plaza Live
10th June – Carrboro, NC – Cat's Cradle
11th June – Baltimore, MD – Baltimore Soundstage
12th June – Montclair, NJ – The Wellmont Theater