Third Degree, the new album from Flying Colors – guitarist Steve Morse (Deep Purple, Dixie Dregs, ex-Kansas), drummer Mike Portnoy (Winery Dogs, ex-Dream Theater, Transatlantic), keyboardist/vocalist Neal Morse (Transatlantic, ex-Spock's Beard, and a prolific solo artist in his own right), bassist Dave LaRue (Dixie Dregs, ex-Joe Satriani), and powerhouse vocalist and songwriter Casey McPherson (Alpha Rev, The Sea Within) is out in just a few weeks, October 4th on Music Theories Recordings / Mascot Label Group. The band have already released two spectacular singles, the aggressive "More" and the soaring ballad "You Are Not Alone".
Today, The Prog Report is pleased to premiere the third single, "Love Letter", showcasing the poppier, '60s influenced side of the group, along with a brilliantly colorful lyric video by Christian Rios, who has worked with the Neal Morse Band as well.
"Love Letter was definitely a labor of love by all of us. I love the shared lead and background vocals and Steve's guitar solo is great of course. It's a really nice lighter side of the band especially when compared to some of the heavier things that are on the Third degree record. Very happy with this one! Kudos to Christian Rios for a great psychedelic lyric video!" – Neal Morse
"Love Letter shows the pop side of Flying Colors that we always try to incorporate. I love that all 3 of us share the lead vocals on this one: Casey on verse 1, Neal on verse 2, myself on the bridge and all three of us on the Choruses…
The animated video really captures the old psychedelic technicolor pop 60's & 70's vibe of the song and is absolutely one my favorite videos I've ever been a part of!" – Mike Portnoy
Third Degree will be released on these formats here:
Limited edition Deluxe 2CD Box Set with 40-page photobook, 2 coasters and a 6-track bonus CD
Digipack CD
Limited Blue Marble 2LP (500 copies worldwide – Exclusive to the MLG store)
Limited Blue 2LP
Black 2LP
Digital (all download and streaming platforms, including Bandcamp)
Limited edition Third Degree T-Shirt bundles (Exclusive to the MLG store)
As usual, a free poster with all MLG store pre-orders!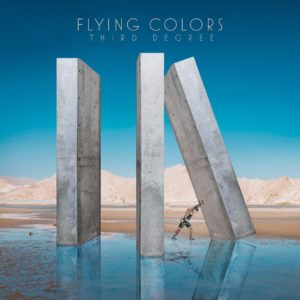 Tracklisting:
1. The Loss Inside
2. More
3. Cadence
4. Guardian
5. Last Train Home
6. Geronimo
7. You Are Not Alone
8. Love Letter
9. Crawl
Third Degree continues to build upon the deep-rooted musical connection the members of Flying Colors established on their first two boundary-stretching albums. "There's a real special chemistry between the five of us," Portnoy confirms. "We keep getting better and better as we get more comfortable and more familiar with each other, and the music itself keeps getting more and more mature." Adds Steve Morse, "This one, dare I say it, explores new ground for the band. One of my favorites, 'Geronimo,' has an upbeat, jazzy, heavy, melodic feel all at once. We just do what makes us smile and sounds good, instead of wondering how critics or program directors will like it. It makes for the best music!"
Flying Colors have a few live dates on their calendar, mostly split evenly between the U.S. and Europe — in essence, to perform as many shows for their fans as they can possibly fit in between their many other band and touring commitments. "There's an evolution happening within our sound on this record, and I'm excited to explore that onstage," McPherson notes. "We've seen that evolution start with this record, and we're going to see it happen even more so on the fourth record, in terms of capturing all our beautiful differences."
Flying Colors will make the following appearances in 2019:
10/07 New York, NY Sony Hall
10/11 Glenside, PA Keswick Theater
10/17 St. Charles, IL Arcada Theater
12/11 Pratteln, Switzerland Z7
12/12 Cologne, Germany Essigfabrik
12/13 Tilburg, Netherlands 013
12/14 London, England Shepherd's Bush Empire