Concert review: Queensrÿche with Fates Warning,
Venue: Culture Room, Ft. Lauderdale, FL 3-3-19
Pics: Victor J. Giol
Queensrÿche recently released their 3rd studio album with new singer Todd La Torre on March 1st entitled 'The Verdict'.  To celebrate that release, the band have hit the road for a lengthy tour and brought along fellow progressive metal pioneers Fates Warning.  The tour hit Ft.Lauderdale for the second night of the tour.  Fates Warning opened the show and set the night in stellar fashion.  Playing a mix of old and new, the loyal fans in attendance sang every word and celebrated the return of the band who had not been in South Florida for 9 years.  They finished their 40 minute set with 2 songs from 'Parallels', "The Eleventh Hour" and "Point of View".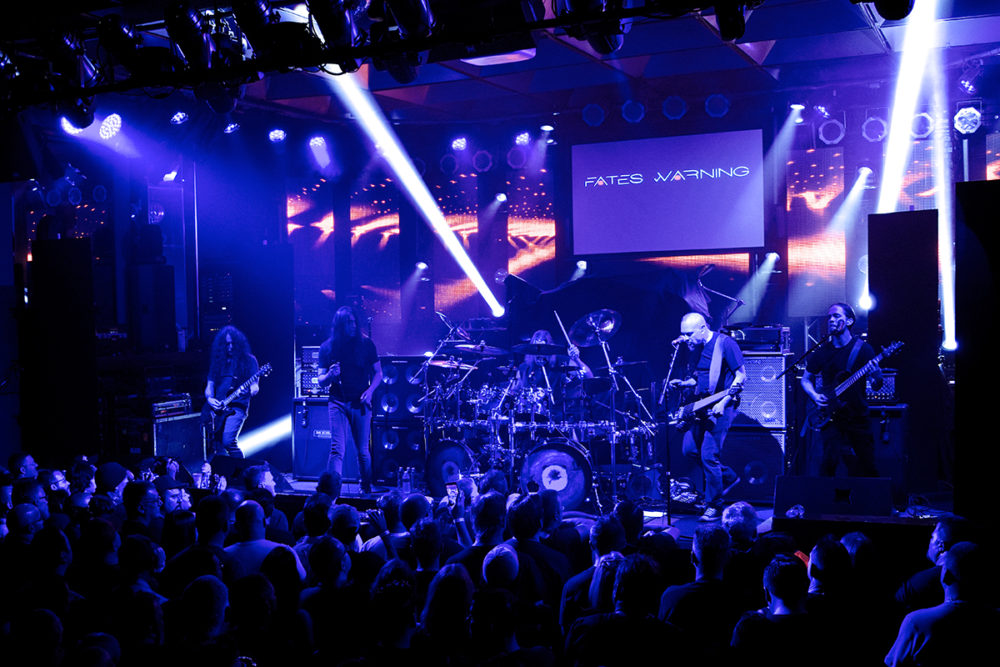 Queensrÿche hit the stage shortly after and kicked off with the opening track from 'The Verdict', "Blood of the Levant," a fiery, heavy track that demands attention.  The stage was noticeably elaborate for a club show with multiple screens displaying a wide array of intricate visuals accompanying each song.  Even the bass drum heads were equipped with video screens.  They followed the opening song with "I Am I" from 'Promised Land', and the classic "NM156" from 'The Warning' before playing another new track "Man the Machine."   The band sounded in fine form, particularly Todd La Torre, who again showed why he is the right man to take the mantel of lead singer for this group.  He hits every insane note with precision and power and seemingly with ease.  This was no more evident than on "Queen of the Reich", where he was just perfect.  The group then followed with the massive hit "Silent Lucidity" which had everyone singing along and reminding just what a spectacular song it truly is.
The band than opted to play 3 songs in a row from the previous albums with La Torre.  Perhaps this was a decision towards proving this is a band that indeed intends to move forward as a unit and not solely rely on past glories.  They closed the set with the always epic "Eyes of a Stranger", the only track from Operation:Mindcrime to be played that night.  The encore included "Jet City Woman" and "Empire" to no one's surprise.
It was a great night with 2 bands that never disappoint.  Progressive metal is alive and well as the capacity audience showed.  This bill could easily have played a bigger venue and hopefully next time they will.  Queensrÿche and Fates Warning are still as good as ever.
https://www.setlist.fm/setlist/queensryche/2019/culture-room-fort-lauderdale-fl-5392f321.html
https://www.setlist.fm/setlist/fates-warning/2019/culture-room-fort-lauderdale-fl-5b92f320.html