Queen + Adam Lambert – The Rhapsody Tour
SSE Arena, Belfast, N Ireland – May 28th 2022
by Geoff Bailie
Queen and Adam Lambert's Rhapsody tour kicked off in 2019 but… well, we all know what happened. So it's amazing that almost 3 years later it began again in my hometown of Belfast and I got to use the tickets I bought several years ago.
The "Should they or shouldn't they" discussion doesn't need to be hard – quite simply this is Brian May and Roger Taylor, with the best possible/available front man, and a cracking band playing a multitude of songs from the Queen catalogue, with all of the lighting, staging, and drama we expect from Queen. If that's not for you, or you'd prefer to see someone else singing, then so be it. However for me, and around 5000 people in the SSE Arena, last night this was the perfect show.
I've often read people saying – aah but they just play the hits – but why wouldn't they? Queen as a band have a catalogue that is absolutely iconic and for the 150 minutes that they were on stage last night, they played songs from virtually every album from throughout their career. Of course all the hits will be there – these are songs that we're only going to be able to go out and see Brian and Roger play for relatively limited time, I assume. So I'm totally fine that the show is a celebration of this music, done in a very genuine, and very live way. Queen make it clear that they don't use click tracks or backing tracks and this is very apparent in the show – seeing musicians interact in the moment brings an electricity to the live show that something perfectly choreographed and coordinated lacks.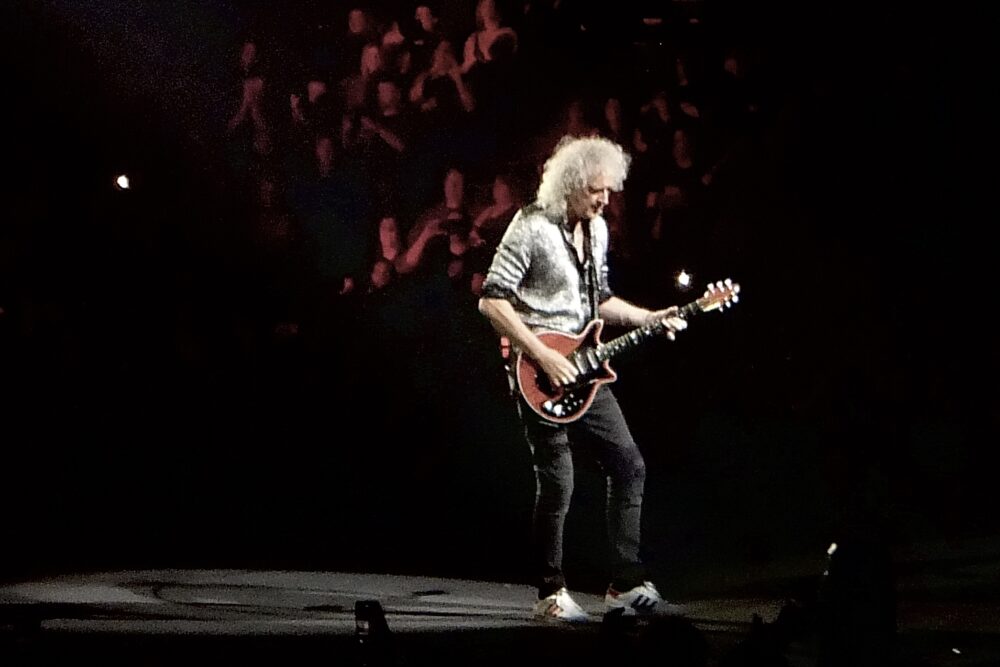 Amongst many things that stood out to me was how strong this lineup is vocally. With Tyler Warren, Neil Fairclough and Spike Edney filling out with percussion, bass and keys, and also singing, it means the band on stage can produce six person harmonies. As a result, things that even the original band shied away from on stage, can be tackled – for example the vocal intros to "Bicycle Race" and "Somebody to Love" are performed as per the recordings, and sounded amazing. The Bohemian Rhapsody movie had scenes where the band members were poking fun at Roger Taylor's "I'm In Love With My Car" – but seeing the 72-year-old drummer singing and playing this simultaneously on stage was a real highlight for me. Taylor has still got an incredibly powerful voice, and commands his drum kit – as my first exposure to Queen on record was Live Killers, which features this song, it definitely deserves its place in the set (and it wasn't a hit single!). Later in the show when the band appeared at the end of the catwalk, Taylor and Adam Lambert performed an outstanding version of Under Pressure where once again Roger showed that he's not sitting waiting around for retirement.
Brian May had many spotlight moments, being more mobile than a drummer can be he made fully use of the catwalk. An acoustic set featuring "Love of my Life", helped by the crowd, and, on video, by Freddie himself was a heartfelt moment. That was followed by a massive singalong version of '"39″. He also had his electric guitar solo spot where the screens, platforms, and technology had him playing Dvorak's New World Symphony on top of an asteroid in space – well the one thing you can say about Queen is that no challenge is too big! As a fan of the whole catalogue, it was really great to hear songs like "Keep Yourself Alive", "Now I'm Here", "Killer Queen", "Seven Seas of Rhye" and "In The Lap of the Gods" from those early albums – possibly less familiar to many in the crowd, but rewarding deep cuts (okay maybe not but lesser known hits at the very least) for long-term fans.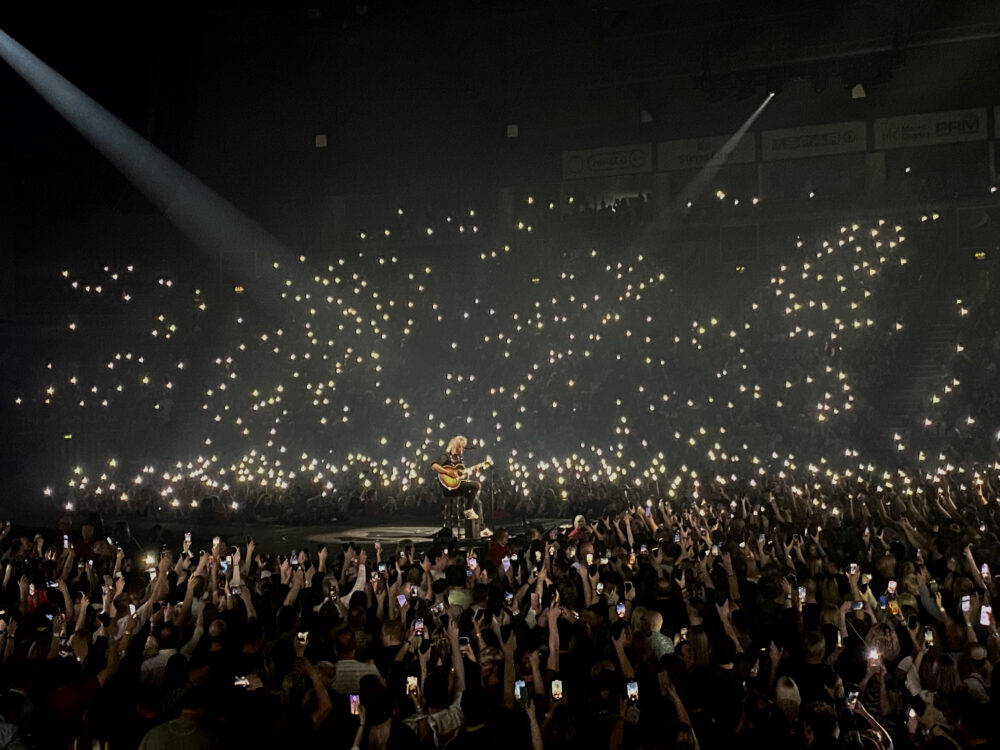 The show closed exactly as you might expect it – "Bohemian Rhapsody" followed by "We Will Rock You" followed by "We Are The Champions". It's hard to think of three more iconic songs and, of course, by this point the whole arena was on their feet singing every word, clapping and fully taking part in the performance. Even though you know it's coming, Bohemian Rhapsody still impacts massively in the live context – previous tours have used elements of Freddie video footage or audio, but this time Adam took the whole thing on himself and it was  just perfect. The two "We" anthems finished the night in celebratory mode… celebrating rock, the joy of music and of survival – recognizing that, in the same way that Freddie's music survived his passing, no doubt it will continue to be played and sung for many years to come.
It was a Queen album around 1980 which set me off on the track of my love of music (and of the guitar). 42 years on, it was an amazing evening celebrating this incredible band.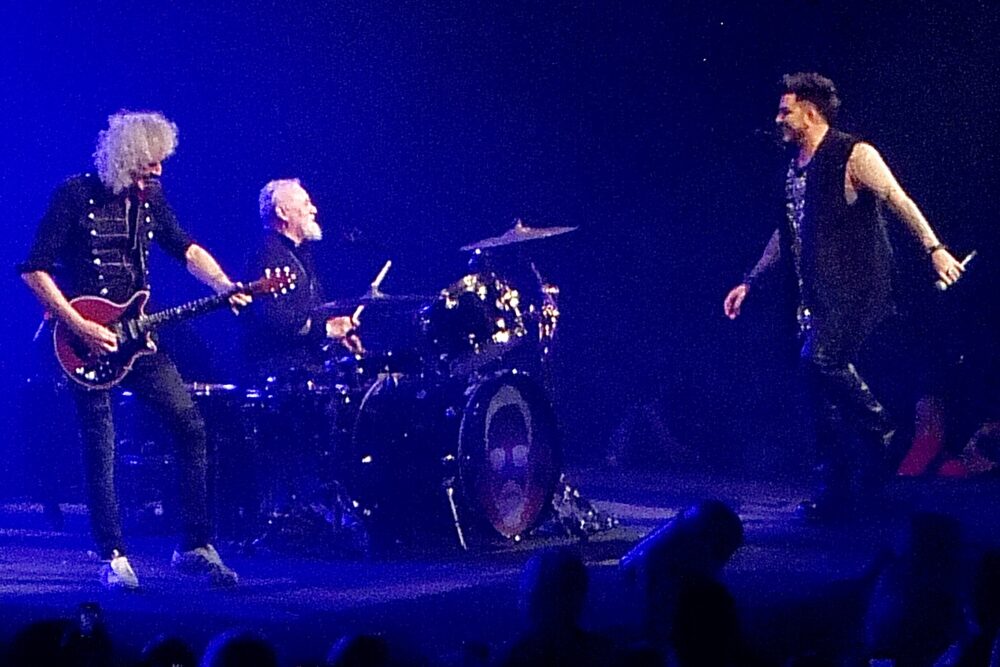 Setlist
Now I'm Here
Tear It Up
Seven Seas of Rhye
Keep Yourself Alive
Hammer to Fall
Somebody to Love
Killer Queen
Don't Stop Me Now
In the Lap of the Gods… Revisited
I'm in Love With My Car
Bicycle Race
Fat Bottomed Girls
Another One Bites the Dust
I Want It All
Love of My Life
'39
These Are the Days of Our Lives
Crazy Little Thing Called Love
Under Pressure
A Kind of Magic
I Want to Break Free
Who Wants to Live Forever
Tie Your Mother Down
The Show Must Go On
Radio Ga Ga
Bohemian Rhapsody
We Will Rock You
We Are the Champions