Images and Words: Geoff Bailie
When "heritage acts" (for example, a 73-year-old former prog rock band frontman) tour these days, the recipe is fairly standard: plenty of "old", even if the vocal cords can't quite reach the heights of youth; a few deep cuts to mix it up and reward the faithful and; maybe even a few new songs, to show modern relevance and provide the aging audience with a comfort break slot.
However, that's not a formula that interests Peter Gabriel. In the 22-track setlist tonight, there's no Genesis (no surprise there!), one song from the 1970s, six from the 1980s, two from the 1990s, two from his last studio album in 2002, and … wait for it… 11 songs from his yet to be released new album – i / o. Of those 11, six have been shared with the public at the time of the show, with the Full Moon releases expected to let us glimpse the rest. It's unconventional, but let's face it, Gabriel has been walking "right out of the machinery" for most of his career!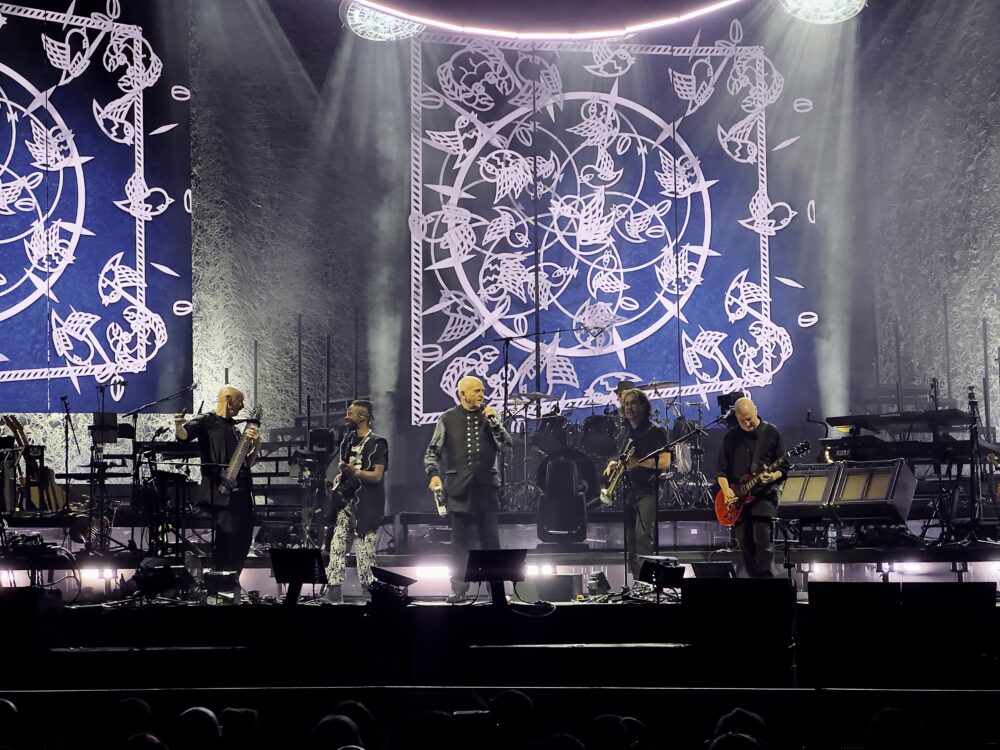 While the arena and stage area were packed with technology and equipment, the show began very simply with a stripped-back version of "Washing Of The Water," with Gabriel on piano and solo-career-long bassist Tony Levin. The focus was set right where it should be – on the music. Band members joined then around a "virtual" campfire for "Growing Up" – not exactly fireside singalong material, but a cool reinvention and, perhaps, a statement of intent that this wasn't going to be a hit-packed romp through the back catalog. Peter spent time between most of the songs explaining their significance and in the case of the new songs, the origin of the accompanying artwork, which formed the basis of the stage presentations of those tracks.
Let's address the issue of new material head-on. Instead of putting out a new album in the traditional way, Gabriel has released songs one by one at each full moon. Despite not having put out a new album of original material since 2002, Peter Gabriel has drip-fed various tracks over those years via soundtracks and one-off singles (so if you've missed "Courage," "I'm Amazing," "The Veil" and "This is Partyman," nevermind the Rated PG album, you really should seek them out). So in a sense, the drip feed just got a bit faster! Personally I'm enjoying getting the tracks in this way, and each one is released in 3 variations, or 4 if you count surround mixes.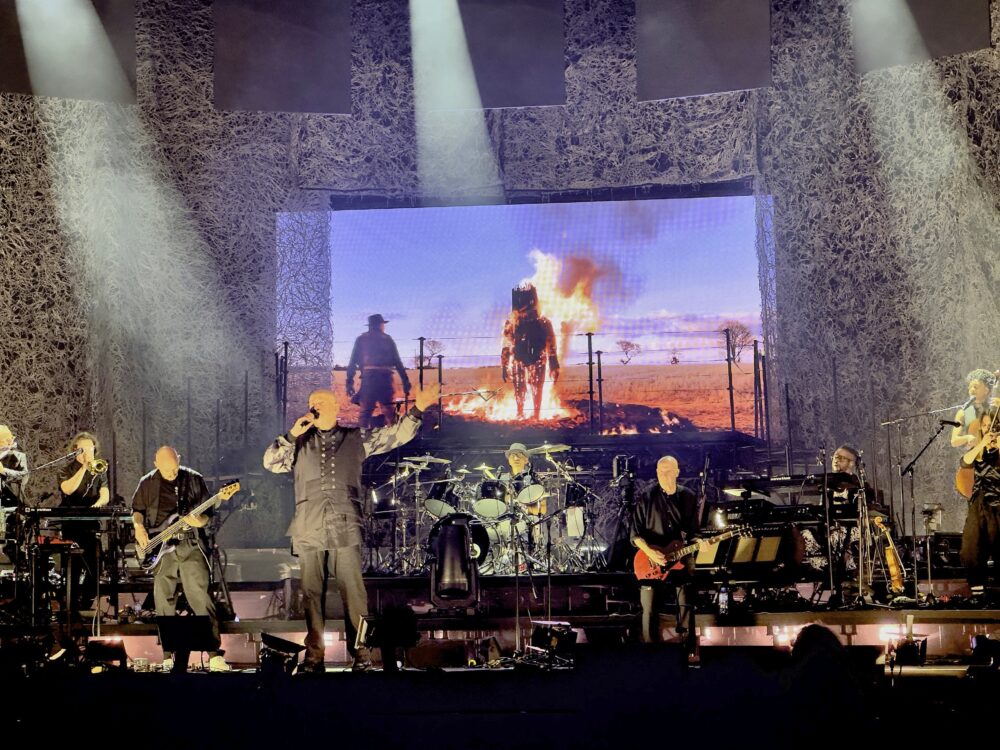 The major surprise for me was how well these songs come across in concert. The band plays them with confidence and, in many cases, with extra "bite" and beauty that aren't as clear in the recordings. The main first set had new songs in blocks of 3, starting with "Panopticom" which was greeted with as much enthusiasm as an old favourite (one shout of "D.I.Y." was unsurprisingly not responded to!). "Four Kinds of Horses" was beautiful and i/o has a massive singalong factor. Even better was… of the five songs that were played which have yet to be released, "Olive Tree" and "This Is Home," I think, will end up being ranked with Gabriel's finest songs! "Olive Tree" has a soul feel that was very energetic, while This Is Home is a beautiful ballad dedicated to his mother. "Sledgehammer" closed out part one – perhaps included as a reward for those who has lasted through the new material… but it was clear that the crowd was loving the entire show!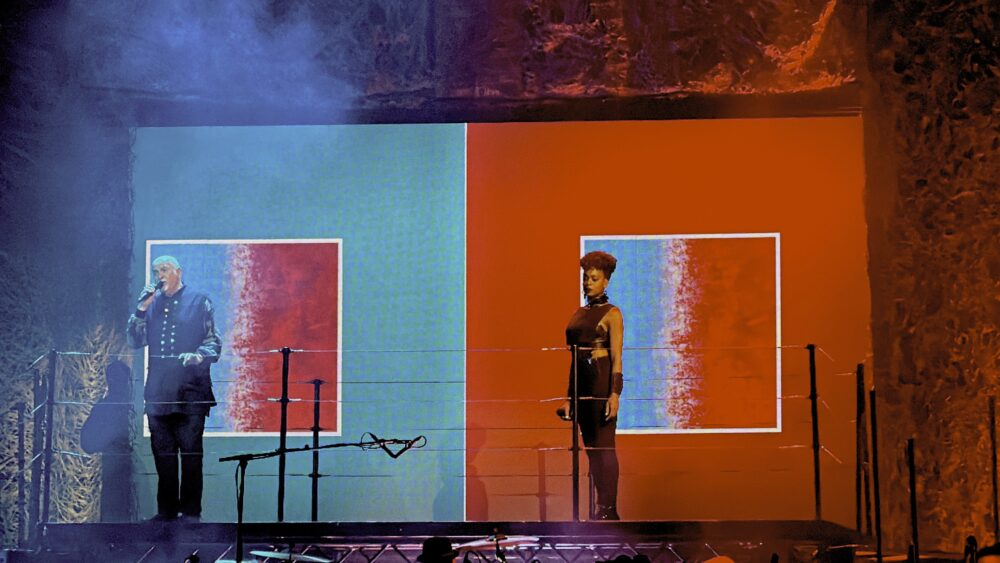 "Darkness" and "Love Can Heal" started the second half with some increase visual, lighting and tech tricks… I'll not spoil those for anyone going to the US shows! The main part of this set alternated new tracks with songs from the So album, many of which were given extra twists. At this point, I should mention the band and their influence on those sounds. Again Peter has tried something completely different… Tony Levin, Manu Katche and David Rhodes are of course Gabriel band stalwarts, and their input forms the backbone of the sound. However, this time they are joined by five other musicians (not counting PG on keys of course!). Marina Moore and Ayanna Witter-Johnston provide cellos, violins and violas, bringing lots of new elements – plus Ayanna duets on "Don't Give Up" in an outstanding performance. Richard Evans, a studio collaborator of Gabriel's for many years added stringed and wind instruments, while Josh Shpak added horns and trumpets, in ways and in places where you would not expect, all of which added depth of textures in the songs. Finally, when recording tracks, Brian Eno recommended Don E to Peter, and he joined the live band, primarily on keyboard but adding funk and vocoder/synth parts.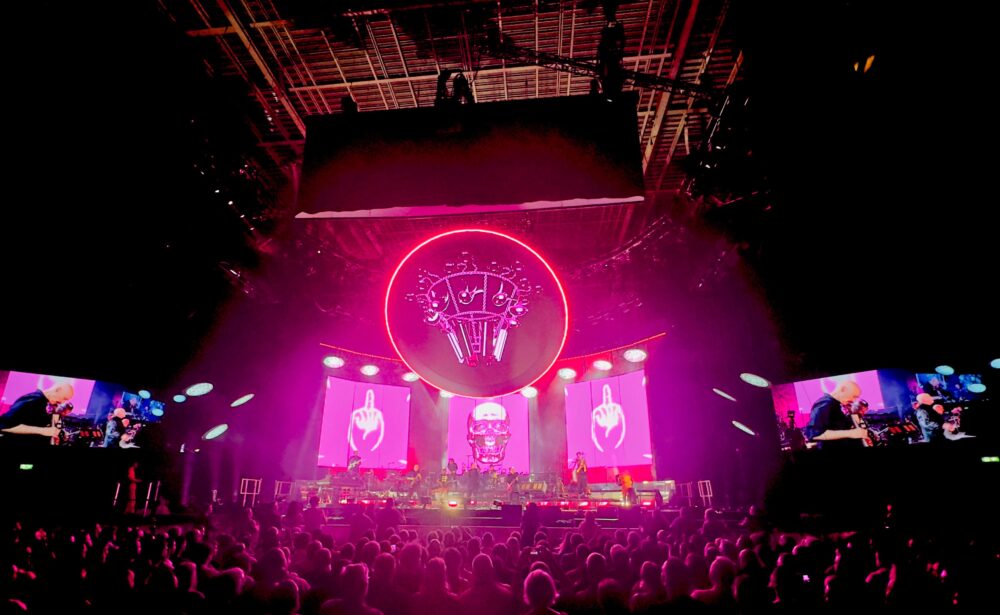 I've already called out Ayanna's duet on Don't Give Up, but Gabriel's vocal on "Don't Give Up" was equally mesmerizing. The main set closed with a funked up "Big Time," with Don E adding his touch to the song, a new anthemic track called Live and Let Live, and Gabriel's first solo single, "Solsbury Hill." It's not often you see an artist in their 70s performing their first solo single, in the same key as it was recorded in almost 50 years previously and singing it so fantastically.
The encores were the now expected "In Your Eyes" (my favorite Gabriel song, and possibly my favorite song full stop) and the classic "Biko." Unlike some of his era, Gabriel's political messages were addressed sensitively – the audience contained Mary Robinson, the 7th president of Ireland – she received a standing ovation and who is connected to Gabriel due to her human rights work. Biko is still a powerful ending to a show, with its simplicity, the strength of its message and its sheer power.
Dublin was the closing night of the European tour and after a summer break the show hits the US. For Prog Report readers, I would really recommend you catch this brave, exciting and amazing show. For me the evening was a pleasure to experience an artist at the peak of his powers at this stage in his career … and maybe we'll even get an album!!!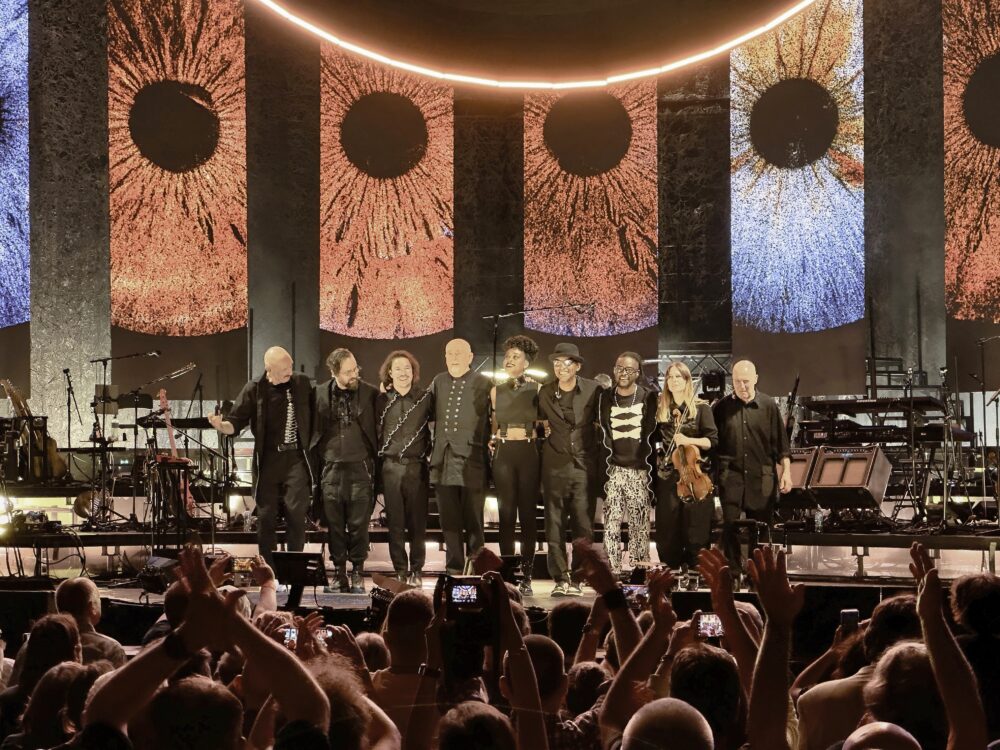 Set list
Set 1
Washing of the Water (Acoustic version)
Growing Up (Acoustic version)
Panopticom
Four Kinds of Horses
i/o
Digging in the Dirt
Playing for Time
Olive Tree
This Is Home
Sledgehammer
Set 2
Darkness
Love Can Heal
Road to Joy
Don't Give Up
The Court
Red Rain
And Still
Big Time
Live and Let Live
Solsbury Hill
Encore
In Your Eyes
Biko