Flying Colors Concert Review
Venue: James R Armstrong Theater, Torrance, CA 10-2-14
Review and Pictures by: Rick Triana (RiPT Media Productions)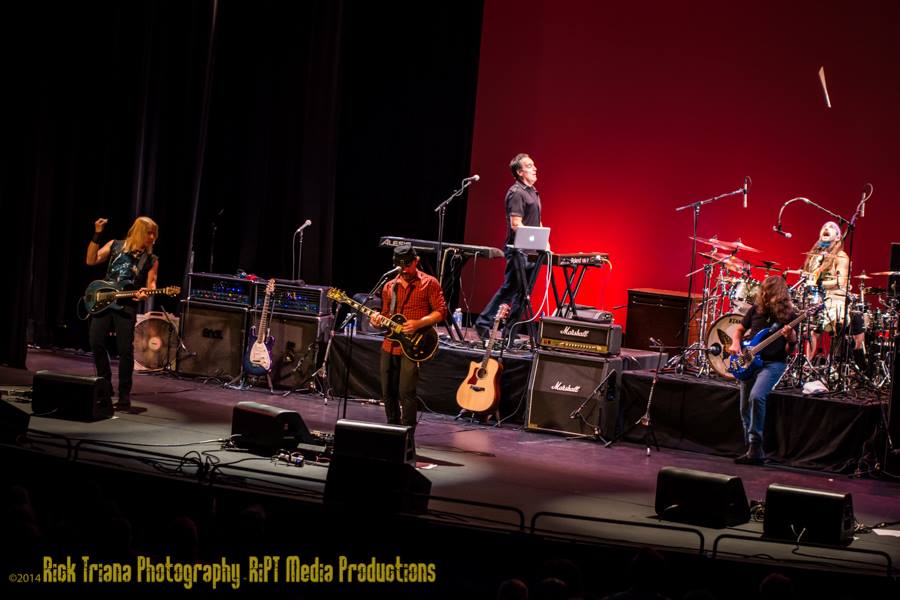 Road trips are stating to become "Second Nature" for me. Hearing the news of a new Flying Colors release, followed up by an announcement of a very short 10-city tour meant let the planning begin. Flying Colors where kicking off their abbreviated tour once again in conjunction with CalProg (http://www.calprog.com) at the James R Armstrong Theater in Torrance, CA. With this being the closest venue to me… Off to California I go. Which isn't much of a problem. I love Los Angeles.
With six hours of road time ahead of me I leave a day early. I just have to say, when I head out on the road where music lives (especially for a show that contains the likes of Steve Morse, Mike Portnoy, Neal Morse, Dave LaRue and Casey McPherson) it's always an excited feeling like a kid waking up on Christmas morning running to see what Santa brought. That's the best way I can describe the feeling of starting out with that end goal in mind. This time is a Flying Colors show. Oh yes, Santa is good.
James Armstrong Theater is a smaller yet beautiful venue located in Torrance, CA. The venue only seats approximately 300 (give or take a few), so all that made out were in for a very intimate treat. This theater, although small, is very roomy to say the least. Entering the theater one can tell that it was clearly designed with musical shows in mind. Getting there early enough I was able to hear Flying Colors working on a sound check. This, my friends, was my first indication that this was going to sound great for sure. Or wait; perhaps it was Flying Colors that made it sound so great. Either way. Fans you are in for one outstanding show. With the typical Meet-N-Greet closing down, fans started to make their way into the venue.
Mike Portnoy consistently scourers all forms of music for a new sound, and on this day it's Bend Sinister (http://bendsinisterband.com) from Vancouver Canada, who were tasked with opening the show. After talking with Bend Sinister's guitar player Joseph Blood he stated "I didn't even know Mike listened to us" and continued "We never met Mike ourselves. We got the call to do a couple of show with Flying Colors, so here we are." If it was only that easy for everyone. Sinister is a progressive-indie band and I have to say they completely nailed it. What a great upbeat, power sound from a seriously talented group. I purchased their new release "Animals" right away. It always amazes me how Mike seems to consistently uncover new music. I always applaud Mike for his character with helping out so many people out in this fashion.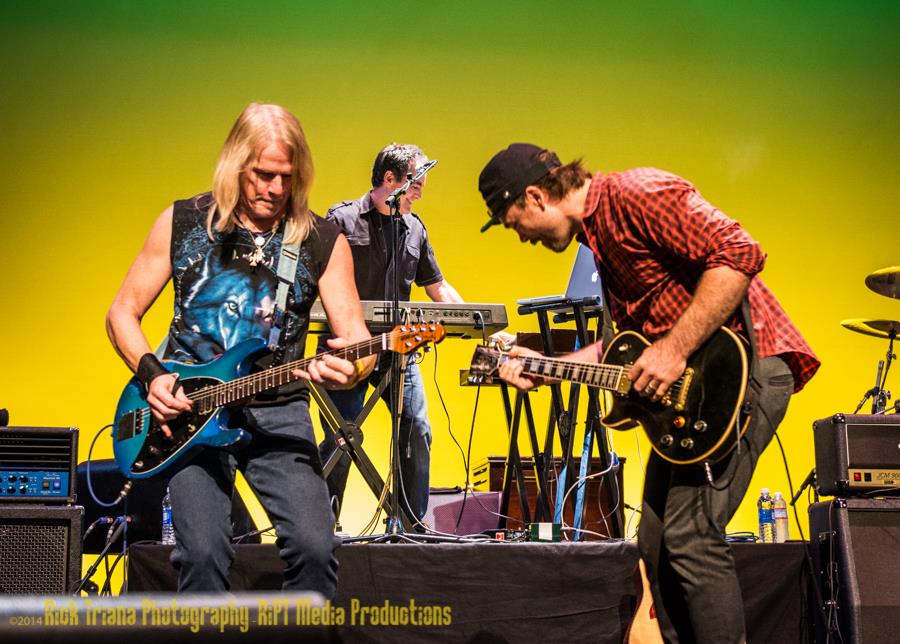 Overture, curtains, lights this is it… (Oh OK no Bugs Bunny theme songs today). Our 1st hero takes the stage. Neal takes his normal stage right keyboard spot and initiates the show just like the new release. In comes the surreal piano sound of "Open Up Your Eyes", after a few bars in comes Mike to chime in time. Then Steve to pick up the tempo a bit with his signature guitar sound, which preludes for a moment and than this song picks it up and the rest of this 5'some are off and running. Although there were a couple of technical difficulties (which can be some what the norm for a kick off show), this crowd filled with nothing but true hard core fans were very forgiving to say the least. What a great song to kick this show off with (which I was expecting). It starts with raw emotion and then progresses into a twelve-minute epic piece that truly takes you on a musical roller coaster. This song is just one of those that just show cases the extreme talent of all 5 musicians. Once this song ends, there's a roar from the crowd, but hold tight because "Bombs Away" another song off the new Second Nature release. Bombs Away is a funky little number that brings guitar and bass to the forefront. This song ends the crowd stands to applaud, the house lights up and a humble Mike thanks the crowd. Goes on to further apologize for a little musical oops in the song, but said "it's such a new song you probably didn't catch it". After some short pleasantries the show continued with a couple of songs of the first release "Kayla" and "Shoulda Coulda Woulda". The band just always seems to be in perfect harmony with each other. They haven't performed live in over two years and yet, it seemed as if they never stopped touring.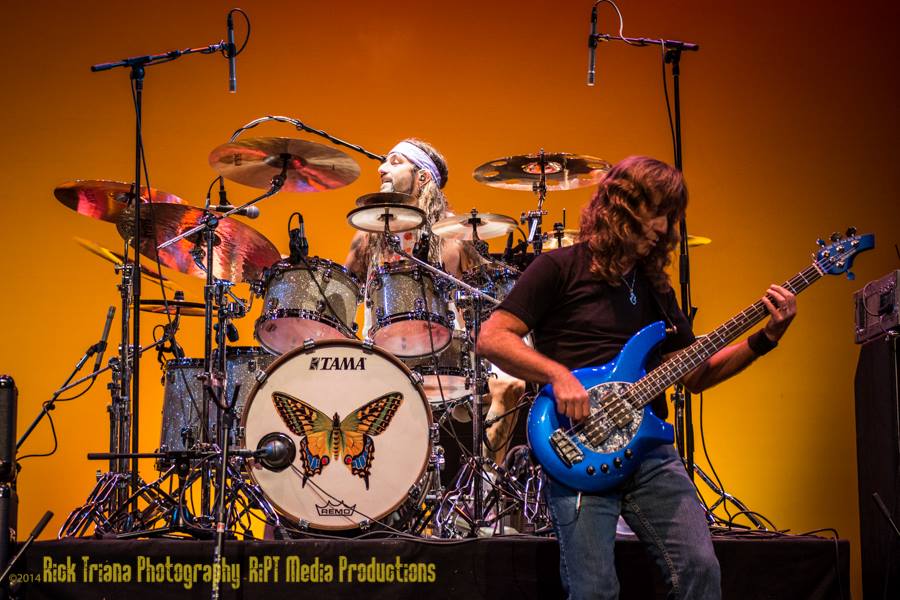 The show continues on covering tracks from both their albums switching back and forth between the two. After the first four songs got the house rocking, it was time to slow it down just a bit to showcase the ballad "The Fury of My Love" which really brings the light to Casey and his incredible vocals, he was showing us why he was chosen to be part of this group. The show continues with "A Place in Your World" off the new album and then into "Forever in a Daze" off the debut. Now at the midpoint of the show Steve and Dave temporarily leave the stage. Casey picks up his acoustic, Neal comes from behind his keys, Mike picks up a tambourine and the three do a little acoustic/A cappella version of "One Love Forever" which words just can't describe. OK I'll try. Amazing comes to mind. After a chorus the rest join in to give the full band version. If you haven't heard this song, it will remind of Celtic folk music, completely amazing. After the crowd quiets their cheers, the group leaves Casey to fend for himself (a solo spot). "Colder Months" which happens to be one of Mike's musical playlist Alpha Rev favorites. Casey met someone earlier in the evening that had lost someone very special in their life, so he dedicated it to them. It was very heart felt for sure. The rest of the crew return and just lit it up. They performed "Peaceful Harbor", "The Storm", "Cosmic Symphony" and "Mask Machine" which left all that attended wide-eyed and jaws on the floor. The band left the stage and with a very brief exit returned to perform (with such unbelievable power) "Infinite Fire".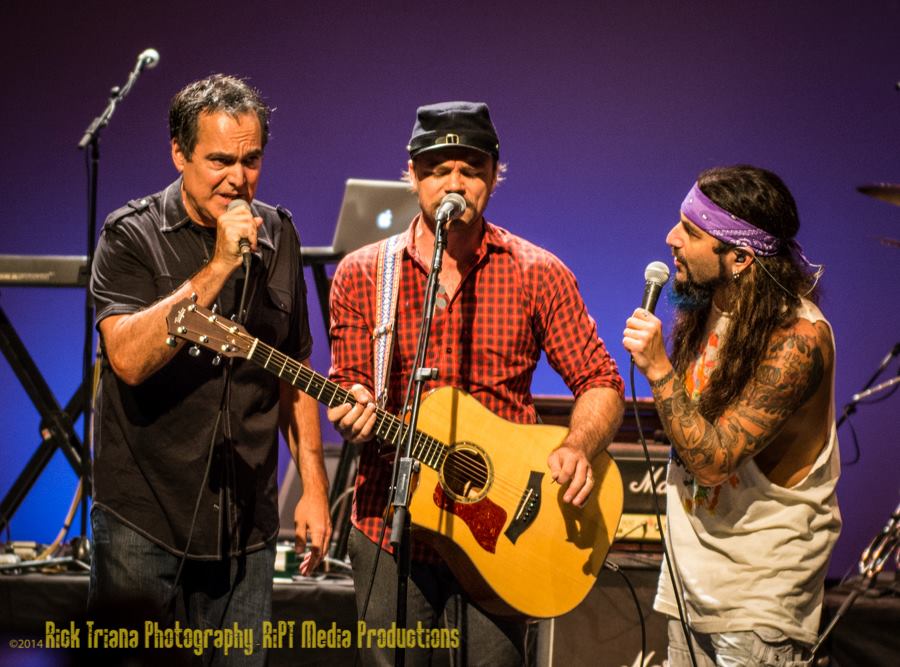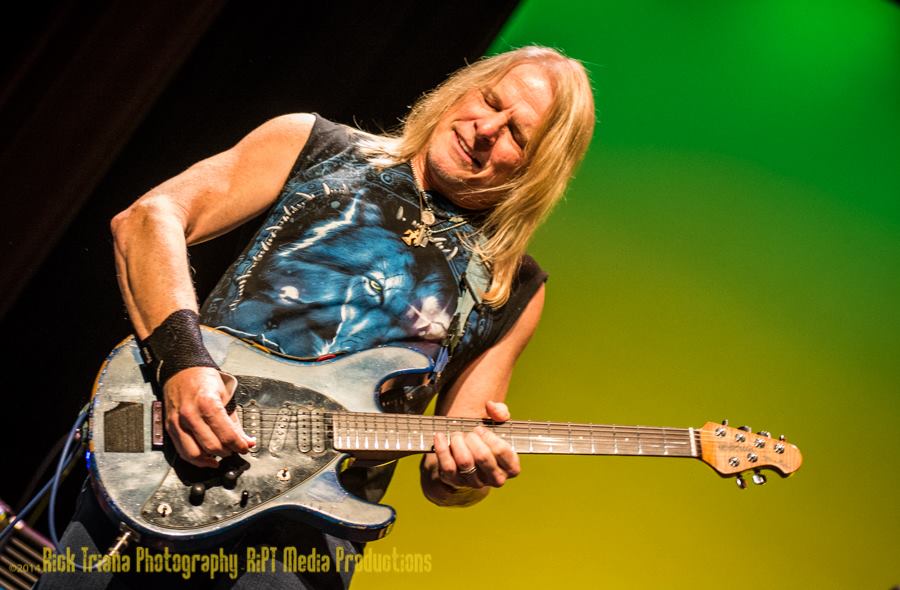 It was quite the show. This group of musicians always seems to lay it all out on line with every performance. It appeared that Mike didn't have his normal drum tech with him and seemed to get flustered a bit. Mike is a perfectionist, so I'm sure stepping in to fill shoes wasn't easy. Mike is just that way and wants to deliver a top-notch performance night in and night out. He does it for the fans. I guess that's why the fans love him. From top to bottom (even with some minor tech miss haps) this was one outstanding performance. Steve and Dave always had a smile on their faces. Casey looked to be having the time of his life. Neal was at peace and content. The only additional thing one could want following this performance? A full tour. Hopefully one day. With so many other commitments they have it seems that this is the way it will be for this band. If it's once every two years, then cherish it and go see Flying Colors while you can. You will not be disappointed.
Setlist:
Open Up Your Eyes
Bombs Away
Kayla
Shoulda Coulda Woulda
The Fury of My Love
A Place in Your World
Forever in a Daze
One Love Forever
Colder Months (Casey solo – Alpha Rev Cover)
Peaceful Harbor
The Storm
Cosmic Symphony
Mask Machine
Encore:
14. Infinite Fire
For more pictures, visit this page:  https://www.facebook.com/media/set/?set=a.347214862118907.1073741879.256698691170525&type=3
Remaining Tour Dates: