Concert Big Big Train, – October 26th, 2019
Venue: Queen's Hall, Edinburgh
Words and Pics by Geoff Bailie
Walking through the streets of Edinburgh, Scotland and seeing the Castle, statues of Wellington, Burns and Greyfriars Bobby, monuments to Nelson and other military heroes, ancient churches and university buildings it felt at times like I'd stepped into a Big Big Train album! So what better place to kick off the 2019 UK Tour, the first touring cycle following the release of "The Grand Tour" album. The Queen's Hall is an elegant period building, and on this evening, was practically full with around 900 Passengers (the name BBT fans give themselves) about to embark on an evening of amazing music. For two hours, and with up to 13 people on stage, the full BBT experience unfolds in Scotland for the first time.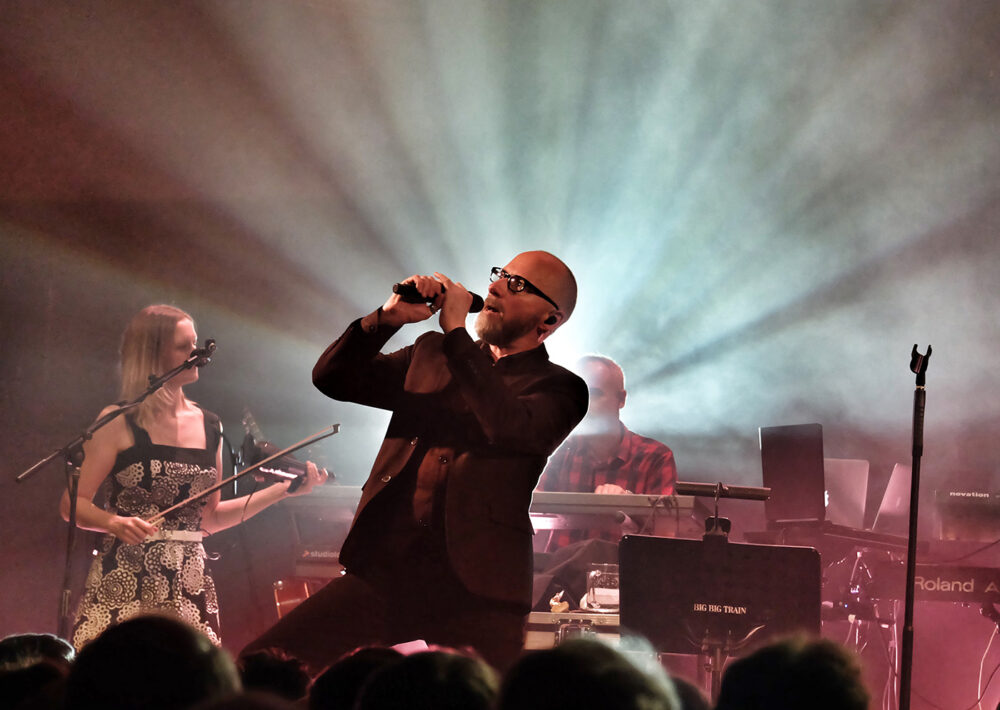 Having been entertained by Sweet Billy Pilgrim's acoustic set, including a "hang on I know that song" acoustic version of Peter Gabriel's Sledgehammer, the band filed on stage to be greeted by a crowd who were clearly delighted to see them. "Alive" begins their recent album and was the natural set opener, heralding that the voyage has begun. This was my first time seeing the band live (only their ninth live show since I bought "The Difference Machine" album in 2007) and it's clear that David Longdon is an incredible and engaging front man, moving from this song into another sing/clap along track "Hedgerow" from the English Electric album.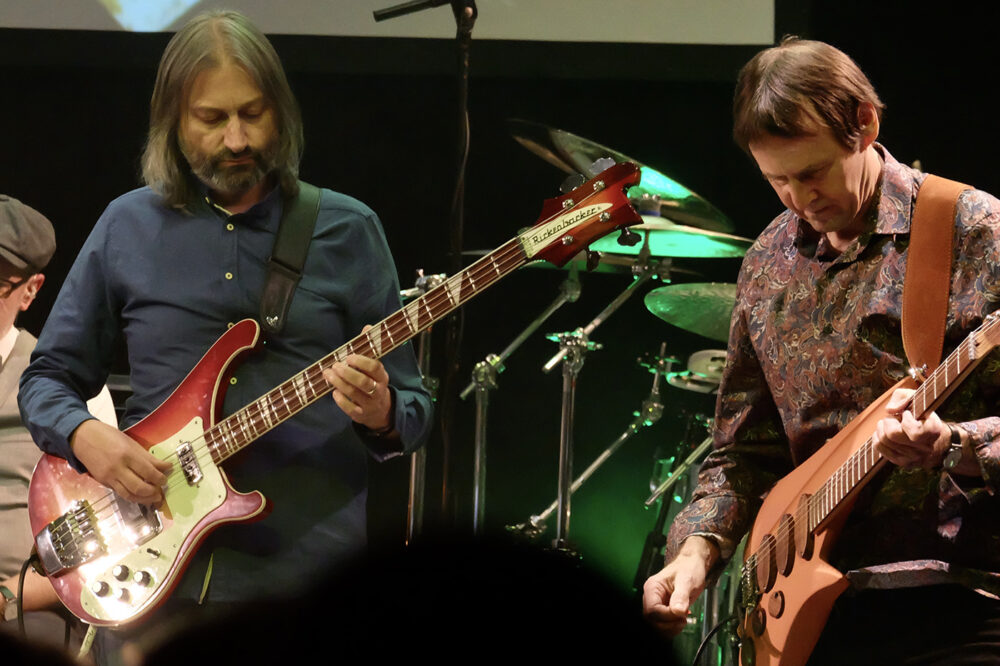 Naturally, as the tour opener, we were treated to not only the live debut of the glorious "Theodora in Green and Gold" but also Folklore's "Winkie" (complete with brass ensemble members on additional drums). It's notable that with David, Rikard Sjöblom, Rachel Hall and Nick D'Virgilio, the band is vocally incredibly powerful, with both Nick and Rachel handling lead parts at various stages in these songs. It's a big band on stage and add to that the multiple roles each of those mentioned plays: Rikard switches between guitar / rhythm /lead and even keyboards on some tracks; Nick is of course a master behind the drum kit, with a rainbow of styles and approaches; and Rachel's violin leads, duets and blends into the big sound they produce. It's a truly unique sound in the world of prog, highlighted particularly, for example, when the violin/ keyboard ending of a song like "Winkie" is joined by the five piece brass ensemble, whose deep and low tones bring the song to an incredible finale.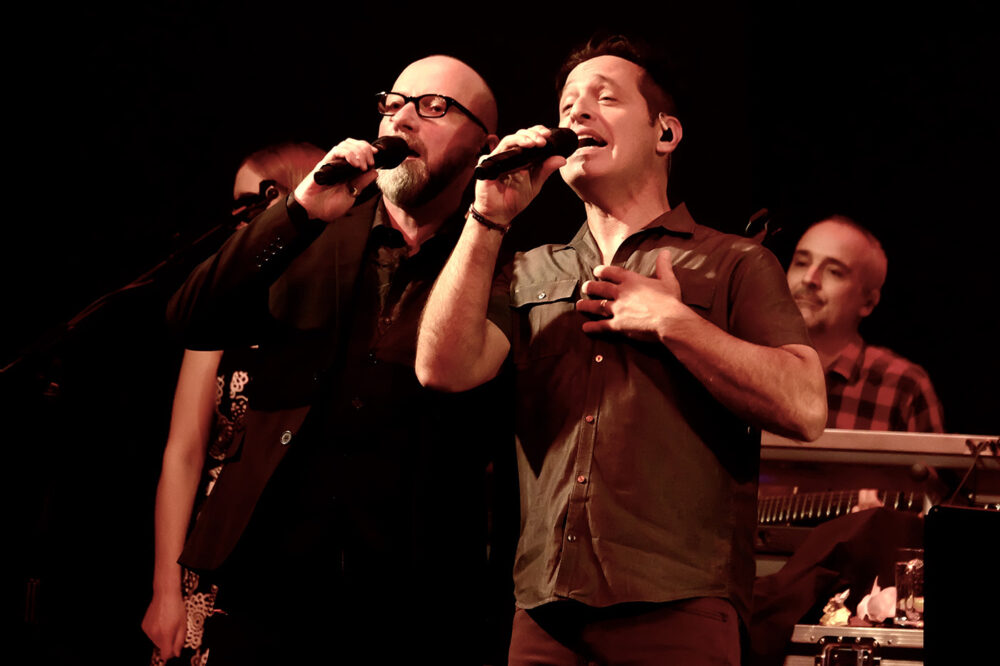 The effervescent Nick D'Virgilio came out from behind the kit to join Longdon for the duet opening of "The Florentine", while founding member Greg Spawton banged out the bass drum rhythm on an Irish bodhran. Spawton and guitarist Dave Gregory occupied the right hand side of a packed stage – the seemingly more reserved and quiet men of the band onstage. The Rickebacker bass and Gregory's exotic range of guitars are of course a key part of the sound. Spotlight on this song fell to Rikard Sjöblom, whose guitar solo drew a mid-song round of applause.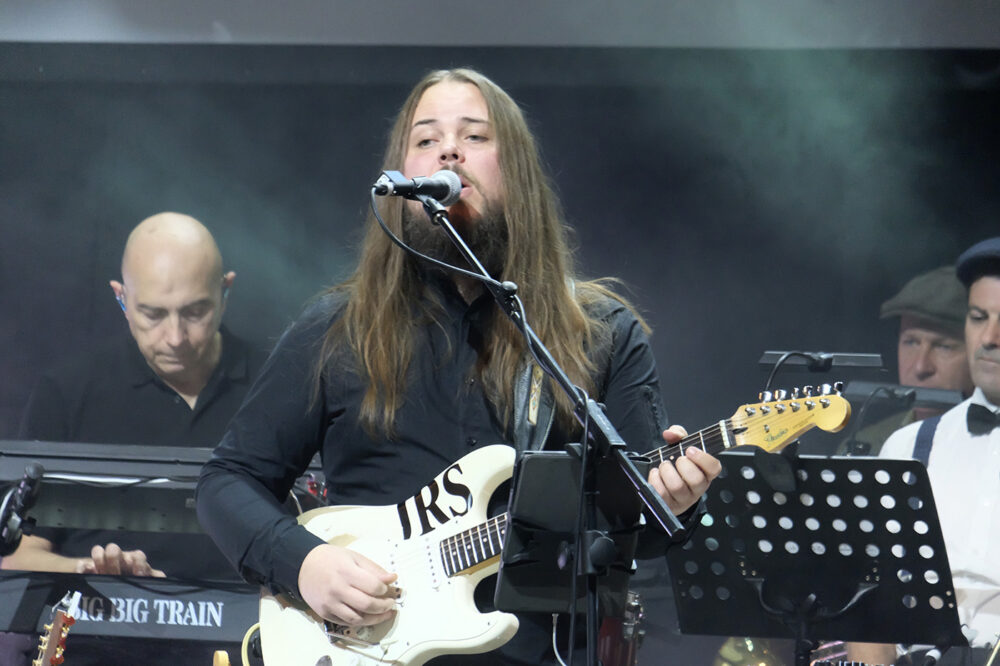 Grimspound's "Brave Captain" is a song of great personal significance to David Longdon and he truly lives the performance, even donning aviator goggles and an old style microphone at a dramatic point, to convey the characterization. There must also be a shout out to the seated men at the back of the stage- the focused, Danny Manners, whose keyboard colors both supports and leads the band at the appropriate points; and Robin Armstrong (Cosmograf) who, as 'utility guy' adds just whatever is needed in terms of keys or guitars, as well as taking several solo breaks. The instrumental mid-section of "Brave Captain" shows how all of those elements combine to produce a dynamic and dramatic musical telling of the story of this military hero, without words.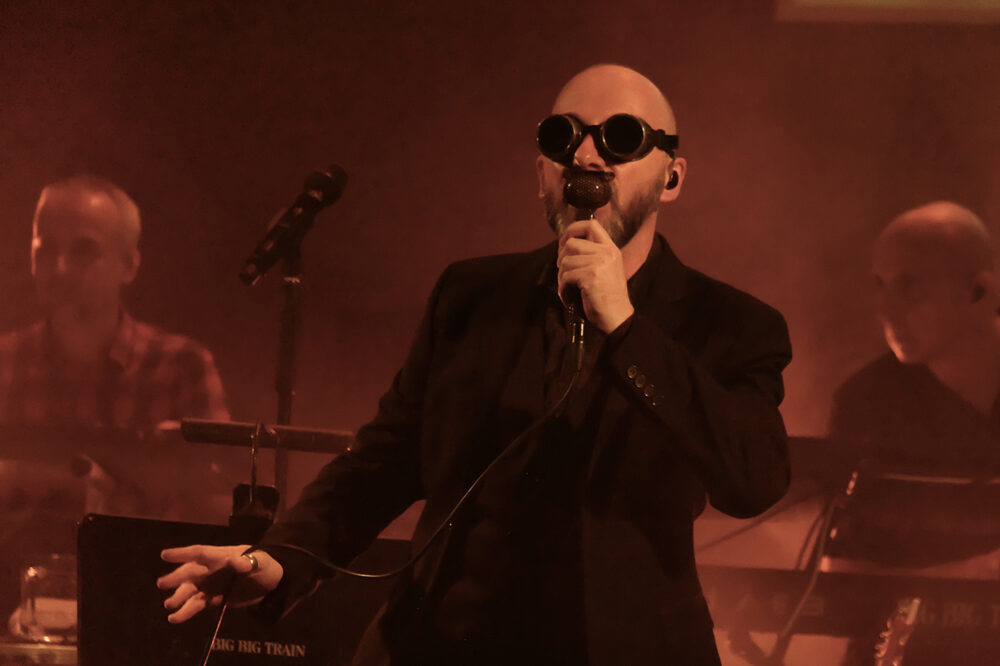 Morse code signals the intro of the "Voyager/ Homesong" combination that closes "The Grand Tour" album. The layout of the Queen's Hall was such that a large screen, filled with projections, accompanied the whole show. Of particular note were the imagery accompanying the new album tracks, with Christian Rios' videos incorporating album art elements by Sarah Ewing, along with appropriate video and animation. Standouts included the Apollo footage in "Voyager", "Winkie" brought to life in animated glory and the conclusion of "Homesong" as the band turned to face the sunset on the screen at its finale – this was an incredible moment. On the subject of Winkie, a cuddly toy pigeon was probably the only conceivable item not available from the incredibly hard working Nellie Pitts and her merch crew – I've never seen such an extensive range of items and the queues at the stand were testament to a merch team who know what the Passengers want!
A flute, a facemask and a sense of fun were integral to main set closer, "Wassail" as David Longdon introduced the players and the crowd joined the celebration.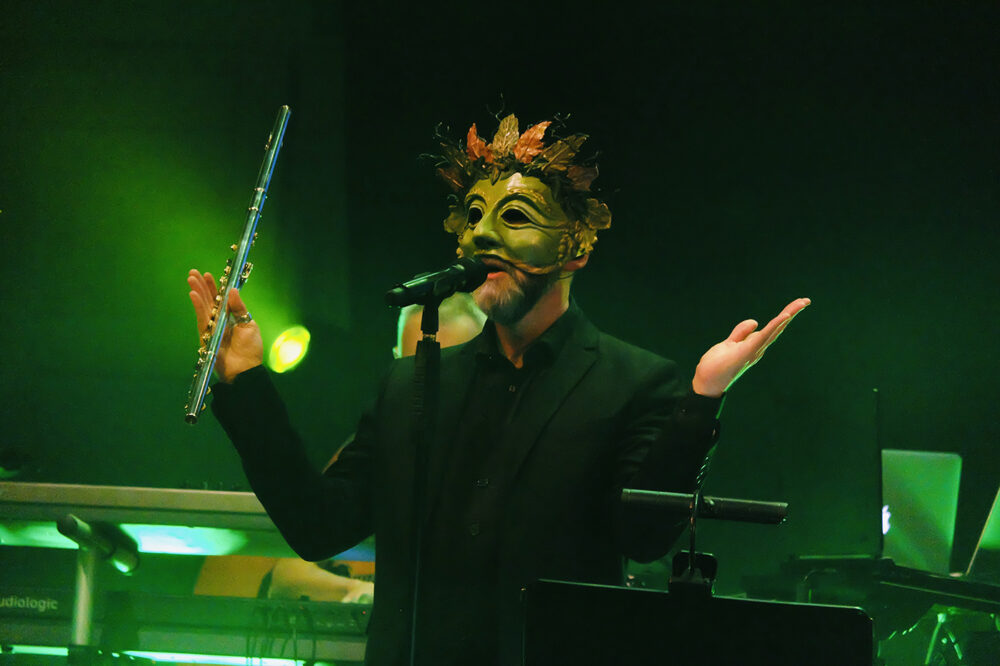 After a brief interlude, Nick D'Virgilio returned to entertain us on the drum kit, and was soon joined by the five piece brass section for an amazing "Drum 'n Brass" work out – definitely not something you hear every day! Soon Danny Manners was in place, and it quickly became clear that a big big train, called Mallard, was approaching to bring us all home! This 15+ minute epic, "East Coast Racer", is a real fan favourite and was greeted as such. It's also a perfect metaphor for what I saw tonight. This was a superb show and the skill and care of those who lovingly constructed this band, over many years, has produced an engine which smoothly hits overdrive and glides at speed. Its journey down through the rest of the U.K. this week got off to a great start. If anyone is in two minds about seeing a show, believe me, snap up the chance for any tickets you can still get.
And for those of you who are patiently waiting for the Train to cross the Atlantic, you are in for a treat next year and will be seeing a band in their prime: "She flies"!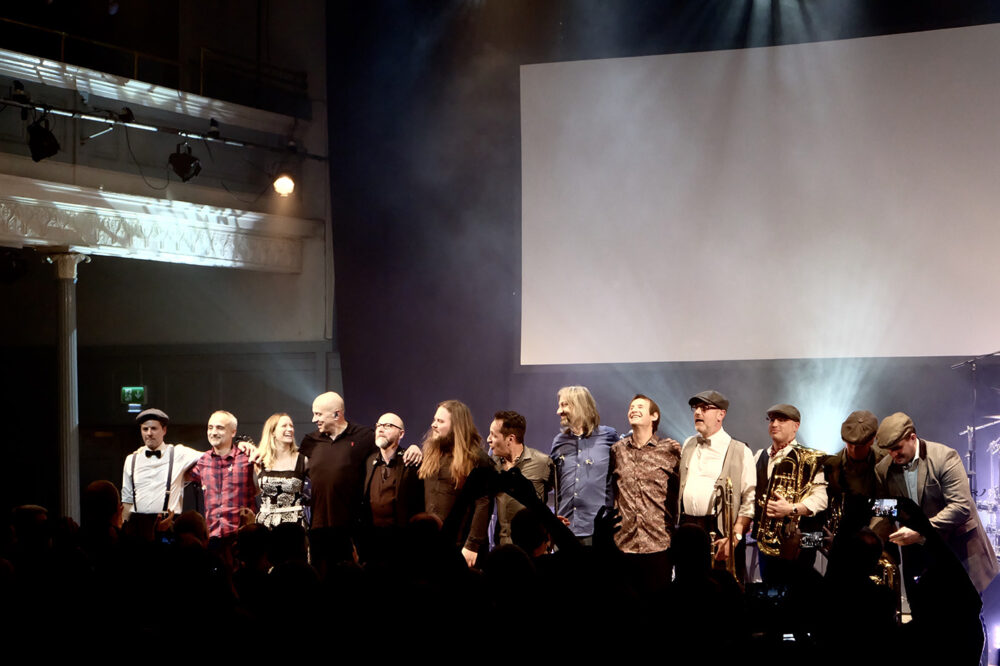 Set list:
Alive
Hedgerow
Theodora in Green and Gold
Winkie
The Florentine
Brave Captain
Voyager
Homesong
Wassail
Encore:
Drums and Brass (Mark 2)
East Coast Racer