by Geoff Bailie
Prog Report Summer 2020 Book Review
Warren Zevon once said "We love to buy books because we believe we're buying the time to read them". Well, one thing that lockdown has brought for many of us is actually time to read – at least it has for me! So it's just as well that some great prog related books have just been published.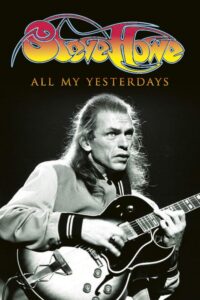 We kick off with two great autobiographies from the constituent parts of the short lived supergroup, GTR. Steve Howe's "All My Yesterdays" is very much a treasure trove for fans of Howe, Asia and Yes. I've read a lot of biographies and a critique I have of some books is that they focus very heavily on the most popular era of the person / band and blast through the recent decades. Howe's book is most definitely an exception to this and that is a great thing. The book moves at pace through the years – it doesn't lack detail, but also doesn't dwell overly long on any era. The book presents the voice of the guitarist and his telling of his story, circumstances and music is direct and honest – few punches are pulled, but rather than taking the "hit list" approach, Howe conveys his thoughts about people and situations with a refreshing candour.
For guitar lovers, Steve provides lots of information about his various guitar acquisitions and how they influenced his music / writing – it's revealing and stops shy of gear-nerdery! He also focuses on not just the familiar classic albums, but he also dives into the details of his array of solo albums – for those of us who have followed him through the years, it is great to get even more insight into the array of sounds and styles.
It's also clear that rather than a rock and roll life style, Steve has enjoyed a great family life and his love of home is notable. I have to say that I really enjoyed this book and raced through it at quite a speed. As I've said before, a good rock music book should always send you back to the music better informed and ready to dig deeper – this one certainly does!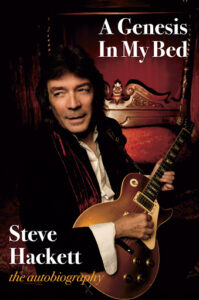 Steve Hackett's "A Genesis In My Bed" is different in style and, reading them back to back, proved to be a good contrast. The book roughly falls into 3 sections: before, during and after Genesis which cover roughly the same number of pages. It's a great insight into Hackett as a person, how his upbringing and influences have impacted his life and career and made him the person he is today. Genesis fans will find it interesting to hear his perspective on the creation of the albums he was involved with, as well as getting a few anecdotes from the road and rock 'n' roll lifestyle experienced in the 1970s. If I had one critique of the book it's the pace at which it canters through the last 30 years of album releases and tours – I'm a particular fan/supporter of Hackett's releases over this period and perhaps a Volume 2 will give that period the same attention.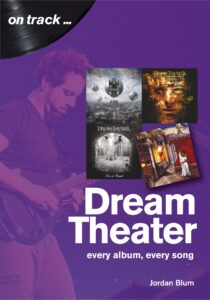 Finally, a very different book – Jordan Blum's second entry in the On Track series, this time focusing on Dream Theater. If you're not familiar with the range its tag line is: every album, every song, with commentary on each of them. DT have a large discography and for each album, the book outlines the relevant period in the band's history and then looks at each track in detail. I have many titles in the series and find they are great for accompanying a listen to an album in order – and this is no exception. Covering the entire catalogue in a way where each album gets equal attention, Blum isn't afraid to give his opinion on the merits or otherwise of particular albums or tracks, even when those don't necessarily coincide with what might be considered popular fan opinion – I should say that this is very much a plus for the book, and indeed helps the listener consider the music differently than they may have done previously.
Unlike Howe's book, it doesn't dwell on the musical intricacies, but draws in a range of interview quotes from the band members and lyrical observations to delve into the songs meanings. This book (and indeed the series) are great for established fans or newcomers who want to find out more about the band/ albums.