Music Theories Recordings/Mascot Label Group  has just announced the release of 'Ayreon – Electric Castle Live and Other Tales', recorded on last year's live spectacular performance of the third Ayreon album 'Into The Electric Castle'.
The pre-order is available here.
Over four nights at Tilburg's 013 venue (scene of the Ayreon Universe series of live shows in 2017) Lucassen, his band and one of modern progressive music's most emphatic of casts celebrated the 20th anniversary of the third Ayreon album in front of thousands of adoring fans who had flown in from around the world.
You can watch a video of "Garden of Emotions" from that performance here:
Originally released in 1998, 'Into The Electric Castle' is a classic tale of an epic quest. Set in 'no time and no space', it tells the story of eight individuals who are guided by a mysterious voice and tasked with finding the mysterious Electric Castle and discover what's inside. The entire album was performed live, featuring original album singers and musicians, such as Thijs Van Leer, Fish, Damian Wilson, Edward Reekers, Anneke van Giersbergen, and several special guests including Simone Simons (Epica) and Star Trek's John De Lancie as narrator.
The 'Other Tales' are deep cuts from Arjen Lucassen's other projects, such as The Gentle Storm, Ambeon, Stream of Passion, Guilt Machine, Star One, his solo-album Arjen Anthony Lucassen and a very special Marillion cover.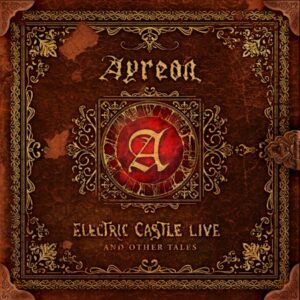 Tracklisting:
CD 1
1. Welcome to the New Dimension
2. Isis and Osiris
3. Amazing Flight
4. Time Beyond Time
5. The Decision Tree
6. Tunnel of Light
7. Across the Rainbow Bridge
8. The Garden of Emotions
9. Valley of the Queens
10. The Castle Hall
11. Tower of Hope
12. Cosmic Fusion
CD 2
13. Robby Valentine
14. The Mirror Maze
15. Evil Devolution
16. The Two Gates
17. Forever of the Stars
18. Another Time, Another Space
19. Shores of India
20. Ashes
21. Out in the Real World
22. Twisted Coil
23. Kayleigh
24. Pink Beatles in a Purple Zeppelin
25. Songs of the Ocean
DVD: Same as the 2CD, plus the speech by Arjen & Joost
Image: 1.78:1 anamorphic
Audio: DD 5.1, DD 2.0