Progressive rock legends THE FLOWER KINGS are pleased to present a first track from the group's much anticipated new studio double-album 'Waiting For Miracles', which will be released on InsideOutMusic on the 8th November 2019. The album is comprised of 15 new tracks, recorded over the summer at RMV studio in Stockholm, Sweden – a vintage studio space owned by ABBA star Benny Andersson.
The band is excited to now share a track from this record: "Here's 'Black Flag'. A fine example of what you can expect of the new record, yet just a glimpse at the rich variations this new opus offers. It is a huge tribute to when music was played by a real band, a time when being creative in the studio meant progress in all direction and fusing all styles – this is a band creating its very own special cinematic sound, built upon 60's & 70's and contemporary prog, rock and orchestral music. A fine display of instrumental and vocal interplay from all members – the trademark Flower Kings sound is back, but yet with a new twist. Full circle – and this track even has guesting from former TFK bass player Michael Stolt. This time The Kings set sail for a big adventure."
Listen to 'Black Flag' here:
Spotify – http://bit.ly/TFKBlackFlagSpotify
Apple Music – https://theflowerkings.lnk.to/WaitingForMiracles/AppleMusic
Deezer: http://bit.ly/TFKBlackFlagDeezer
Furthermore, presales for physical and digital formats have started! "Waiting For Miracles" is available as 2CD, Gatefold 2LP + 2CD & as digital album. Order your format of choice below:
https://theflowerkings.lnk.to/WaitingForMiracles
The following limited vinyl editions can be pre-ordered now, too:
200x light-blue plus signed post card @ Burning Shed UK http://bit.ly/TFKBurningShed
100x orange & 200x red @ InsideOut Shop Germany http://bit.ly/TFK-IOMShop
100x yellow @ JustForKicks Germany http://bit.ly/TFK_JFK
The band, currently comprised of Roine Stolt, Jonas Reingold, Hasse Fröberg, Zach Kamins & Mirko DeMaio (the most recent live line-up), have crafted an adventurous collection of pure prog-rock. Expect boat-loads of vintage keyboards, odd time signatures and long guitar solos – with elements of pop, symphonic and cinematic music.
The album will be released as a 2CD, Gatefold 2LP + 2CD & as digital album, featuring beautiful artwork by American artist Kevin Sloan. Find the full track-listing below: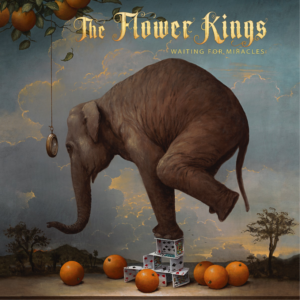 Disc 1:
1.House Of Cards
2.Black Flag
3.Miracles For America
4.Vertigo
5.The Bridge
6.Ascending To The Stars
7.Wicked Old Symphony
8.The Rebel Circus
9.Sleep With The Enemy
10.The Crowning Of Greed
Disc 2:
1.House Of Cards Reprise
2.Spirals
3.Steampunk
4.We Were Always Here
5.Busking At Brobank