Swedish group Soen have released the mesmerizing video for their interpretation of Slipknot classic, "Snuff". The track is taken from the forthcoming release ATLANTIS, out via Silver Lining Music on November 18, 2022.
ATLANTIS is a special concert film featuring thirteen of the group's most popular compositions reinterpreted with live orchestral accompaniment. ATLANTIS was created within the mystic and magical confines of Atlantis Grammofon Studio in Stockholm, Sweden, which has seen a wide range of international artists record, from Quincy Jones to Lenny Kravitz to Green Day. Formerly a movie house in 1941, it went on to become Metronome Studio (during which time ABBA was born) before becoming Atlantis Grammofon in 1983.
Filmed and recorded on December 10, 2021, Martin Lopez (drums & percussion), Joel Ekelöf (lead vocals), Lars Enok Åhlund (guitars & piano), Cody Lee Ford (lead guitar) and Oleksii "Zlatoyar" Kobel (bass) worked together with an 8-piece orchestra to reinterpret and rediscover fresh energy and elements in classic Soen songs, such as "Antagonist", "Monarch", "Jinn" and "Lucidity".
The end result of this 80 minutes performance is some remarkable new aural refractions of Soen's greatest material for fans to absorb and enjoy. As has always been the way with Soen: the deepest dives yield the greatest treasures.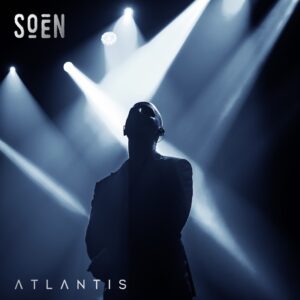 'ATLANTIS' Track List:
1.Antagonist
2. Lunacy
3. Monarch
4. Trials
5. River
6. Jinn
7. Illusion
8. Modesty
9. Lucidity
10. Savia
11. Fortune
12. Snuff
13. Lascivious
14. Lotus
Pre-orders available HERE: https://lnk.to/SoenATLANTIS
With no sign of slowing down, the relentless metal quintet recently announced a twenty date North American Tour, kicking-off at Chicago's Lincoln Hall; the tour will also see Soen perform as special guests of Katatonia in Dallas and Austin on December 6 and 7. All purchased tickets remain valid for the rescheduled dates and tickets remain on-sale. Full list of confirmed dates, tickets, and additional information available HERE
IMPERIAL European Tour 2022:
Sept.2 – Gdansk, Drizzly Grizzly – PL
Sept.3 – Warsaw, Proxima – PL
Sept.4 – Wroclaw, Akademia – PL
Sept.6 – Aschaffenburg, Colos Saal – DE
Sept.7 – Milan, Magazzini Generali – IT
Sept.8 – Rome, Largo – IT
Sept.9 – San Dona' di Piave, Revolver – IT
Sept.10 – Munich, Backstage – DE
Sept.11 – Berlin, Fraanz – DE
Sept.13 – Cologne, Stollwerck – DE
Sept.15 – Leipzig, Hellraiser – DE
Sept.17 – Budapest, A38 – HU
Sept.18 – Bratislava, MMC – SK
Sept.20 – Olomouc, S-Klub – CZ
Sept.21 – Vienna, Arena – AT
Sept.22 – Aarau, KIFF – CH
Sept.23 – Strasbourg, La Maison Bleue – FR
Sept.24 – Paris, La Maroquinerie – FR
Sept.26 – Manchester, Rebellion – GB
Sept.27 – Birmingham, o2 The Institute 2 – GB
Sept.28 – London, o2 Academy Islington – GB
Sept.29 – Antwerp, Trix – BE
Sept.30 – Zoetermeer, De Boerderij (Acoustic) – NL
Oct.1 – Zoetermeer, De Boerderij – NL
IMPERIAL North America Tour 2022:
Nov.22 – Chicago, IL – Lincoln Hall
Nov.23 – Toronto, ON – Lee's Palace
Nov.25 – Ottawa, ON – Brass Monkey
Nov.26 – Montreal, QC – Le Studio TD
Nov.27 – Quebec City, QC – L'Imperial
Nov.29 – Boston, MA – Brighton Music Hall
Nov.30 – New York City, NY – Gramercy Theatre
Dec.1 – Baltimore, MD – Baltimore Soundstage
Dec.2 – Charlotte, NC – The Underground
Dec.3 – Tampa, FL – Crowbar
Dec.4 – Atlanta, GA – Center Stage
Dec.6 – Austin, TX – Come and Take it Live*
Dec.7 – Dallas, TX – Amplified Live*
Dec.8 – Houston, TX – Scout Bar
Dec.10 – Denver, CO – Bluebird Theater
Dec.11 – Salt Lake City, UT – Urban Lounge
Dec.13 – Seattle, WA – The Crocodile
Dec.15 – Roseville, CA – Goldfield Roseville
Dec.16 – Los Angeles, CA – Troubadour
Dec.17 – San Diego, CA – Brick by Brick
*Guests to Katatonia