RIVERSIDE recently released their first single "I'm Done With You" from their upcoming new album ID.Entity which will be out on Jan 20th, 2023. Now the band have revealed the North American tour dates in support of the album. The Cyberiam Duo are set to open on the run which begins in Tampa, FL on Feb 17th, 2023. Tickets on sale soon.
2/17 THE ORPHEUM, TAMPA, FL
2/18 THE ABBEY, ORLANDO, FL
2/19 HELL AT THE MASQUERADE, ATLANTA, GA
2/21 AMPLIFIED LIVE, DALLAS, TX
2/22 COME AND TAKE IT LIVE, AUSTIN, TX
2/24 THE NILE THEATER, MESA, AZ
2/25 THE GLASS HOUSE, POMONA, CA
2/26 CORNERSTONE, BERKELEY, CA
2/28 THE RICKSHAW THEATRE, VANCOUVER, BC
3/1 NEUMOS, SEATTLE, WA
3/3 THE STATE ROOM, SALT LAKE CITY, UT
3/4 FOX THEATRE, BOULDER, CO
3/7 AMSTERDAM BAR AND HALL, ST. PAUL, MN
3/8 BOTTOM LOUNGE, CHICAGO, IL
3/10 LEE'S PALACE, TORONTO, ON
3/11 CORONA THEATRE, MONTREAL, QC
3/12 IMPERIAL BELL, QUEBEC CITY, QC
3/14 BRIGHTON MUSIC HALL, BOSTON, MA
3/16 SONY HALL, NEW YORK, NY
3/17 UNDERGROUND ARTS, PHILADELPHIA, PA
3/18 THUNDERBIRD MUSIC HALL, PITTSBURGH, PA
3/19 BLACK CAT, WASHINGTON, DC
3/21 CAT'S CRADLE, CARRBORO, NC
"ID.Entity", the group's 8th studio album was recorded and mixed in two studios – The Boogie Town Studio in Otwock with Paweł Marciniak and in Serakos studio in Warsaw with Magda and Robert Srzedniccy -, mastered by Robert Szydło and produced by RIVERSIDE's Mariusz Duda himself. The "ID.Entity" artwork (Front cover to be seen above!) was created by Polish artist Jarek Kubicki.
RIVERSIDE's Mariusz Duda checked in with the following comment about "I'm Done With You":
"We live in times of anger and helplessness. In times dominated by Big Techs, populists, conspiracy theories, hatred, greedy corporations causing the planet and the human nature to die at an accelerated speed. We live in times when one country can attack another out of the blue just because they think they are more deserving of something. These days it's simply hard to sing only about love, friendship and escapes into imaginary worlds. "I'm Done With You" is about an anger and frustration!""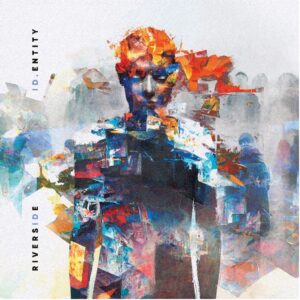 Here is the standard track-listing for the album:
RIVERSIDE – "ID.Entity" (53:11)
Tracklist:
1. Friend or Foe? (07:29)
2. Landmine Blast (04:50)
3. Big Tech Brother (07:24)
4. Post-Truth (05:37)
5. The Place Where I Belong (13:16)
6. I'm Done With You (05:52)
7. Self-Aware (8:43)
The bonus material appearing on "ID.Entity" includes the instrumental tracks "Age of Anger" (11:56) and "Together Again" (06:29) as well as "Friend or Foe? (Single Edit)" (05:59) and "Self-Aware (Single Edit)" (05:29).
The pre-order for "ID.Entity" in its various formats also starts today here:
https://riverside.lnk.to/IDEntity