By Nick Tate
When Yes was inducted into the Rock and Roll Hall of Fame in 2017, Rick Wakeman delivered a hilarious R-rated acceptance speech that brought the house down and raised a few eyebrows at the same time. For Yes fans, it seemed out of a character for a musician so closely associated with serious music to be making off-color jokes and recounting the discomfiture of his latest prostate exam. But for Wakeman, it was just a chance to try out some new material on an American audience and offer a taste of the kind of comedy routines he's been doing in England for decades.
Two years ago, the caped keyboard maestro took his stand-up act to the next level, with what was billed as "The Grumpy Old Rock Star Tour" of the U.S. The one-man show mixed music and anecdotes from throughout his 50-year-plus musical career. It drew rave reviews and revealed a quirky side of Wakeman most fans did not know. Now, the 72-year-old former Yes man is back with a follow up he's calling "The Even Grumpier Old Rock Star Tour" that kicks off October 14, with stops in 24 U.S. cities.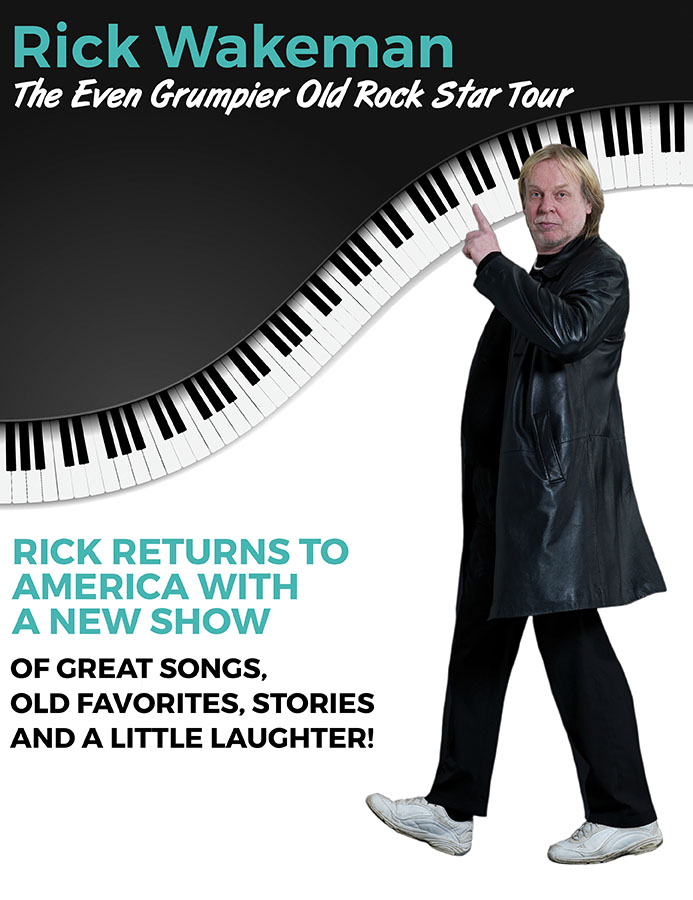 He acknowledges the tour marquee may be a little misleading; Wakeman has quite a lot to be decidedly un-grumpy about after a five-decade-plus musical career, working with Yes, David Bowie, Cat Stevens, Lou Reed, the Strawbs and other rock luminaries.But he is deadly serious about using comedy to puncture and counterbalance the pretense sometimes associated with progressive rock.
"I do take the music very seriously, but I don't take myself so seriously," he says in a new interview with The Prog Report. "The moment you start doing that you're in trouble."
Last time out, Wakeman shared stories about his work with (and without) Yes. To wit:
• He was so bored with Yes's epic 1973 double-album, Tales From Topographic Oceans, that he'd sneak curry dinners during live performances of the record.
• He regaled audiences with the back story of staging of his 1975 rock opera, The Myths & Legends of King Arthur & the Knights of the Roundtable, as a grandiose ice show — a financial disaster critics cited as a high-water mark of prog excess.
• He even poked fun at his ex-Yes bandmates, singling out original vocalist and space-shot lyricist Jon Anderson for "trying to save this planet while living on a totally different one."
So, what new revelations and observations might be in store for the Grumpy Old Rock Star's audiences this time around?
Wakeman's not saying.
But since 2019, much has happened that seems likely to provide new material for the tour. Last year, he released a strong new symphonic-rock album, The Red Planet, with his long-running English Rock Ensemble. And in June, he was honored by Queen Elizabeth II and made a Commander of the Most Excellent Order of the British Empire.
We caught up with Wakeman just as he was putting the finishing touches on his plans for the tour. In a wide-ranging interview, he previews what audiences can expect, recalls his work with Yes and weighs in on the possibility of rejoining the long-running outfit, which has just released a new album, The Quest.
Excerpts of the interview follow.
Q: Before we get started, I have to tell you I'm a big fan of your work in and out of Yes, so thanks for all the great music you've produced over the years.
Wakeman: Well, that's very very kind. Do I owe you money for that [laughs]?
Q: No, no you don't. But I will say I've given you a lot over the years!
A: That's very kind. Thank you.
Q: So, you're billing the new tour as "The Even Grumpier Old Rock Star Tour." First question I've got to ask: Why so grumpy, Rick?
A: Well, I used to think it was a British trait, but I think it's a worldwide trait now. A great friend of mine who devised the TV series "Grumpy Old Men," he summed it up perfectly: When somebody's grumpy it can be really funny, you know. And the other extreme is, if he becomes angry, then it's not nice anymore.
The thing is, we all talk about the things that drive us mad and then laugh about it, but then realize it's absolutely true. The series in England started when he was in a wine bar and there were two guys talking away about the appalling train services to London from where they live — that they were always late…and the whole thing's ridiculously expensive, the trains are filthy and dirty… And the other agreed and said, "Well, I've gotta go now, gotta get home for dinner, see you tomorrow — on the platform."
And he said that just sums it up — that we put up with absolute hell, moan about it, have a good laugh and just carry on doing it.
Q: Your Rock and Roll Hall of Fame speech seemed to come as a shock to some folks. Do you think people who come to see you are surprised that you're up there telling jokes and funny stories, in addition to playing your music?
A: Yeah, well I've been doing it in England for — oh, crikey! — for 40 years now. I've had my own TV comedy shows and improv shows.
And I just think that with prog, the music, I do take it very seriously. But sometimes when you do something incredibly serious you need to balance that with something at the other end of the spectrum. I found, years ago, that by adding anecdotal comedy and things, it just helped people prepare for the next piece of music and not get too tied up, where everything becomes so heavy and they go, "Oh how much more can I take of this?"
Q: It's good to have the balance, then?
A: Yes, you summed it up, exactly.
Q: On your last tour of the states, you told stories about sneaking an occasional curry behind your keyboards on stage with Yes during the Tales tour —
A: Yes [laughs].
Q: And staging King Arthur as an ice show —
A: Yep, right.
Q: And you had some choice words about your former Yes bandmates, describing Jon Anderson as the only guy you know who's trying the save this planet while living on another one?
A: Yeah — while living on a totally different one, yes. You know, Jon loved that statement. In fact, Jon liked it so much that he uses it himself.
Q: Well, he does have quite the cosmic consciousness, that man. I'm wondering if there are any new stories you'd care to preview now, as a taste of what you'll be sharing in the upcoming shows?
A: I haven't actually fixed on all of the stories that I'm going to tell. I normally have a batch of them and then they sort of come out. But nearly everywhere I go to, I'll arrive at the place and it might be at soundcheck or it might be at the hotel, but I'll meet somebody who will remind me of something that happened there maybe few years ago. And I'll go: Oh, I remember that! And then I can incorporate that into the show. That happens a lot. And I'm surprised sometimes at how at how much I've deviated from what I originally intended to do.
Q: So, you work with a basic set list of stories, but you mix it up night to night?
A: You've got to have a plan to work with, otherwise it would just all collapse. But I look at the show as a series of stepping stones across a stream. As long as you get to the next stepping stone, it doesn't matter if you get your feet wet or how you do it or how long it takes. As long as you get to the next stepping stone, it works.
I find that the fun bits in between those stepping stones is where the deviations come. That's great because it keeps everything fresh, as well. I always like to try and think that every show is a little bit different somewhere along the line. I've had people who've come to lots of shows and said, "You told a different story this time" or "You played a different piece," because that will happen sometimes — that something will remind me of a different story or piece.
When you're on your own, you can do that. When you're with a band, you can't suddenly change everything. But on your own? Yeah, you can.
Q: Seems to me what you've just described parallels what happens with your music, and Yes, in concert. You and the other players take improvisational liberties even within the framework of these tightly written progressive pieces — as you say, getting from one stone to the next in different ways each time.
A: Yeah. You can do that. There are certain pieces definitely within Yes and with my own stuff where there is more freedom than people actually think there is. And people who come to multiple shows, they will spot that sometimes.
I mean, the lengths are often pretty much the same, which in prog terms is long. Someone once said to me, "What do you call the first 10 minutes of a Yes piece?" And I said: "The introduction."
It is interesting. But you're dead right, there is more freedom than people think, even though it is very tightly formatted. But there's nothing new in formatted music. You can go right back to baroque times and Vivaldi. You can take probably his most famous suite of pieces, "The Four Seasons." A lot of what we call the solo violin in that is improvisation.
On the original scores he just wrote "improvise." He had an all-girl orchestra with him — he was a priest and he had an all-girl orchestra, so he had the right idea, he was really clever — and he used to teach them how to improvise.
So, the actual version of "The Four Seasons" that you hear on record and on stage is one of the improvisations that he did that somebody actually wrote out and it's what people play. But he played it differently every time.
Q: Fascinating. I didn't know that.
A: But you still recognize the piece when you hear it. You still go, "That's 'The Four Seasons.' " And that's very much the same with Yes, and prog rock and what I do as well. You recognize the piece, but if you listen to two or three different versions, you'll say, "Oh, hold on a minute, that's different."
Q: Funny you say that. I was just listening to your Yes Piano Variations album and you rework several pieces that are pretty good examples of what you're talking about. "Awaken" and "Heart of the Sunrise," for instance, work perfectly well as solo piano pieces that you can instantly recognize, even though you're taking incredible liberties with the melodies and arrangements.
A: Yeah, you can. David Bowie once said to me, "If it works on the piano, it'll work in any format." And he was dead right. And I've tried to reverse that, as well. And, you're right, it's amazing. I wouldn't say that every piece you can make work on a solo piano, but I reckon you can come very close to it.
I've been very surprised sometimes at pieces — as you say, like "Awaken" — where you do a version incorporating the best-known themes and the best-known bits and throw them together and it's still "Awaken." And you can do that with many many pieces, and I've done it with lots of pieces.
I did a piano version of "Roundabout," which was quite tough to do to actually make it work where I was happy with it. But you can do it.
Q: You've also done several covers that apply that approach, too.
A: I did "Bohemian Rhapsody" — that was great fun — with the blessing of my dear friend [Queen guitarist] Brian May. Brian hates cover versions of, especially, "Bohemian Rhapsody."
I recorded it and I called him up, and he's such a great friend, and I said, "Brian, I've just done a piano version with few strings and a small choir of 'Bohemian Rhapsody.' " And he sort of went quiet. And I said, "Now, listen, I want to send it to you and if you don't like it, I won't put it out. I've got other stuff I can put on the album and it won't go out, I promise you."
And he said, "Well, send it to me." So I sent it to him and he called back about a half-an-hour later and he said, "I love this and Freddie [Mercury] would have adored it."
I said, "Do you think so?" And he said, "Yeah." And he said, "There's just one little bit that just gets to me." And I said, "What's that?" And he said: "There's one little bit toward the end where I just feel there should be two or three bars — no more than that — of a little bit of flamenco guitar." And I said, "Oh, right, OK, where about?" And he told me, so I put it up on the computer while I was talking to him on the phone, and I said: "I hear you, that's a great idea, I'll find someone to do it." And he said, "No you won't; the deal is I will do it." And I said, "Are you sure?" And he said, "Absolutely, I love this version, I just wish Freddie could hear it."
And it just shows you — that's such a complex piece — that if you're willing to spend time with a piece you can make it work.
I've had it with some pieces where I've got stuck. And then I do things like take the dog for a walk or go with it all in my head and nine times out of 10 there'll be a Eureka! moment, and I'll go: "I know what to do!" And that's what great about good music — it's very adaptable
Q: We're coming up on 50th anniversary of Fragile, your first recording with Yes. Since then, you've been in an out of the band a half-dozen times or so. Which begs the question: Is there's any possibility you might ever rejoin Yes?
A: You know nothing is impossible. We're all getting older — you know, I'm 72, Steve's I think a year older than me and Jon's, well… I think Jon's about 104 [laughs].
So, everyone's getting older. But you think, well, hold on a minute, we've got so many things we want to do and we've always enjoyed playing together in various things. So, there's no reason why something doesn't happen before we all either become not well enough to play all the time or unfit.
So, nothing is impossible.
"The Even Grumpier Old Rock Star" 2021 North American tour dates:
Oct. 14 – Tupelo Music Hall, Derry NH
Oct. 15 – Academy of Music, Northampton MA
Oct. 16 – Garde Arts Center, New London CT
Oct. 19 – Narrows Center for the Arts, Full River MA
Oct. 22 – The Paramount, Huntingdon NY
Oct. 23 – Concert Hall at the New York Society for Ethical Culture, New York NY
Oct. 24 – The Birchmere, Alexandria VA
Oct. 26 – Asbury Hall, Buffalo NY
Oct. 27 – Wellmont Theatre, Montclair NJ
Oct. 28 – The Vogel @ Count Basie Center for the Arts, Red Bank NJ
Oct. 29 – Scottish Rite Auditorium, Collingswood NJ
Oct. 30 – Ridgefield Playhouse, Ridgefield CT
Nov. 01 – The Kent Stage, Kent OH
Nov. 03 – The Sheldon, St Louis MO
Nov. 04 – Copernicus Center Theater, Chicago IL
Nov. 05 – Pantages Theatre, Minneapolis MN
Nov. 09 – Celebrity Theatre, Phoenix AZ
Nov. 11 – Palace of Fine Arts Theatre, San Francisco CA
Nov. 12 – The Theatre at Ace Hotel, Los Angeles CA
Nov. 13 – Magnolia, El Cajon CA
Nov. 15 – Neptune Theatre, Seattle WA
Nov. 17 – Variety Playhouse, Atlanta GA
Nov. 18 – Broward Center for the Performing Arts, Amaturo Theater, Fort Lauderdale FL
Nov. 19 – Nancy and David Bilheimer Capitol Theatre, Clearwater FL