Finnish Prog Metal band Wheel are pleased to announce their new album 'Resident Human'. The follow-up their 2019 album 'Moving Backwards' will be released on March 26th, 2021.
Today, you can see the video for the album's first single "Movement" here:
"Movement" is directly about the rhetoric surrounding the events that followed the murder of George Floyd(not the murder itself). It's about the lack of empathy and logic, the conflation and the false equivalence that has repeatedly been used to minimize the murder (and others like it) and any attempt at changing social policies in a way that might prevent such things happening again. In laymen's terms, it's a 'shut the fuck up and sit down if you have nothing helpful to say' to all people who think property has more value than human life or to those who think police reform to prevent American state funded brutality, shouldn't happen as it won't solve every other issue that we face in the modern world. To be as clear as possible, this is not 'society would be better without a police force' as frankly, it wouldn't, but it is aimed at inspiring continued discussion about the role of police in our societies and to challenge a status quo where in the most extreme cases, police behave like a militia and are not accountable for their actions.
Modern discourse seems to define only two possible solutions to most given issues and this is no exception; there is a lot of middle ground between abolishing the police force and doing nothing at all-the song aims to encourage others to continue the debate and hopefully to find some middle ground with those who oppose their views. Regardless of what happens next, we all know the price of silence and ethically, it is essential that the discussion about police brutality and societal racism continues."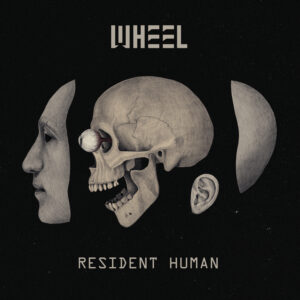 Tracklisting:
1.Dissipating (11:52)
2.Movement (4:24)
3.Ascend (4:23)
4.Hyperion (12:09)
5.Fugue (4:32)
6.Resident Human (10:32)
7.Old Earth (2:17)
The Helsinki-based Wheel were formed in 2015 when singer James Lascelles moved to Finland and, through a fluke appearance on a Finnish TV show, met the core of what would become the early stages of the band. The members' love of polyrhythms, different grooves, abstract time signatures and bands that see things differently would create the unique sound that appeared on their first EP in April 2015. A follow EP 'The Path' in 2017 would show further cement the group as one to look out for.
With their first headline tour booked in for February 2020, and the promise of a US tour waiting for them in April, it was around then the instrumental bare bones of 'Resident Human' were coming together. Initially to be squeezed into a 10-week recording period, their plans changed once COVID-19 hit the world hard; the band had to roll with the ever-changing punches.
Pushing back their allotted studio time, as a three-piece of vocalist and guitarist James Lascelles, bassist Aki Virta, and drummer Santeri Saksala – after guitarist JC departed amicably in Spring (with Jussi Turunen later joining the ranks) – Wheel hunkered down to get the album together.
From the desperate content harvest of copy/paste culture ("Ascend") to the polarized rhetoric surrounding the Black Lives Matter movement in America ("Movement"), 'Resident Human' is Wheel vocalizing the ashes they've witnessed falling throughout 2020 – putting a voice to our fallible nature.
"We joked at the start of the year that it's going to be the year of progressive music concept albums about COVID," James laughs. "And we've kind of done that…but it's more about the time COVID has allowed us to explore ourselves rather than the pandemic itself."
Photo Credit: Ville Juurikkala