Periphery return this summer with a new album, Periphery III: Select Difficulty (July 22, Sumerian Records) and a U.S. tour, dubbed the Sonic Unrest tour, which launches on Aug. 4.
"Periphery III: Select Difficulty is finally complete and we're extremely excited to show everyone," said guitar player Jake Bowen. "For the past couple of years we've been refining our collaborative process as a band and we feel that it's only getting better with the completion of this album. We spent two months writing songs that are not only representative of the Periphery sound but also reflect where all of us are as musicians, working together has helped us tread new ground musically and creatively. In support of Periphery III you'll see us hit the road in the States this summer with SikTh, Chon, and Toothgrinder on the Sonic Unrest tour, it's going to be a blast! See you on the road!"
Periphery's own Adam "Nolly" Getgood oversaw production for the album as he did with the Juggernaut releases.  Nolly will no longer be a touring member of Periphery, as he will be expanding his production work in his native UK.  He remains an integral part, and a member, of Periphery. At this time no decision has been made about a touring bassist.
"Touring with Periphery has shown me some of the most incredible experiences I could ever have imagined, to meet amazing people all over the world and to create friendships for life; it has truly been an honour to perform in front of every audience who has watched us play over the years. However the touring life isn't something that everyone can continue doing indefinitely, and for me, the time has come where I want to settle into a more normal existence, be able to make plans further into the future than the touring life enables, and to be able to focus more on the studio side of my music career," explained Nolly. "I will, however, be remaining as a band member and contributing in any way that I can while the band is off the road; I love all of my fellow bandmates like brothers and I'm so grateful for the incredible support they've shown as I make this huge life change. I know they are going to be taking the music and performances to the next level when they hit the road later this year."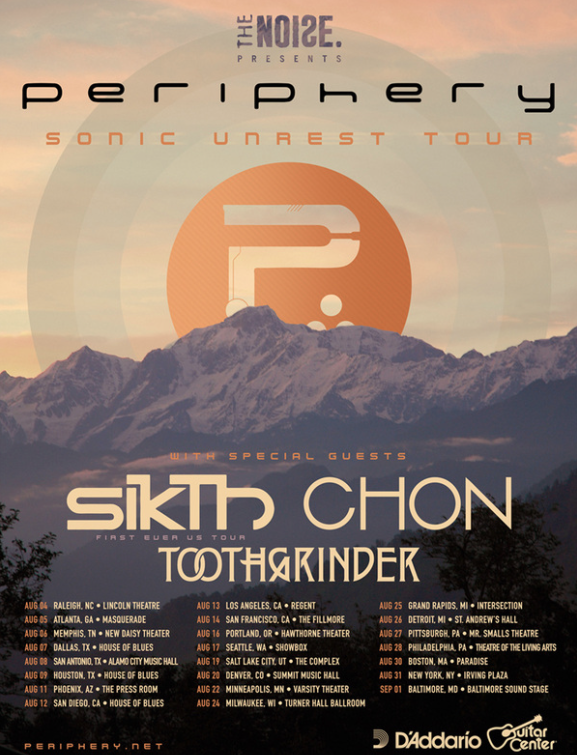 The Sonic Unrest tour, a month-long outing, sponsored by D'Addario and Guitar Center, includes openers SikTh, Chon and Toothgrinder and kicks off on Aug. 4 in Raleigh, NC. Tickets are on-sale this Friday at 10 am local time. VIP packages, which feature a private meet and greet with the band as well as a limited edition, exclusive poster are available simultaneously via www.periphery.net.
Sonic Unrest Tour, sponsored by D'Addario and Guitar Center:
August 4 Raleigh, NC Lincoln Theatre
August 5 Atlanta, GA Masquerade
August 6 Memphis, TN New Daisy Theater
August 7 Dallas, TX House of Blues
August 8 San Antonio, TX Alamo City Music Hall
August 9 Houston, TX House of Blues
August 11 Phoenix, AZ The Press Room
August 12 San Diego, CA House of Blues
August 13 Los Angeles, CA The Regent
August 14 San Francisco, CA The Fillmore
August 16 Portland, OR Hawthorne Theater
August 17 Seattle, WA The Showbox
August 19 Salt Lake City, UT The Complex
August 20 Denver, CO Summit Music Hall
August 22 Minneapolis, MN Varsity Theater
August 24 Milwaukee, WI Turner Hall Ballroom
August 25 Grand Rapids, MI Intersection
August 26 Detroit, MI St. Andrew's Hall
August 27 Pittsburgh, PA Mr. Small's Theatre
August 28 Philadelphia, PA Theatre of the Living Arts
August 30 Boston, MA Paradise
August 31 New York, NY Irving Plaza
September 1 Baltimore, MD Baltimore Sound Stage