The big question following each Morsefest, the festival put on by Neal Morse annually in his hometown of Cross Plains, just outside of Nashville, is what will next year's be?  The weekend-long event, which began in 2014, was built around the performance of Neal Morse solo albums. In 2014, it was Testimony and One. In 2015, it was the '?' album and Sola Scriptura.  There was the epic Spock's Beard performance in 2016 and then a return to Neal Morse albums with Testimony 2 and The Similtude of a Dream.  But for those die-hard fans, it seemed like there was nothing obvious that would come next.  The big epic albums had been performed.  So, what does one of the most prolific songwriters in prog rock history do, simply write a prog rock opera.  No big deal right?  Well, that's exactly what Neal Morse did and in his usual epic, grand style. The musical, titled Jesus Christ The Exorcist, had been in incomplete demo form for years. In fact, when Morse announced this was going to be performed at the upcoming Morsefest, he was still finishing it. No one knew what to expect. A few months ago, fans of the Neal Morse fan club, the Inner Circle, were treated to some of the work in demo form, now a little more fleshed out than they had been years prior.  It had promise, but how it would be performed live was still in question.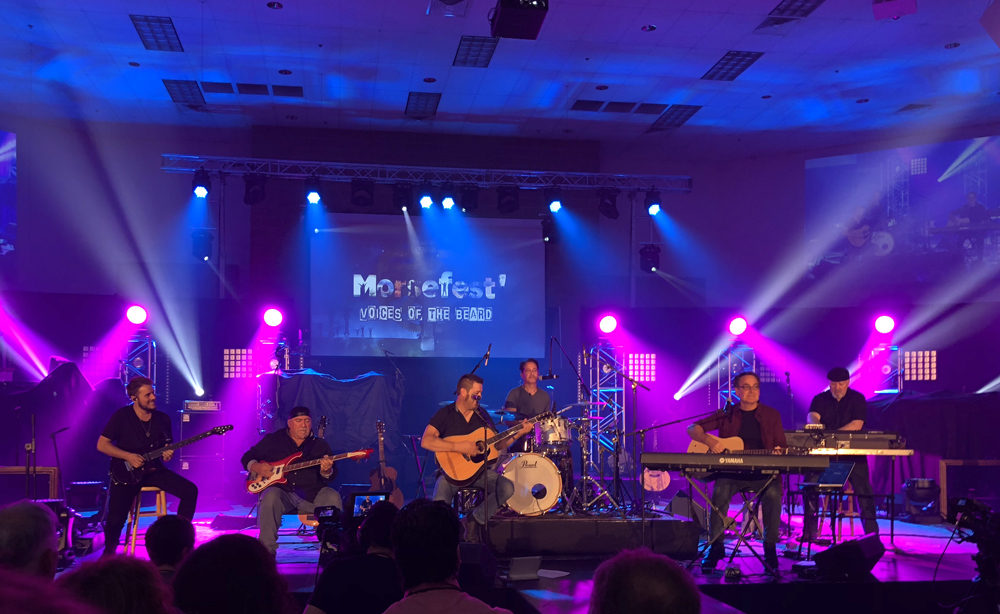 Morsefest has always been a 2-night event and this one would be no different. The 1st night would be a storytellers event listed as Voices of the Beard with Neal Morse, Nick D'Virgilio, and Ted Leonard taking turns singing Spock's Beard classics and telling some stories. They were joined by Bill Hubauer, Randy George, and Eric Gillette and performed a 2-hour show that also included some covers like U2's "Where the Streets Have No Name", and Peter Gabriel's "In Your Eyes" among others.  The band were, by their own admission, not as rehearsed as prior weekends, as this time it was about the musical.  Nevertheless, it was a great night where fans of Spock's Beard heard songs like "Day For Night," "The Doorway," and "Waste Away," which had not been performed in years.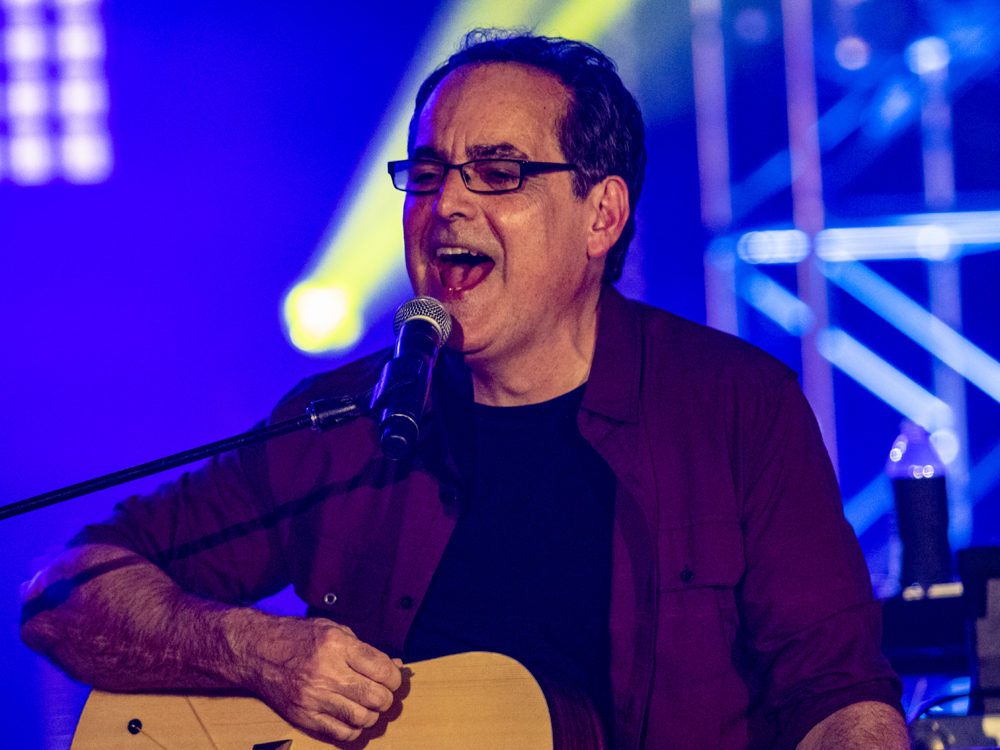 Each Morsefest is about more than the 2 nightly performances. Much of the weekend is spent with the fans hanging together at the venue, especially for those that are Inner Circle members and purchased VIP access for one of the days.  For those that did, Saturday basically began at 11am and ended at 11pm. Following a wedding service which Neal Morse officiated, there was a show exclusively for Inner Circle members with Neal Morse performing acoustically. An online contest invited guests to be selected to sing with Neal on stage. A few guests took that opportunity and performed admirably under the bright lights.  The afternoons are left for the VIP members to meet the band, get things signed, and take pictures. There was also a quiz show where old video clips were shared of the band and the fans were asked to guess the year they were made. These were quite funny and difficult to guess as host Geoff Bailie expertly ran the proceedings.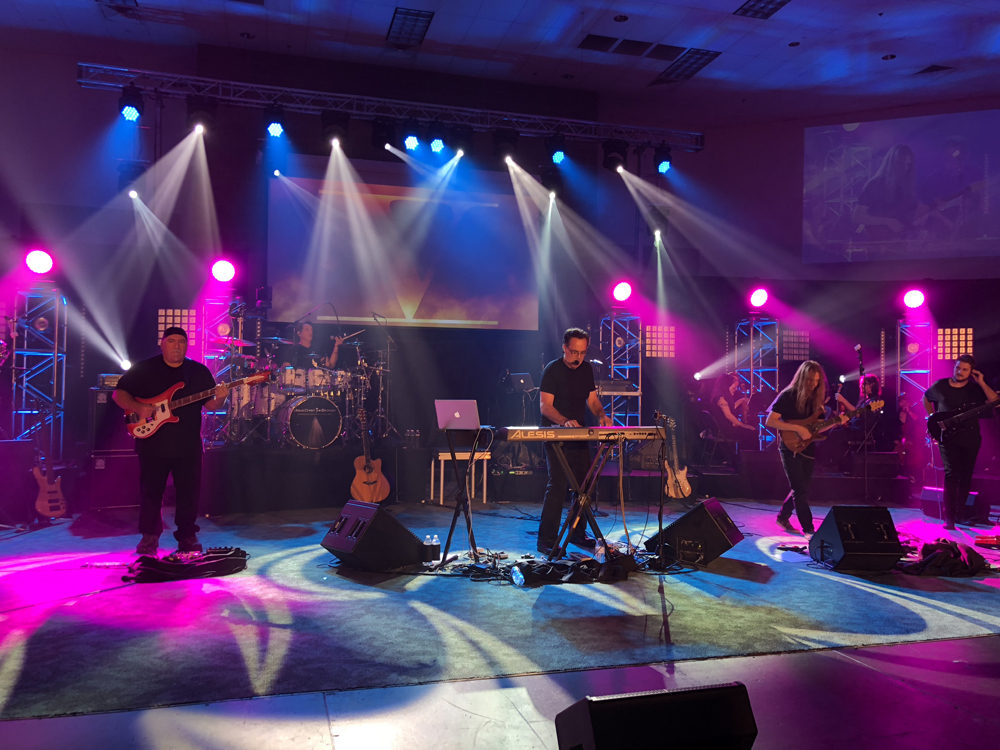 Then came Saturday night, where there was still one more epic to come before the main event. The longest and perhaps most revered song in the Spock's Beard discography, "The Great Nothing" was going to be performed as the opener to the show.  This is a song that Neal has not played live since 2001. Before the played the song, Neal came out and talked about the song and why he had not played it for so long, saying the song was written under certain feelings which had changed over the years. Nick D'Virgilio took his place at the drums, with Neal Morse Band members Bill Hubauer, Randy George, and Eric Gillette joining.  Also there to perform that evening was guitarist Paul Bielatowicz, who was in Neal's live band years ago and also play with Carl Palmer's ELP Legacy. For certain Spock's fans, this song is their Holy Grail, and it certainly was as epic as one would have hoped. Over nearly 30 minutes, the group ran through the song from the classic V album brilliantly. The night was already off to a rousing start.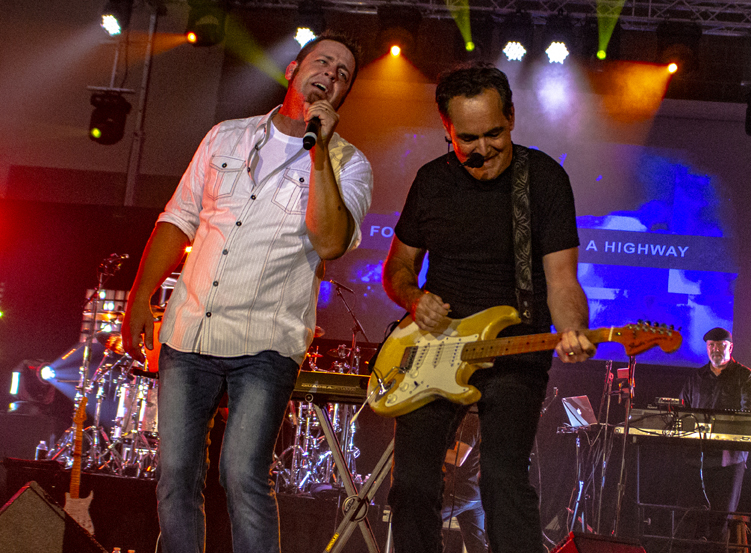 Next up was the debut of of Jesus Christ The Exorcist, the telling of the story of Jesus set as a progressive rock musical. The biggest change from any typical Neal Morse performance here was that he was the musical director and not the main performer.  The backing band included some of the usuals, Bill Hubauer and Randy George of course. Eric Gillette, normally the guitarist, was the drummer for the musical and showed off his incredible skills while Paul Bielatowicz was on lead guitar for the show. The orchestra included a horn section, a choir, backing singers, and a string quartet.  The staging and lighting was nothing short of impressive.  Also, the visuals by Christian Rios and sound by Jerry Guidroz (Sons of Apollo, Neal Morse Band, Haken) were top notch as always.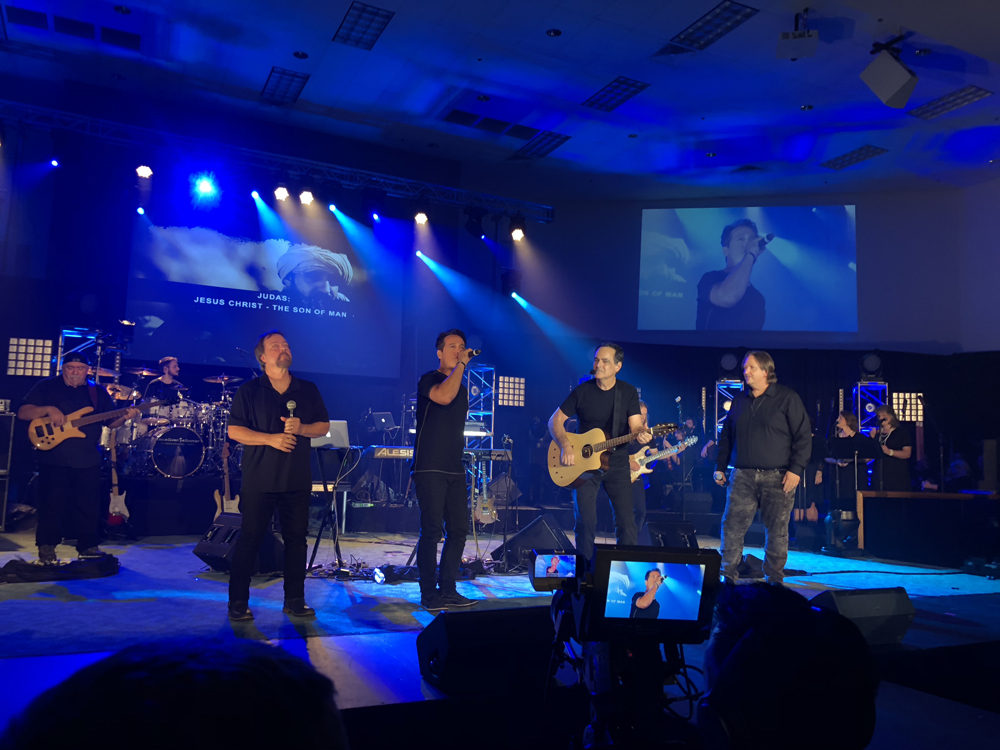 The lead role of Jesus was Ted Leonard of Enchant and Spock's Beard. Leonard's voice is one of the best in rock music and he sounded stellar throughout the night. Joining Leonard was a fantastic collection of singers that included Nick D'Virgilio along with Jake Livgren (PROTOKAW), Matt Smith (THEOCRACY), John Schlitt (PETRA), Rick Florian (WHITE HEART), Mark Pogue, and Wil Morse.  However, perhaps the one that stole the show was newcomer Talon David, a local Nashville singer who took the role of Mary Magdalene.  She had an incredible voice and brought many to tears during the finale duet with Ted Leonard. While the vocalists were not experienced actors and perhaps showed limited ability in that regard, their vocal performances are all nearly flawless. A highlight moment during the show was in the first act with the song "Legion" where Morse introduced his Gentle Giant influenced vocal medley with multiple vocalists all singing different lines in unison.  Whether or not an audience member knows or appreciates the subject matter might influence their opinion on the show, but it is impossible not to be impressed by the spectacle of this performance. What Neal Morse was able to write and produce with limited time and rehearsals was nothing short of amazing. The music is the definition of prog epic and certainly will appease any Morse fan. It is a shame that this was the only performance of the musical as there is no doubt, with more performances, it would get even better.  As of now, next up for the musical is a release of a studio recordings to be release on Frontiers Music in 2019.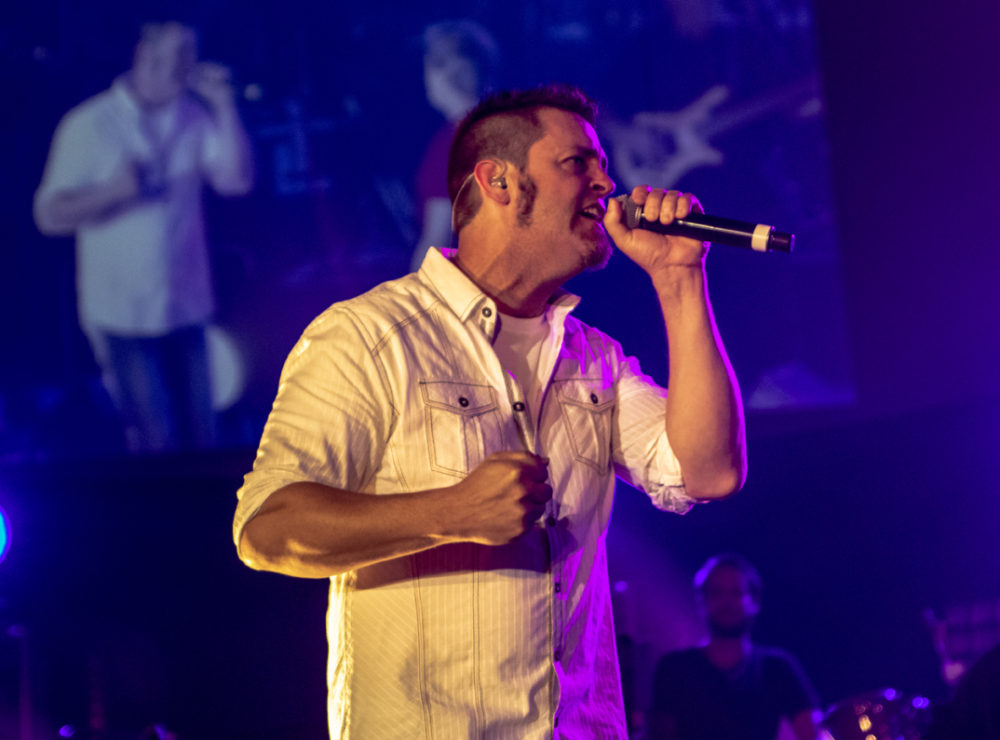 Once again, Morsefest was a huge success. This is no more evident than during the second night when pictures were taken on stage by members of the Neal Morse Facebook forum and by those that had been to all 5 years of Morsefest. Dozens took the stage for the group photo, many who are now friends and met at this event over the years. This has become a weekend summer camp for prog fans and hopefully one that will continue. It might not have been thousands, but it looked and felt like it. Credit also goes to Amy and Joey Pippin and the hundreds that help put this weekend together and do a fantastic job. Meanwhile, there is no rest for Morse who has plans to finish a new Neal Morse Band album, and a new Flying Colors album, along with the studio recording Jesus Christ The Exorcist. And then of course comes the question, what will he do for the next Morsefest?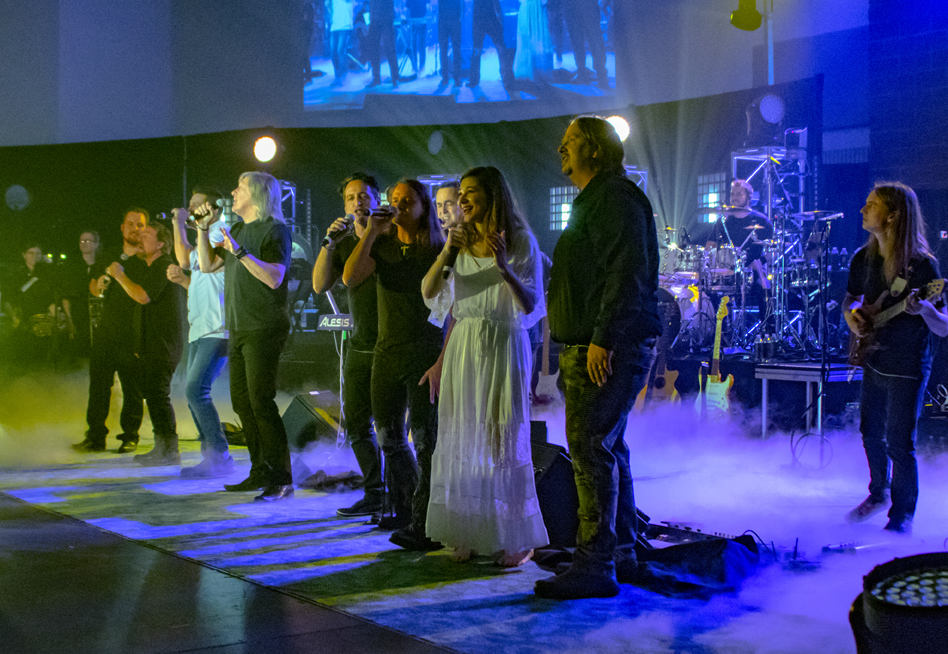 Full cast:
Ted Leonard – Jesus
Talon David – Mary Magdalene
Nick D'Virgilio – Judas
Rick Florian – The Devil
John Schlitt – Caiaphas
Matt Smith – John the Baptist, Pharisee 3
Jake Livgren – Peter, Pharisee 4
Neal Morse – Pilate, Demon 1, Disciple 1
Mark Pogue – Israelite 1, the Madman of the Gadarenes, Pharisee 2
Wil Morse – Israelite 2, Demon 3, Pharisee 1,
Gabe Klein – Demon 2, Pharisee 4
Gideon Klein – Demon 4
Julie Harrison – Servant Girl
1 – Where the Streets Have No Name – U2
2 – Day For Night
3 – Submerged
4 – Goodbye to Yesterday/Lay It Down
5 – Walking On The Moon – The Police
6 – In Your Eyes – Peter Gabriel
7 – Birthday – The Beatles
8 – The Distance To The Sun
9 – There Was A Time
10 – Telling the Bees – Big Big Train
11 – Carry On My Wayward Son – Kansas
12 – Dust In The Wind – Kansas
13 – The Doorway
14 – Waste Away
15 – June
Saturday Inner Circle Concert:
1- Isaiah 60 – Neal solo
2- Somber Days – Neal solo
3- Shine – with Janet Hawk
4- Supernatural – with Scott Medina
5- Flowers In A Vase – with Wil Morse and Julie Harrison
6- In My Time Of Dying – with Kyle Graves
7- Heaven In My Heart – with guest
8- Carpet Crawlers – with Geoff Bailie, Martin Wilde and Nick
9- Suite: Judy Blue Eyes – Ted/Nick/Neal