By Nick Tate
Photo: Larry Marano Photography
He's one of the most accomplished artists you've probably never heard of, he's collaborated with everybody who's anybody in British prog circles, American jazz-fusion legends, and even world-beat luminaries. Cream's Jack Bruce compared him with Duke Ellington. Al Di Meola calls him the "Hungarian Quincy Jones." Greg Lake deemed his band "probably the best in the world." Ian Anderson says he's the "master chef in the kitchen, mixing all of these exotic spices and mystical musical influences." But mention Leslie Mandoki's name to most American progressive rock or jazz fans? Crickets. That's because he's largely unknown outside his native Hungary and his adoptive home of Germany, where he is a musical legend who counts Angela Merkel and Mikhail Gorbachev among his friends.
But that's all about to change.
At 66, Mandoki has just issued his first American album — a lush prog-rock affair featuring a Who's Who of prog and fusion superstars from both sides of the Atlantic. It's an expanded version of his 2019 Hungarian Pictures suite — based on the classic masterwork by Bela Bartok of the same name – released under the title Utopia for Realists. Billed as a visual album, the record is a two-fer of sorts. It features the remixed/remastered original music and, on Blu-ray, Mandoki's 2019 all-star concert marking the 30th anniversary of the fall of the Berlin Wall with stunning animation from Gabor Csupo (of Simpson's and Rugrats fame).
It's the latest release from the muti-instrumentalist composer's long-running collective, Mandoki Soulmates, founded in 1992 with Anderson, Di Meola, Bruce, Lake, and others. The double-disc set also includes performances by Chris Thompson (Manfred Mann's Earth Band), Bobby Kimball (Toto), Blood Sweat and Tears), John Helliwell (Supertramp), Nick van Eede (Cutting Crew), Mike Stern, and Julia Mandoki (his daughter).
The group is largely unknown outside of Europe. But if you've ever wondered what it might sound like with Di Meola guesting with Yes, Anderson fronting Return to Forever, or King Crimson scoring Igor Stravinsky for rock orchestra, this just might be your cup of prog tea.
As ground-breaking as it sounds, Mandoki says he's aiming to more than simply bridging the Atlantic divide that has traditionally separated British prog from American fusion since the 1970s. Utopia for Realists delivers an urgent appeal to close the cultural, national, socio-economic and political divisions that have become magnified around the world in the era of COVID-19.
He says he launched the project to send a message about the power of rock and roll – and prog, in particular – as a unifying force that can knock down the walls that separate musical genres and people alike.
"Music is the great unifier, and this is what Utopia for Realists is all about," he says in a new interview with the Prog Report. "This is elementary – it's about bringing people together. "We have to lead out from this darkness, from greediness, social media-led misinformation, and political echo-chambers to get back to recognizing there's something larger that we need to create. That's why I call it Utopia for Realists."
We sat down with Mandoki during a brief stop in Miami to discuss the new album, his preparations for a 2022 global tour with Mandoki Soulmates and what it's like to work with so many big names in prog, jazz, and R&B circles.
The wide-ranging interview also offered a revealing glimpse of progressive rock behind the Iron Curtain in the 1970s and how it inspired Mandoki's emigration to the West as a young artist in 1975, with Csupo and his musician friend Laslo Bencker. Progressive rock, he says, is both the classical music of our times and a powerful answer to fascism – "a kind of protest music" — that continues to fuel his writing and musical ambitions.
Excerpts of the interview follow.
Q: First off, let's talk about the new album. This is your first release in the United States?
A: I'm a newcomer [laughs].
Q: Right – you're an overnight sensation who's been overnighting for 40 years.
A: Yes, absolutely.
Q: So, how did this album come together? I understand Greg Lake suggested you do something with Bartok's music some years back?
A: That's right. Eighteen years ago, we had this idea for Mandoki Soulmates to do a concert to celebrate 50 years of rock. It was a Who's Who of American and British rock. But I also invited Mikhail Gorbachev and he came on stage to explain that prog rock helped bring down the Iron Curtain. To prove Glasnost was real, he said he released on a state-owned record company, Jethro Tull's Aqualung. It just put this show on another social level. And I think people should understand that music has a social role.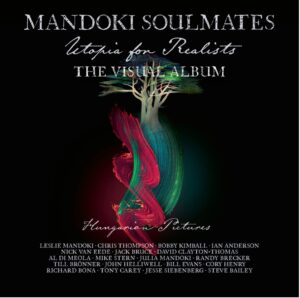 Q: So, how did the idea of 'Hungarian Pictures" come out of all that?
A: One of the nights of the rehearsals for that show, Greg Lake came up to me, with Jon Lord, and he said, 'Look, you're a Hungarian boy, what is your relationship to Bela Bartok?' And I said every Hungarian boy learns to walk [and play] the piano. And, of course, Bela Bartok was a national hero and an anti-fascist hero. So, I said to Greg and Jon that, "Yes, this is in my blood, it's my DNA." And then Greg says that Emerson Lake and Palmer, when they did Pictures at an Exhibition, they also wanted to do Hungarian Pictures, but they couldn't get the rights. So, we should do it now. And so, I said, OK, yes, let's do it.
Q: It's interesting because Bartok wasn't just a classical composer. He included Hungarian folk elements in his music, he loved jazz and was a man of the people.
A: Absolutely. He used to say jazz was classical music, but it's just not written down. I remember [jazz bassist] Anthony Jackson taking me into his Harlem apartment and showing me his Bartok recordings, along with Miles Davis, John Coltrane, Charlie Parker, Jimi Hendrix. Then later I learned from Chic Corea that he was also into Bartok.
Q: So, when did you actually start writing the new album?
A: In January 2018, we got invited to play at the Beacon Theatre [in New York], as part of the Grammy Awards weekend. Two days afterward, I started writing the new music. I was working 20 hours a day, in Bali. So, that's how it started. Then, in October 2019, we played several concerts and recorded one on the anniversary of the fall of the Berlin Wall in a concert hall in Berlin. Angela Merkel was there, and we were playing the new Bartok stuff.
Q: COVID-19 was still several months away.
A: Right. We planned a huge worldwide tour, but then COVID comes, so we cannot go on tour, and everything locks down. But before the shut down, I got together with Gabor [Csupo] and he said let's do something very special with animation for this album and we were moving forward to do that. But then, a year ago, I caught COVID, right before the vaccines became available. My wife is a doctor, so she did a test and said I had the highest possible load of virus, and an 80% chance of dying. I was alone for 40 days, quarantined, but I felt absolutely nothing. Maybe a little fever. So, I took that time and just wrote … and was working on the video. Every day I would sit and do everything, melding the pictures and the music.
Q: So, let's talk about the music itself. Brit prog and American jazz aren't exactly on the same page, musically speaking —
A: Unless you're listening to my records.
Q: Fair enough. But I'm wondering how you make those connections when you're composing? Do you hear that those disparate musical styles co-mingle in your head when you write, or do you bring these different musicians together to see what we come up with on the spot?
A: No, no. It's all written down before; everything is written before we get together and play. That's the glue — the compositions, the writing.
Q: You're primarily a drummer, but you also play guitar and piano, and you sing, as well.
A: Yeah, yeah. But I'm hearing the music in my head first, then I'm just controlling it when I write it down and play it. Melody first, then lyrics.
Q: When you're writing, are taking into account what Di Meola, Anderson and the others can do together in the studio or on stage?
A: Yes, right. Like Jack Bruce used to say, "Leslie knows exactly who's supposed to be doing what, but after these two bars or those two bars, I can be myself." Of course, I would never say to Ian Anderson which kind of flute solo I imagine. I'll say: "This is your 16 bars and you come in there," and this is the way it is.
Q: So, let's go back a bit, to the start of your career. What drew you to progressive rock in the first place? I don't imagine prog was played on the radio behind the Iron Curtain in the 1970s.
A: When I was 18, I was a leading rock voice with my band of the anti-communist opposition in Hungary. JAM was the name of the band. And we were playing universities. And it was only prog, all original, because I was totally attracted to Ian Anderson, King Crimson, ELP and that classic stuff. Jethro Tull's 'Aqualung' changed my life. I got a fourth-generation mono copy of the album. But it was illegal. Prog was highly illegal. It was called evil music, devil music by the government…because of the intellectual nature of it. And I was not allowed to listen to it. I was not even allowed to learn English because the Iron Curtain was a barrier.
Q: How did you first come by the music of Tull, Crimson and ELP?
A: There were no record stores or a way to get this music. But there were [bootleg] copies you could get. So, I got a copy of Aqualung. I translated the lyrics and I wanted to understand the arrangements and the harmonies and the production. And then I made a fifth copy and shared it.
Q: When you emigrated to the West in 1975, I heard that you told a refugee camp resettlement office that you had crossed the border because you wanted to work with Ian Anderson.
A: Yes, and Jack Bruce and Al Di Meola. And then he said, "Wait a minute, there's no connection between those guys and their music." He knew them all, you see? And I said, "Well, the idea is to merge American jazz fusion with British prog rock."
Q: Did he get it?
A: No [laughs]. So, I told him I'm so attracted by the prog rock because of the compositional structure, harmony, architecture, the intellectuality of it and from the political aspect. But I'm missing the virtuosity of the American jazz players. And I want to bring them together.
Q: You had a quite a sense of yourself at age 22 to say that your career ambition was to play with Ian Anderson.
A: Well, the intellectuality of the music, like with Ian, was for me always an important aspect. It's not for every musician. And that's OK. For instance, my dear friend Phil Collins doesn't write lyrics like Peter Gabriel, end of story. The same goes for a genius like Steve Lukather. But Ian has everything: He's got that intellectual torch, he has the musicality, the preciseness, the incredible focus.
Q: When did you meet him and what was it like?
A: I was in my 20s, in 1982. I asked Ian's promoter in Germany to set up a meeting and he arranged it. We [hit it off] right away, and since then, we became close friends. The same thing happened with Al Di Meola.
Our families have come together. Our kids know each other. Now it's a friendship that's lasted 40 years.
Q: You've said that your father was a big influence on you, in terms of leaving Hungary and pursuing your musical aspirations.
A: Yes, he had a lot of ideas about how important it was being a free man with a free mind. He said that talent was a responsibility. My father thought the only way to win the battle against dictatorship is to study and be the best at what you do, including making music.
Q: So, from the beginning, prog has been both an expression of freedom and a kind of protest music that bridges the divisions in musical genres, but also brings people together.
A: Yes. Music is the great unifier, and this is what Utopia for Realists is all about. This is elementary — it's about bringing people together. We have to lead out from this darkness, from greediness, social media-led misinformation, and political echo-chambers to get back to recognizing there's something larger that we need to create. That's why I call it Utopia for Realists.
Q: Seems to me that, in some ways, you're returning to the roots of progressive rock in the late 1960s and 1970s. Ian Anderson once told me that prog was an outgrowth of the turmoil of that era – the anti-war, anti-establishment sentiments. It was about breaking away from the mainstream, in terms of the music and the message.
A: Yes, it's reinventing all that whole thing. I see this incredible division in society today, in general, and it is wrong how many poor people we have and how many rich people we have. It is sick and it's not OK. Back in the 1960s and 1970s, we came up with prog rock as an answer to that. In the 1980s we were able to blow away the Iron Curtain. And now this is Utopia for Realists, and it's about making a 180-degree U-turn because we are going I the wrong direction. We have to be optimistic about it, but let's be realistic. Which is why I call it Utopia for Realists. If we were able to blow away the Iron Curtain and tear down the Berlin Wall, we can do this.
Q: Would you say that the COVID crisis has amplified those divisions?
A: COVID is just a magnifying glass. It's a test of character for individuals, for families, for bands for companies, for society. It's a magnifying glass. So, Utopia for Realists is an answer to that. As an old rebel, I would say my generation [fouled] things up. And we have a responsibility to work together to make this generational contract and [lead] change and the heal the divisions. The words of my father are still true today: Talent and intelligence are responsibilities. And we just have to make a U-turn and we need to recommit to these basic human values, and we need to fix this. So, Utopia for Realists is the soundtrack for the U-turn. That's what it is all about.
Utopia For Realists: Hungarian Pictures
CD/LP
1 Sessions In The Village 00:06:50
2 Utopia For Realists 00:02:08
3 Transylvanian Dances 00:26:38
4 You'll Find Me In Your Mirror 00:02:34
5 Return To Budapest 00:15:27
6 Barbaro 00:04:31
7 The Torch 00:05:50
Blu-ray
1 Session In The Village Live In Berlin 00:07:12
2 Utopia For Realists Live In Berlin 00:02:19
3 Transylvanian Dances Live In Berlin 00:21:42
4 You'll Find Me In Your Mirror Live In Berlin 00:02:54
5 Return To Budapest Live In Berlin 00:09:22
6 Pre-Barbaro Live In Berlin 00:04:43
7 The Torch Live In Berlin 00:09:37
8 Intro The Movies 00:03:04
9 Session In The Village The Movies 00:03:20
10 Transylvanian Dances The Movies 00:02:13
11 The Truth Behind The Dance The Movies 00:02:05
12 Cedar Of Life The Movies 00:01:42
13 Session In The Academy The Movies 00:03:34
14 Utopia For Realists The Movies 00:02:13
15 Children's Dance The Movies 00:03:26
16 You'll Find Me In Your Mirror The Movies 00:02:38
17 New York The Movies 00:02:25
18 Furioso The Movies 00:05:51
19 The Torch The Movies 00:05:51
20 Behind The Scenes 00:47:45
Leslie Mandoki (Mandoki Soulmates) Interview – Utopia for Realists