Norway's LEPROUS are rolling out the campaign for their much-anticipated new fifth studio album "Malina" (Out August 25th, 2017 via InsideOutMusic) by debuting its first single and video "From The Flame" today.
Watch the video for "From The Flame", which was directed by David Solbjørg of Twitchy Films, here:
The band checked in with the following comment about "From The Flame":
"From the Flame" is definitely one of our favourite tracks from the album, with a strong hook and memorable melodies. Despite it sounding big and catchy, it also sounds pretty organic and it has a depth to it. We're super proud of the son and feel it represents LEPROUS 2017 very well!"
And video director David Solbjørg of Twitchy Films added about the clip:
"It's always fun and challenging to work with Leprous. This time around we chose to shoot with RED 8K cameras and brand new colour science (ipp2) to get as atmospheric shots as possible in a demanding low light environment."
The track-listing for "Malina" reads as follows: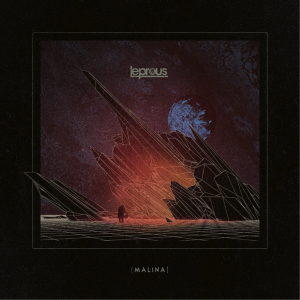 LEPROUS – "Malina":
1. Bonneville
2. Stuck
3. From The Flame
4. Captive
5. Illuminate
6. Leashes
7. Mirage
8. Malina
9. Coma
10. The Weight Of Disaster
11. The Last Milestone
"Malina" will be available as Jewelcase CD and Digital Download, but also as limited edition Mediabook CD (with extended booklet and the bonus-track "Root") and as Gatefold 2LP on 180gr. vinyl (with a poster, the bonus-track "Root" and the entire album on CD).
"Malina" is now available for digital pre-order here:
http://smarturl.it/LeprousMalina
Following a hugely successful European tour as support to label-mates Devin Townsend Project earlier this year, LEPROUS wrapped up the work on "Malina" with producer David Castillo at Ghost Ward Studio in Sweden, while mixing duties were once again taken care of by Jens Bogren at Fascination Street Studios in Sweden. The album's artwork was designed by Corey Meyers.
In order to support the release of "Malina", LEPROUS will be heading out on an extensive headlining tour of Europe together with special guests Agent Fresco from Iceland, plus Australia's AlithiA and fellow Norwegian's Astrosaur. Here is a list of the dates announced so far:
LEPROUS, Agent Fresco, AlithiA & Astrosaur – European Tour:
Presented in Germany by Eclipsed, Laut.de, Guitar & Metal.de
28.10.17 – Pumpehuset, Copenhagen, Denmark
29.10.17 – Logo, Hamburg, Germany
30.10.17 – Luxor, Cologne, Germany
31.10.17 – Rockhal, Esch, Luxembourg
1.11.17 – Patronaat, Haarlem, Netherlands
2.11.17 – The Dome, London, UK
3.11.17 – Voodoo Lounge, Dublin, Ireland
4.11.17 – Damnation Festival, Leeds, UK
5.11.17 – Biebob, Vosselaar, Belgium
6.11.17 – Trabendo, Paris, France
7.11.17 – Barakason, Nantes, France
8.11.17 – Rocher Palmer, Bordeaux, France
11.11.17 – Le Metronum, Toulouse, France
12.11.17 – Le Moulin, Marseille, France
13.11.17 – Magnolia, Milan, Italy
14.11.17 – CCO Villeurbanne, Lyon, France
15.11.17 – Salzhaus, Winterthur, Switzerland
16.11.17 – Grillen, Colmar, France
17.11.17 – Backstage Halle, Munich, Germany
18.11.17 – Szene, Vienna, Austria
19.11.17 – A38, Budapest, Hungary
20.11.17 – Rock Café, Prague, Czech Republic
21.11.17 – Proxima, Warsaw, Poland
22.11.17 – Musik & Freiden, Berlin, Germany