"Scatterbrain" is the all new sophomore release from the super-group KXM comprised of drummer Ray Luzier (KoRn), guitarist George Lynch (Lynch Mob) and King's X front man dUg Pinnick. The album features 13 brand new tracks and is the follow up album to their highly successful 2014 self-titled debut release which landed at #31 on the Billboard Top 200.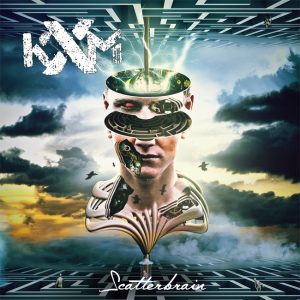 From the infectious riff of the album opener "Scatterbrain" to the outro of "Angel," KXM have created something truly special and musically diverse. Songs like "Breakout," "Calypso," and "True Deceivers" are sonically different from each other taking the listener on a musical journey. Scatterbrain is thematically a darker record than the debut. The album builds upon the developed KXM rock sound but this time includes some different dynamics drawing inspiration from prog, ska, punk and metal. Through it all, it remains undeniably KXM.
Speaking about the recording process for KXM's new record, vocalist dUg Pinnick comments, "We wrote all the songs right on the spot and immediately recorded them, everyone doing his part and no one telling the other one what or how to play, just like the previous album!". Drummer Ray Luzier adds "We wanted to use the same formula as the 1st KXM record…book studio time, come in fresh every day with a new idea, run with it and not over think anything" .