Photo Credit: Andy Ford
Kevin Comeau, Guitarist/Bassist/Keyboardist for the Canadian duo Crown Lands talks about the band's history, recent success, meeting Alex Lifeson, and their new album Fearless.
Fearless is out on March 31st, 2023.
For the full audio click the podcast link or download the podcast on
Apple · Google· Stitcher · PodBean • Spotify
Subscribe to the podcast to automatically receive future podcast episodes.
You can also subscribe to our YouTube channel
'Fearless' was announced with the release of the album opener, "Starlifter: Fearless Pt. II" a track Guitar World dubbed as "a jaw-dropping voyage through off-kilter riffs, blockbuster guitar tones and dynamic contrasts that not only parallel the Rush playbook but even go beyond it."
'Fearless' follows Crown Lands' self-titled debut (2020). It was recorded in 80A Studio at Universal studio in Toronto with producer David Bottrill (Rush, Muse, Tool, Mastodon) and came together over a six-month period, in short, intense bursts between tours. Where the debut record showcased Crown Lands aptitude for raw blues rock, 'Fearless' embraces more of the band's earliest passions in prog-rock.
After performing the song live on tour to eager fans, Juno Award-winning, rock duo Crown Lands – Cody Bowles (vocals and drums) and Kevin Comeau (guitar, bass, and keys)— released their anticipated single, "Lady Of The Lake" through Spinefarm Records/Universal Music Canada, the country's leading music company.
"Lady Of The Lake" dives deeper into the saga Crown Lands introduced with their 18-minute opus, "Starlifter: Fearless Pt. II" released earlier this month. Bowles explains, "Steeped in a myriad of mythology, our song 'Lady of the Lake' tells a tale of an ancient battle for control over the realm and a powerful goddess who is called upon to dispel the darkness. This takes place in the same world as Fearless, but long ago."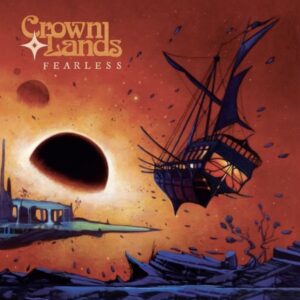 'Fearless' Track List:
1. Starlifter: Fearless Pt. II
2. Dreamer Of The Dawn
3. The Shadow
4. Right Way Back
5. Context: Fearless Pt. I
6. Reflections
7. Penny
8. Lady Of The Lake
9. Citadel