Legendary Dutch progressive rock band KAYAK will release their seventeenth studio album entitled "Seventeen" next Friday on January 12th, 2018. Today they have launched an animated video for the track 'La Peregrina', the second single to be taken from the album, and you can watch that here:
Founding member Ton Scherpenzeel comments: "'La Peregrina' is the story about the merciless passing of time and the vanity of man, as observed by the legendary pearl that represents eternal beauty. It watches the rise and fall of kings and serves to enhance the status of queens who wear it, and knows all their secrets. An intriguing idea that inspired me to write this longest epic – the album version is almost 12 minutes long – on the new KAYAK album."
Ton comments on the upcoming new record:
"Who would have thought that the quirky Dutch prog band that began its journey in 1973 (the year "See See The Sun" came out) would still have a future some 45 years later. Yes, we have had our share of ups and downs. Often it seemed the band would either break up for good or fade into oblivion. But we didn't. So here we are, a new line up, but as dedicated to the music as we were in the beginning.  If there is a secret to KAYAK's longevity, it must be that. Writing this, I realize that the album title does not only mark the number of studio albums KAYAK has made up until now. It also represents that exciting feeling of being 17 all over again, embarking on a musical journey, full of expectations. And just like in 1973, I don't know where it will lead us, but we're on our way. Here's to new horizons."
"Seventeen" is now available to pre-order on 2CD Digipak (featuring an extra disc with 36 minutes of demo material), gatefold 2LP + CD & digital download at www.insideoutmusicshop.com.
Digital pre-orders through iTunes & Amazon receive the track 'Feathers & Tar' immediately and you can also stream the track on Spotify, Apple Music & other services: http://smarturl.it/KAYAKSeventeen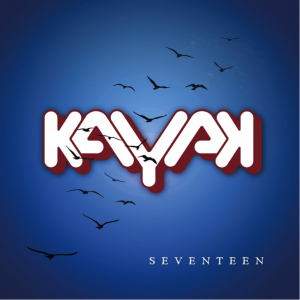 The full track-listing is as follows:
Disc 1
1. Somebody (3:04)
2. La Peregrina (11:42)
3. Falling (3:08)
4. Feathers And Tar (3:14)
5. Walk Through Fire (10:23)
6. Ripples On The Water (3:40)
7. All That I Want (3:47)
8. X Marks The Spot (1:58)
9. God On Our Side (3:30)
10. Love, Sail Away (3:12)
11. Cracks (8:50)
12. To An End (3:32)
Disc 2
1. Cracks (Demo 2016) (10:16)
2. La Peregrina (Demo 2016) (12:21)
3. Falling (Demo 2016) (3:00)
4. Walk Through Fire (Demo 2016) (10:41)