Swedish's masterminds of dark, moody and wildly-complex progressive rhythms Änglagård will return once again to Cruise to the Edge next month, following their presentation with a few handful of additional US/Canada dates in May, and closing with the Sunday headlining spot at the 2017 edition of the prestigious Rite of Spring Festival (RoSfest) to be held in Gettysburg, Pennsylvania. Since their appearance in Cruise to the Edge 2015 the band has been working on several projects. Contributor Joel Barrios sat down with guitarist and founding member Jonas Engdegård to learn more about what has been happening in the "House of Angels".
JB: I guess that there's no other way of starting this interview than asking the most impending question coming to the minds of every single Änglagård's fan on Earth. What about the new Änglagård's record? How is that coming along?
JONAS: It's been quite stagnating due to the tours in 2015, but last few months it's been taking off good. I'm constantly getting reminded that we do have an extremely slow way of writing music together, which is sometimes frustrating. Anyway – I can guarantee we'll have new songs for the upcoming concerts in 2017.

Is the songwriting a group effort, or do individual members bring their own songs to the band? I think it's always interesting to read how a band construct their songs.
A little bit of both. Sometimes we all sit together (all six members) in a room in a songwriting session, jointly coming up with riffs, melodies and parts, and also merging selections of individual compositions. That's the really slow part. Sometimes we write longer pieces individually or in smaller groups, though. That's much more efficient. For example, Johan and me have been working on a piece for quite some time that's starting to look like a promising baseline version. But the most important step is the ensemble/orchestration work with the full band to let all our personalities get into the music in order to create the "Änglagård sound".

Looking back at past experiences, what was challenging and what was fun during the "Viljans Öga" recording sessions?
For Viljans Öga we did a pretty detailed pre-production (with drum machine), so from there the actual recording was much more controlled than before. If I would list pros and cons in that, I'd say I enjoyed the deterministic part as we got very early indications on how the recording would turn out and we could work a lot with just perfecting things rather than firefighting. On the con side I'd say the "decentralized recordings" that technology allows nowadays, was a nightmare. I expected overseeing the recordings of all tracking work, but the number of new tracks from other band members was growing out of proportions. We sometimes needed to cut down from some 150 tracks before even consider to give it to Alar (who was mixing), and having still too many parts and alternatives during mixing session made it very slow and expensive.

Do you feel you have evolved as a musician in the last years? If so could you explain in what sense?
I've been doing the acoustic guitar parts for the live shows recent years. It's somewhat new for me as Tord always was the acoustic guitar guy in the band when we played in the 90s. But it feels refreshing indeed. Nothing beats the expression from a real acoustic instrument. Except from that, I've played the same Änglagård repertoire for quite some number of shows now (looking forward to add some new stuff…), so I guess I'm more or less the same although doing it in my sleep.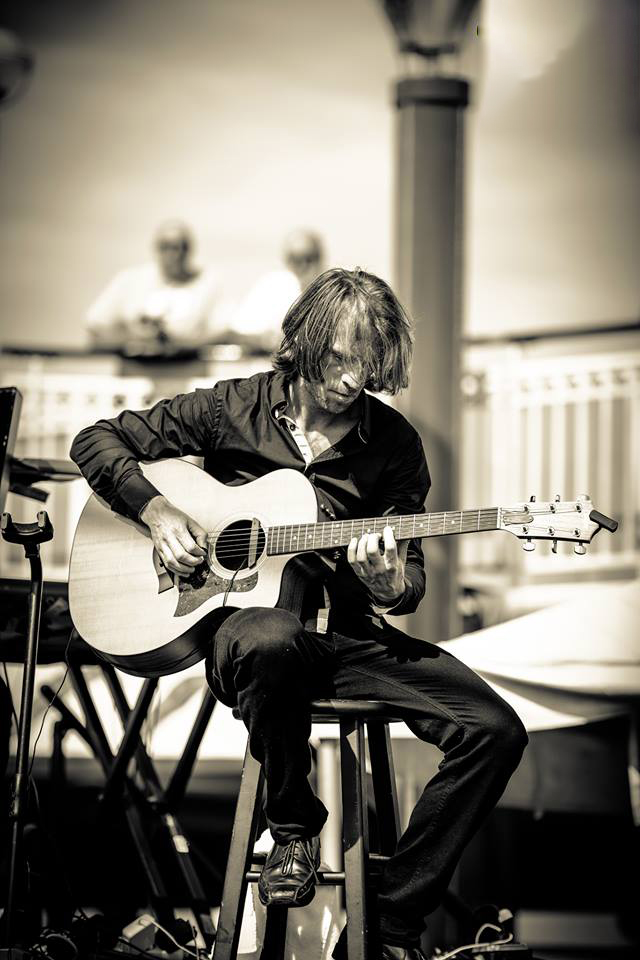 Is there an all-time favorite guitar model you like to play with?
I've been searching among many guitar models in my days but I always end up with a Fender Stratocaster. Although I sometimes use other guitars in order to get a certain sound on a recording, the Stratocaster is the model that aligns with my expression and style the most.

Have you played with any other bands outside of the Änglagård's realm?
Yes, many. But it was many years ago I had time to engage in multiple bands. At that time, it was nice to get some change and blow off some steam sometimes. However, nothing in my musical life has been anything near that ambitious as Änglagård.
Will there be any of the new material in the set for Cruise to the Edge next February? When do you think the new album will be ready?
Yes, there will definitely be new material for the upcoming shows in 2017 (including CTTE). The new album, that's harder to tell. However, we have been working like busy bees to have the first ever official live video in the history of Änglagård ready for the Cruise. There's a lot of expectations about it and we are doing as much as humanly possible to make this memorable for all our fans. It'll be a Blu-Ray/DVD box containing the show we did at Norway in 2015, and as I speak the final touches are underway to enter the mass production stage.
Have you got any plans for future vinyl reissues of the Änglagård's back catalogue? Fans will be extremely pleased if Hybris and Epilog are brought back to vinyl again, they are constantly asking about this subject in the forums.
Yes, we really want to and there are some plans. However, it's pending a few obstacles to be overcome related to editing work, record label and distribution. 2017 seems to be a very good year to make this fan's dream come true.

Who can you name as your biggest musical influences?
I will skip this one. I panic when I'm thinking about 100 names at the same time and can't rank them.
If you would be given the power and the chance to assemble a dream band (living or dead) who would they be? (vocal/bass/drums/keyboard/lead guitar/rhythm guitar)
No! I don't think it works that way. A successful band, let's say Pink Floyd, wasn't successful because they were outstanding musicians, they just found the right combination of people at the right place, at the right time in their life and at the right time in history.
What kind of equipment/gear are you using on the road and in the studio?
• Fender Strat Custom, stacked hum bucking pickups is very important for me when playing in this extremely dynamic band.
• Boss GT-3, which has hung around for a long time now. It has some favorite distortions that I still can't replace and just the basic delay and volume control I need. On "Viljans Öga" I also used a Boss ROD-10 for the really fat, fuzzy sounds. Actually, the ROD-10 was the distortion I mainly used on Hybris in 1992.
• Fender Deluxe amp.
• Acoustic guitar on stage: Taylor 114CE, Fishman Rare Earth sound-hole pickup, Fishman Aura Spectrum DI. The Aura Spectrum is really irreplaceable for live use. Without it I would perhaps even consider to drop the acoustic guitar for live shows.
Any anecdotes or special memories from your live performances you would like to share?
Perhaps when rain was pouring down during our first Cruise to the Edge gig (no roof over the stage) and we ended the show after only half a song? Well, they scheduled another bonus gig for us and our equipment worked fine despite being quite soaked. Anyway – shortest show ever…