by Jordan Blum
As the rhythm guitarist for North Carolina quintet Between the Buried and Me (since 2005's Alaska), Dustie Waring has helped created some of the most multifaceted, complex, and imaginative progressive metal of the last couple decades. Naturally, the group's latest two releases, Automata I and II, are no exception, as they cumulatively contain some of BTBAM's most heavenly and hellish songwriting within the framework of some truly brutal, gorgeous, and all-around eccentric arrangements.
With Automata II releasing in only a couple weeks (July 13th, to be exact), there's no better time to chat with Waring about how it compares to its counterpart, as well as how BTBAM came to work and tour with The Dear Hunter, how the Automata duo were written, what he's listening to these days, and more! (For more info on all of that, check out http://www.betweentheburiedandme.com.)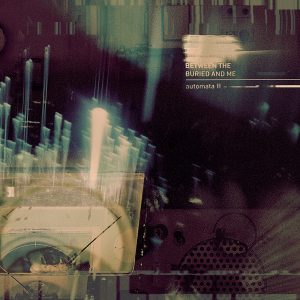 Hey, Dustie. Thanks for taking some time to speak with me, and congrats on Automata II, one of the top albums of the year so far.
Dustie: Oh, cool. That's good to hear. I know that II is a little weirder; I'm actually pretty excited to see the response people have to it.
Me, too. Before we get to that, though, I do want to ask you about your recent tour and split disc with The Dear Hunter (on which you covered "The Tank" and they took "Rapid Calm"). First, how did they come to join the tour alongside BTBAM and Leprous? I love TDH, of course, but your two styles aren't exactly similar.
Dustie: To be perfectly honest, we've been fans of TDH for a long time. We've listened to their records, you know, way back. I remember listening even before Colors [2007]. Our goal with our tours is to do something different and have really cool and unique bands with us. I feel like our listeners are into as much diverse stuff as we are, so it's nice to give them some relief instead of blowing out their ears for four hours. There's a lot of dynamic shifts and things like that. That tour was really special, man. Leprous is always incredible.
Totally. It's easily the best concert I've seen this year.
Dustie: Awesome. They're close friends, and The Dear Hunter became close friends. We've respected them for so long, and it was just a really proud tour for us because we could have a package with so much talent.
Absolutely. How did you approach covering "The Tank" and how'd you feel about their version of "Rapid Calm"?

Dustie: We all brainstormed on songs, but Dan [Briggs, bass] was the one who recommended that track. We thought it'd be easy to make heavy and super cool, and honestly, I knew they'd do something awesome with our song just because of how good they are. I was so impressed with how much creativity Casey [Crescenzo, vocals/guitar] put into it. He took it and made it—like, the ending reminded me of Led Zeppelin, you know?
Yeah, I can see that.
Dustie: I'm super pumped about it; I actually just got my vinyl copy of it. I collect vinyl and I like to have a copy of everything we do.
It's making a huge comeback. What sticks out to me about both songs is that they maintain the essence of the originals but also really feel like they could've been done by the second band, too. I think it's truer with your take than theirs, but they both have that quality.
Dustie: For it to be our first split with someone, it couldn't have come out better. We're honored that they took the time to learn one of our songs and recreate it in a different way.
Moving on to the new record, is it true that the label wanted you to split Automata?
Dustie: It was definitely their idea first. It was written and recorded as one, yes, but you know, there was a good reason behind it. Even though I'm into a lot of weird and different music, I'm definitely guilty of being an ADD listener and our stuff is so dense and long that it kind of worked out. Automata I ended on such a cliffhanger, and the material will be absorbed more because of the split. Because it was half as long a typical BTBAM album, the fans could keep pumping it and really learn every inch of it so that when this second part comes out, they'll be so ready to finish story and know the intricacies.
Exactly.
Dustie: Plus there are some weird things we haven't done before, like with "Voice of Trespass." The way it ends reminds me of some big '90s alternative song, with the feedback and all.

It's interesting to hear it all as one sequence now. Maybe it's because I heard them separately, but they still sound like two distinct entities rather than two halves of a whole. What led to the ten tracks being split as they were? Was it just a given that "Blot" would be where the first one ends?
Dustie: When the whole thing came up, that was the obvious stopping point. We're all excited to play more of it. Both halves are special for us; we knew from the start that it'd be pretty heavy, and I love how dark it came out. We really got to take our time in the studio and use a ton of different guitars and amps and stuff. We took the whole recording approach bit by bit, like, "Which tone would work best with this section?" Everyone did that with their contributions.
Awesome. In terms of the story, where does Automata II pick up?
Dustie: That's really Tommy's thing; I try to avoid going too far into his domain. He put so much time into this. I think I can say that this is the hardest thing he's done in BTBAM. You know, constructing this plot around the music. He did a really kickass job, and the cool thing is that it can be interpreted different ways. Obviously, we all follow the general concept that he gave us, but we all have our own ideas in terms of metaphors. "The Proverbial Bellow" kicks it off and then it just gets wackier from that. That's also the longest one on it, I think.

Yeah, it is. So, is it that he comes up with the narrative and then the music gets written around that?
Dustie: He writes a lot of music as well, man. We all write together. He shared the idea with us and we thought it was amazing; he's definitely the artist behind the concept and he's got the most responsibility with that. He's a damn good guitar player, too.
Oh, really? I thought he focused mainly on keyboards. Some of his vocal passages on this latest one are among his best, too. The "please pick up" section on "The Proverbial Bellow" is probably my favorite melody of the whole year.
Dustie: That is a cool part. I remember when I came into the studio and heard that for the first time—usually, you'll come into the studio and there will be, maybe, one clean track to listen to and give thoughts. It was so strange and I couldn't imagine what he'd do with it. Then he totally took it and made it super groovy.
It's really catchy. In general, Automata II seems more varied and eccentric and epic and emotional than its predecessor. Was that a conscious choice?
Dustie: Definitely. Part I started as all business, whereas this one needed more of the weird shit. That's what I'm really looking forward to playing live. There are so many different dynamics and fun moments. "The Grid" is super special to me. I was kind of fucking around with a melody about three years ago and my dad came over and recorded bass on the basic idea. I sent it to the guys and they really liked it. Blake [Richardson, drums], Paul [Waggoner, guitar], and Dan came over one day to have a writing session at my house and work on the song. We laid out the rest of it; Paul had a bunch of badass riffs and Dan had that sort of Soundgarden part at the end.
I didn't make that connection before, but I see what you mean.
Dustie: Everyone kind of had the rest of the record laid out by then. Tommy had the idea of it getting really quiet at the end and then building back up. We've been doing this together for so long, man, that it's become so natural and fun just to see what everyone will come up with. They get better with every record.
Totally. It all flows so well. I smiled when "Voice of Trespass" came out because it kicks off with such a colorful madness, you know? It segues out of a piano ballad into this kind of progressive swing arrangement. It reminds me of Sleepytime Gorilla Museum, Diablo Swing Orchestra, and Major Parkinson, as well as Devin Townsend's "Bad Devil."
Dustie: Tommy wrote that opening riff when we were writing Colors, I think. Like, way long ago, and Blake always wanted to use it but we never found the right opportunity or context. This time around, Blake came up with the beginning in a MIDI program and we said, "Damn, this guy is still talking about this fucking part," so we started working on it and eventually decided to have all this crazy stuff on it, like horns. Dan contacted some brass players, and they blew my mind. They did exactly what was needed and more.

It's really an incredible aspect of the record. What did you do to ensure that the two sequences connected?
Dustie: We just write a bunch of material and pick a starting ground and then build on top of it. There are also a lot of options to pick from, so you'll write a transition or subdivide to change the tempo. Blake is the master of that stuff; he's a madman. If we have two sections that need to work but they're drastically different in terms of timing, he can construct a way to do it in a matter of seconds. Like I said, the band is eighteen-years-old now and this line-up has been there since 2004, so from Alaska on, we've been getting better at the writing and recording process.

You're the best at the type of progressive metal that you do.
Dustie: That means a lot, man. Thanks.
Along those lines, how do you see BTBAM in the realm of modern progressive metal now that you've been around for almost twenty years? Have you heard a lot of newer bands that are clearly inspired by you?
Dustie: We're not the kind of guys who'll point fingers and be like, "Oh, you sound like us." Obviously, we have really nice friends that are in touring bands and they'll compliment us and give us cred. That always feels really good. Honestly, I always look the other way: to the guys that we've been inspired by. Bands like Opeth, Cynic, Dream Theater, In Flames, Emperor, Cannibal Corpse, Ulver, and Suffocation. All these weird bands. Radiohead, King Crimson, Rush and Pink Floyd, too.

That's a really eclectic list.
Dustie: Yeah. The Allman Brothers Band as well. That's maybe the most fun part of the band, too. From a musician standpoint, my goal is to hold my own at everything. I don't expect to be the best at any of it, but if I can at least hold my own in every style we try, I'm happy. I think the rest of the guys feel that way, too. If you're stuck in a band that can only play one type of music, it'd get boring. The fact that we can go from Southern rock to black metal and then to something really fast and all over the place; there's so much variety. It keeps you on your toes. There's always room to improve and be excited.

It's never predictable.
Dustie: That's the goal.
That said, though, do you think that fans now expect BTBAM to always do a concept album every time?
Dustie: It's like Tommy says: we've gotten to the point where it's just our thing. It brings something extra to connect with emotionally per record. It's like the different eras of Kiss or something. What Ghost is doing now. If you're in a different spot with every record, people can compartmentalize each and allow them to stay special instead of just having a bunch of different records with different songs.

It's like how Mikael Åkerfeldt calls each Opeth album an "observation."
Dustie: They're like encyclopedias on a shelf. Each is a different world.
Yup. Pretty soon, you'll be headlining the Summer Slaughter tour in North America. Which bands and/or venues are you looking forward to most?
Dustie: We've known the Entheos guys—and girl—forever; me and Blake's first tour across the States was with Evan Brewer [bass] and Tosin [Abasi, guitarist of Animals as Leaders] and Ash Avildsen [founder of Sumerian Records]. Navene [Koperweis, drums] is a close friend, as is Travis [LeVrier, guitars] and Chaney [Crabb, vocals]. It's always great to do a tour with friends. We've played with other people on that tour, too, so it'll be a good hang.
Are you planning to play all of Automata or—
Dustie: No, it'll be a cool setlist that touches on important parts of multiple aspects of our career.
Cool. I bet you're excited to play with TesseracT later this year, too.
Dustie: Yeah. We toured with them in 2012. We brought them over here and played with Animals as Leaders. I've always been a fan of theirs. They're kings of melodies and they have nice grooves. I love all of their spacy tones.

Definitely. How do you maintain your sanity and enthusiasm on tour and avoid getting burnt out?
Dustie: Well, it's pretty easy to get tired of it, depending on where you're touring. Tours like this, though, are more of a blessing than a drag, you know? You're playing these great shows every night and then you go out and look for good coffee and food that doesn't suck. You get to hang with your friends. It's a good time.
I'm sure. If you could play with any artist in the studio or live, who would you pick?
Dustie: I always go back to collaborating with Jerry Cantrell [Alice in Chains]. He's the one guy I'd really want to create music with. He stands for pretty much everything I want to accomplish on the guitar. He's a master riff writer and all of his leads are so catchy. He never loses you with a bunch of pointless notes, either, and his playing is so vocal. It's like he's singing. You get lost in it, and I feel like I've taken a lot from him. I've been listening to him since I was a fucking kid, after all. It'd be gnarly to write some pissed off rock songs with him.
It's good to have a bucket list, and he's a great player. Really influential. So, last question. What are you listening to these days? Who inspires you?
Dustie: I just saw Aborted a few nights ago and hung out with them. Man, if you're into death metal, they're the best spectacle. I've never seen brutality and precision like that in heavy music. It was incredible. Other than that, I've been listening to Jimmy Herring [Widespread Panic]. He's a badass. Also, Boscoe France. He's a blues guitarist from Kentucky, and he's also a PRS artist. I got to see him play a few weeks ago and it was really inspiring. I like stuff like that because it's outside of what I do and it makes me want to learn more about it. I want to be better at more shit that I'm uncomfortable with.
I think a lot of fans think that if you play a certain kind of music, that's all you listen to.
Dustie: Oh, man. Paul and I listen to Alison Krauss all the time. We just like people who can write a really good song, like Jerry Douglas. He's on everything that she does and he's a master player. Anyway, that's why our music is all over the place. We listen to so many different things. You could be on a Smashing Pumpkins kick for a few weeks and write a really 1990s track—I think that's kind of what happened with "Millions."

That makes sense, and I'll check all of those people out. Thanks again, Dustie, for shooting the shit with me a bit. Hope to see you on tour soon.
Dustie: Thanks, dude.