HAKEN vocalist ROSS JENNINGS has revealed the details for his upcoming debut solo album titled A SHADOW OF MY FUTURE SELF, which is set to be released on November 19th, 2021 via Graphite Records. Jennings wrote, recorded, and self-produced his debut solo effort and now has released the third single with an impressive video for the track "Violet"
Watch the video here:
A Shadow of My Future Self finds Ross on a musical journey fans have not heard him explore professionally before, writing very personal songs in what can only be described as a love letter to Ross's extensive record collection and eclectic musical upbringing that were the foundation to his musical inspiration. This album in question starts on the fringe of a country road, navigates indie pop, anthemic rock, power ballads, and culminates in some epic prog.
Ross has the following to say about the project: "Despite my history, I rarely regard myself as a metal singer, so I was in desperate need to scratch a long time itch and make a record that appeals to the broader spectrum of my musical palette. With A Shadow of My Future Self, I unashamedly wear my influences on my sleeve but this is the kind of music I always imagined I'd be making before I took the path less traveled into prog metal… Needless to say, this is somewhat more accessible and radio-friendly stuff!"
On "Violet" Jennings says, "The lyrics of 'Violet' once again deal with navigating through the highs and lows of close, long-term relationships. For the video I reconnected with an old friend from my days in film school, 'Ben Jones' (aka Vidiotbrain) (https://www.instagram.com/vidiotbrain/). Among my vast notes for the video treatment, I showed him Peter Gabriel's video for 'Sledgehammer' and asked him to take the spirit of that and crank it up to 11…be careful what you wish for they say! I couldn't be happier with the results."
The album is available for pre-order here:
https://ffm.to/asomfs
Tracklisting:
1. Better Times 4:09
2. Words We Can't Unsay 5:04
3. Violet 5:30
4. The Apologist 4:56
5. Rocket Science 4:15
6. Catcher in the Rye 5:19
7. Since That Day 3:25
8. Young At Heart 8:14
9. Feelings 4:57
10. Third Degree 4:35
11. Phoenix 11:15
12. Grounded 8:03
13. Year 4:56
14. Be The One (Bonus Track) 3:26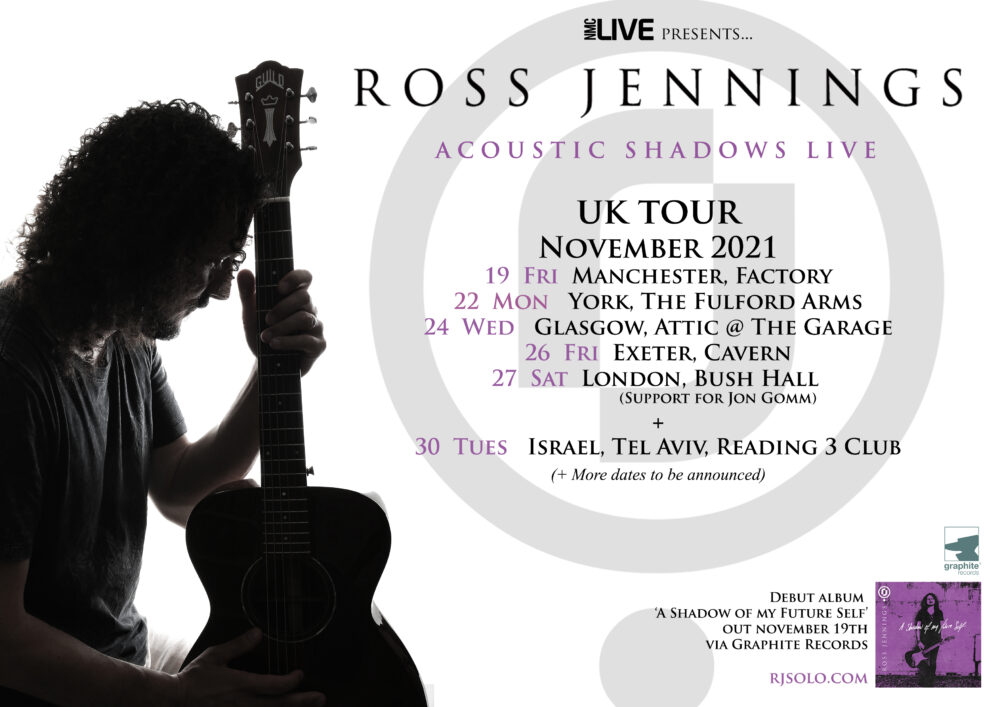 ROSS JENNINGS is also announcing a series of acoustic shows taking place next month across the UK with a show also occurring in Israel.
Ross Jennings Acoustic Live Dates:
19 Nov – UK, Manchester, Factory
22 Nov – UK, York, The Fulford Arms
24 Nov – UK, Glasgow, Attic @ The Garage
26 Nov – UK, Exeter, Cavern
27 Nov – UK, London, Bush Hall (Support for Jon Gomm)
30 Nov – Israel, Reading 3 Club