The music and Prog rock world were dealt another terrible blow this morning with the announcement of the passing of Greg Lake after a long bout with cancer.  Lake, well known for his time as a part of Emerson, Lake, and Palmer, was one of the great voices in rock.  A brilliant bass player and overall musician, Lake was a member of the first King Crimson lineup, appearing on their 1969 debut album In The Court Of The Crimson King and second record In The Wake Of Poseidon.
He later would form ELP after befriending Keith Emerson and recruiting Carl Palmer. Keith Emerson died a year ago.
The announcement was made by Lake's manager, Stewart Young.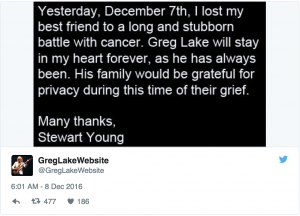 Geoff Downes also said this about Lake's passing:
"Very sad news about Greg Lake. I had the privilege of working with him on several projects. His great talent will be sorely missed by all."