Described by band members as a part live, part studio creation, Mostly Live In Italy is the first release of its kind by veteran prog- band Glass Hammer. The album is to be released May 18th, 2018.
The CD is largely a reimagining of the "Valkyrie" material that was built on tracks from Glass Hammer's 2 Days + 1 Prog Festival performance recorded in Veruno, Italy last September. Band co- founder Steve Babb explains that, "While it's standard practice for bands to edit live material before releasing it, we knew going in that the guitar tracks would need replacing. We viewed that as an opportunity to do something really unique with this album, namely, adding some new ideas to the mix while preserving the integrity and energy of the live show. Mostly Live represents our first-ever concert in Italy and we were determined to create an incredible memento from that experience that our fans would love!"
Nearly the entire "Valkyrie" album is included in this performance along with approximately twenty minutes of other Glass Hammer classics songs. Featuring solid performances by Steve Babb, Susie Bogdanowicz, Aaron Raulston and Fred Schendel with a beautiful digipack layout and design by artist Michal Xaay Loranc.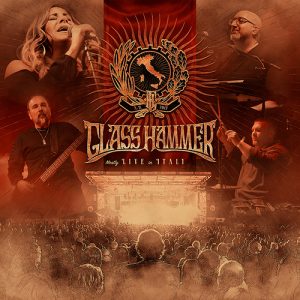 Get the album at www.glasshammer.com
1. The Fields We Know 7:21
2. Golden Days 5:02
3. No Man's Land 14:44
4. Nexus Girl 2:53
5. Fog Of War 7:56
6. Dead And Gone 9:46
7. Eucatastrophe 3:35
8. Rapturo 5:20
9. Glass Hammer Medley 9:26
(Chronos Deliverer / If The Sun)
10. Hyperbole 7:51