With the full backing of music cruise producer On The Blue (OTB), Cruise To The Edge's Late Night LIVE Prog Experience may be the largest live Prog pro-am stage project on earth. Organizers are unaware of anything that resembles it, especially since it is hosted on the second-largest indoor stage on a cruise liner.
"Indeed, all music cruises have passenger singalong bars, which is great," says OTB's Larry Morand. "We recognized, though, that CTTE's Late Night LIVE Prog Experience deserved our production company's resources to give it sea legs. Late Night LIVE's 11:30 p.m.-3 a.m. stage operates like any other pro stage on the ship, replete with a full backline, engineers and ample space, but it's up to the passengers to organize, plan and coordinate the eventual five-night showcase. Replicating something like this anywhere else would be daunting. Today, safe to say, Late Night LIVE has earned its onboard motor," added Morand.
"This year, more than 60 auditioned passengers will gather from far-away places like South Africa, Central America, England, Iceland, Canada and across the United States," said Rob Rutz, the project's emcee-coordinator and liaison with Morand's OTB team. In all, passengers suggested about 120 songs, which was narrowed to 73 final selections. The 2018 song list includes 'Supper's Ready' and an album side of 'Close To Edge', but also features deep cuts including Steve Lukather's 'Party In Simon's Pants' and Tool's '46 & 2′. "This is the perfect storm that combines a passionate talent pool, a dedicated Late Night LIVE volunteer production team and the seamless guidance, gear and assistance of OTB's executive producers, staff and crew. We don't know how many collective hours everyone contributes, but many volunteers work year-round to ensure we have a solid program," added Rutz.
Among the volunteer coordinators are Floridians Bill and Devora Goldman, who also host a pre-cruise "Prog On The Ranch" festival at their home prior to CTTE. "We gathered prior to disembarkation from 2017's CTTE vacation to form 2018's Late Night LIVE project plan," said Bill. "Everyone is focused on continuous improvement each year, never taking for granted what everyone contributes along the way. The song list, player profiles and player instructions all come together through a dedicated website www.ctte-grid.com and an active Facebook page (CTTE-Grid)," said Goldman, who also serves as a co-keyboard advisor for Late Night LIVE. "It's about open collaboration and keeping things as simple as possible." Communication systems are important. This year, passengers will be able to view a continuously-projected "ribbon board" on the ship to convey song schedules each evening.
Other production team personalities include prog band Circuline's bassist, Joel Simches, who serves as Late Night LIVE's volunteer stage manager with assistance from his wife Carolyn. Suzanne Mulhall of Florida, along with UK residents Ken and Kate Slater, work closely with the Goldmans on scheduling and project details. Samy Salib, a Canada resident, provides onboarding guidance for new players. Instrument advisors include veteran keyboardist Bob Harris and South Africa's 'Prog Nick' drummer and music industry attorney Nick Matzukis. Additional instrument and stage advisors include Tim Palsson, Dennis Mahon and Greg Bennett, all of whom are long-time musicians in local bands.
Among the professional headliner talent joining passengers on songs? Dave Kerzner, Durga McBroom and Fernando Perdomo of Dave Kerzner Band, Paul Bielatowicz and Simon Fitzpatrick of Carl Palmer's ELP Legacy, Jonas Reingold of Karmakanic and Steve Hackett's current touring band, Steve Babb, Fred Schendel and Aaron Raulston of Glass Hammer, Jez King of IO Earth, John Young of Lifesigns, Jorge Tenesini of Bad Dreams, Mike Thorne and Dean Meehan of Saga and, likely, many other headliner musicians. Last year, Jon Davison stepped up to sing The Musical Box, which marked the first time the Yes frontman ever sang a Genesis song in public.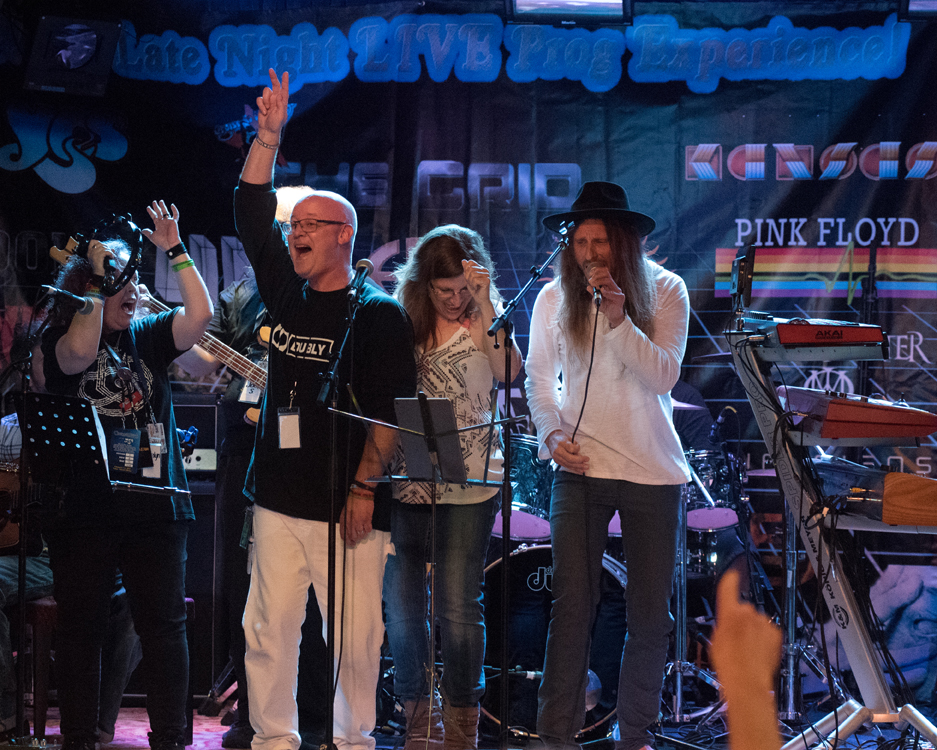 CTTE will kick off with a Pre-Cruise party at Ferg's LIVE in Tampa on Friday, February 2, followed by the five-day Yes-Steve Hackett-Marillion-headlined cruise that includes stops in Belize and Costa Maya. Feb 3-8.
For more information, visit www.cruisetotheedge.com and for CTTE Late Night LIVE, visit www.ctte-grid.com
Photos courtesy of Michael Colter Photography