There are few bigger bands on the planet than Queen right now.  The new film Bohemian Rhapsody has been a huge success, as has the song, recently named the most streamed song of all time.  So, it is no surprise that the show titled 'The Ultimate Queen Celebration' was sold out on December 16th at the elegant Adrienne Arsht Center in Miami, FL.  Starring in the show is Marc Martel who has been heading up this show for a few years.  Martel was discovered by Queen when a video of Martel singing "Somebody to Love" went viral all over the internet sparked by the amazing resemblance Martel had to the legendary Freddie Mercury.  Martel would eventually take part in a show called The Queen Extravaganza with a full band sanctioned by Queen.  But now he is doing this show with a brand new band and paying homage to one of the iconic bands of all time in a brilliant 2 hour show.
The band kicked off the show with the rocking "Tie Your Mother Down" and immediately you see why the notoriety Martel has garnered is warranted.  You can close your eyes and it sounds like Mercury.  Then you look and Martel moves and dances like Mercury.  It is uncanny, yet it does not feel contrived or forced.  This is not a "tribute" show in the traditional sense.  The band do not wear costumes or wigs or look like Queen.  They are a kick ass rock band that just happen to play amazing versions of Queen classics. Rounding out the first set is a hit parade that includes "Don't Stop Me Now," "Hammer to Fall," "Killer Queen" and many more.  The set closes with a breathtaking version of the classic "Bohemian Rhapsody." It is hard to convey just how good the band are in pulling this off.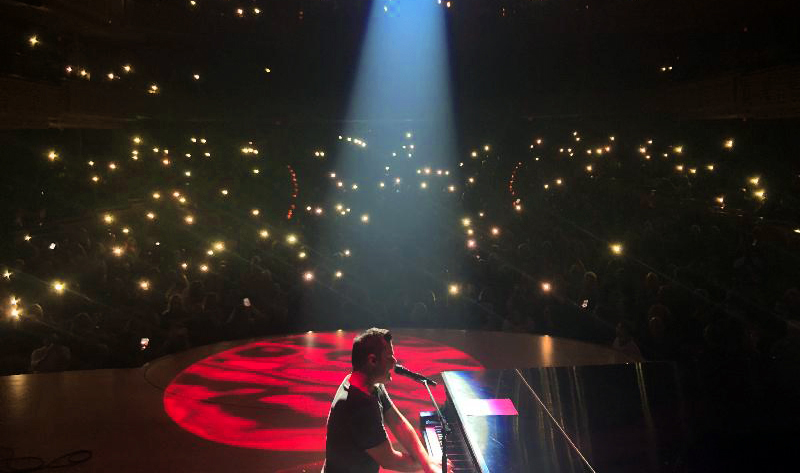 The second set surprisingly begins with the deep track "Death on Two Legs" but then dives into "I Want it All" and "Crazy Little Thing Called Love" and more hits.  The amazing thing about Queen is that after this show filled with 20 Queen classics, you immediately think of 10 more hits the band could have played. Martel then sits at the piano for the delicate ballad "You Take My Breathe Away", again displaying the ability channel Mercury in his piano playing as well.  Then comes the highlights of the second set, "Radio Ga Ga" into "Somebody to Love."  The two songs together are played with such precision and so emphatically, not a single person was seated, and everyone was doing the patented Queen clap and singing along.  Of course, the encore consisted of "We Will Rock You" and "We are the Champions."
Martel is indeed a star frontman and performer.  But the band are all clearly top notch musicians.  In addition to Martel, the band includes Tristan Avakian (lead guitar and backing vox), Brandon Ethridge (Keyboards/piano, backing vox and music director), J.R. McNeely (bass, backing vox) and Jason Gianni (drums, backing vox).  This is a show that could and should run for years.  It is more than a celebration of one of the greatest bands of all time; it is also just a really great show and a hell of a good time.