Concert: G3 with Joe Satriani, John Petrucci, Phil Collen
Venue: Parker Playhouse, Ft. Lauderdale, FL 2-1-18
Since its inception in 1995, Joe Satriani's G3 guitar extravaganza has continuously brought the best guitar players in together all over the world.  It has been a celebration of what the instrument and these players are capable of.  Satriani has always been the organizer and headliner but the two guitarists that joined the tour each time out have varied from the likes of Eric Johnson and Kenny Wayne Shepherd to Steve Vai and Steve Morse.  There have always been surprises as well and this year proved to go that route again with guitarists John Petrucci of Dream Theater and Phil Collen of Def Leppard joining the traveling guitar showcase.  Petrucci had been on the tour the most of any guitarists outside of Satriani and Steve Vai, most recently in 2012, but Collen was a new and unexpected entry.  With Def Leppard, Collen had guitar solo moments but few had heard him as a instrumental player but he certainly has been known to shred so how he would do in this environment was something to look forward to.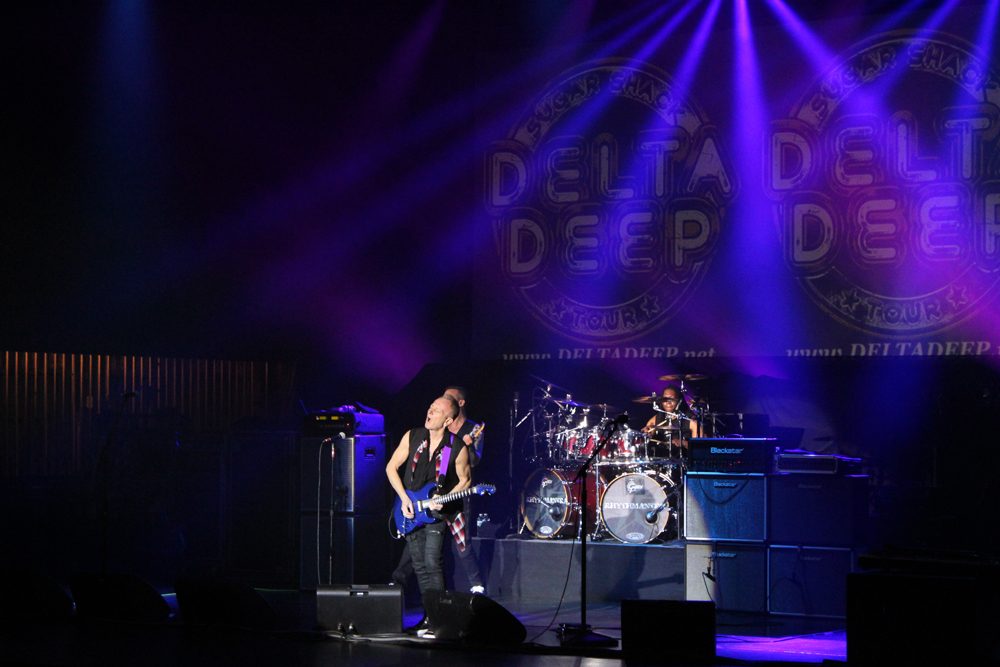 Collen kicked off the set as a trio with the bassist and drummer from his side blues project Delta Deep. They ran through a couple of high speed rockers with Collen blazing through the numbers. They were then joined by extraordinary vocalist Debbi Blackwell-Cook, the singer for Delta Deep. Blackwell-Cook has a soulful voice, the kind that harkens back to old blues records, while her voice is powerful enough to reach the back row without a microphone.  The set continued with a few songs from the debut album by Delta Deep.  Songs like "Mistreated" and "Down in the Delta" sounded great and had the crowd on their feet.  Collen proved he could stand out of the massive shadow cast by Def Leppard.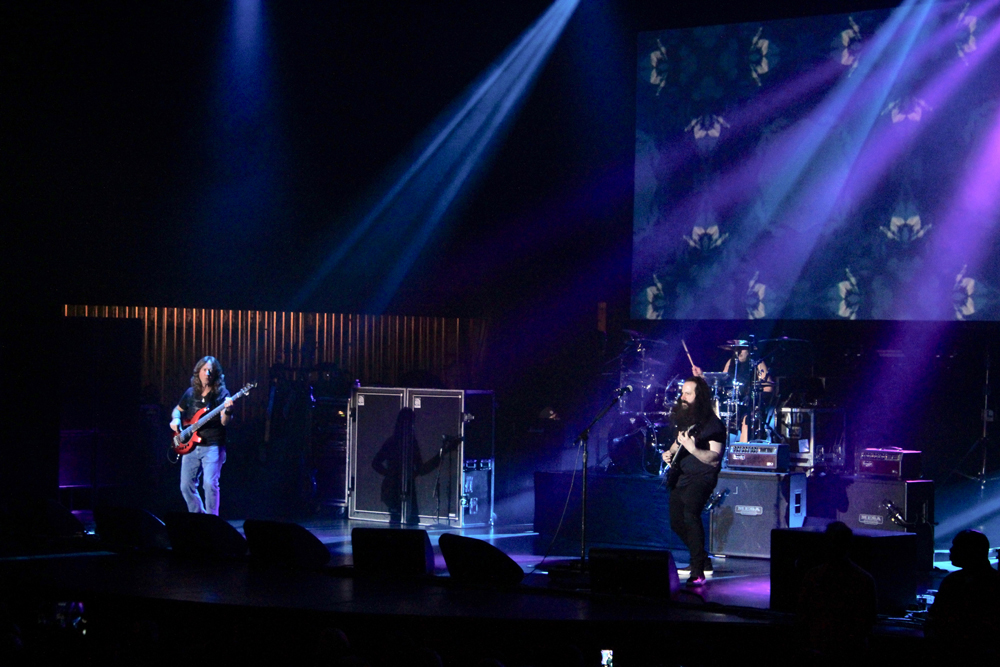 John Petrucci took to the stage joined by fellow virtuosos Dave LaRue on bass and his Dream Theater bandmate Mike Mangini on drums.  The opened surprisingly with the theme from the recent Wonder Woman movie.  Turns out it makes for a very capable Dream Theater-esque tune when placed in Petrucci's hands.  Much of the rest of the set was culled from Petrucci's only solo instrumental album from 2005 Suspended Animation.  Heavy, powerful numbers like "Jaws of Life" and "Damage Control" are tailor made for a concert like this and are perfect representations of Petrucci's guitar prowess.  Petrucci is one of the world's great guitarists and is a treasure to watch perform live.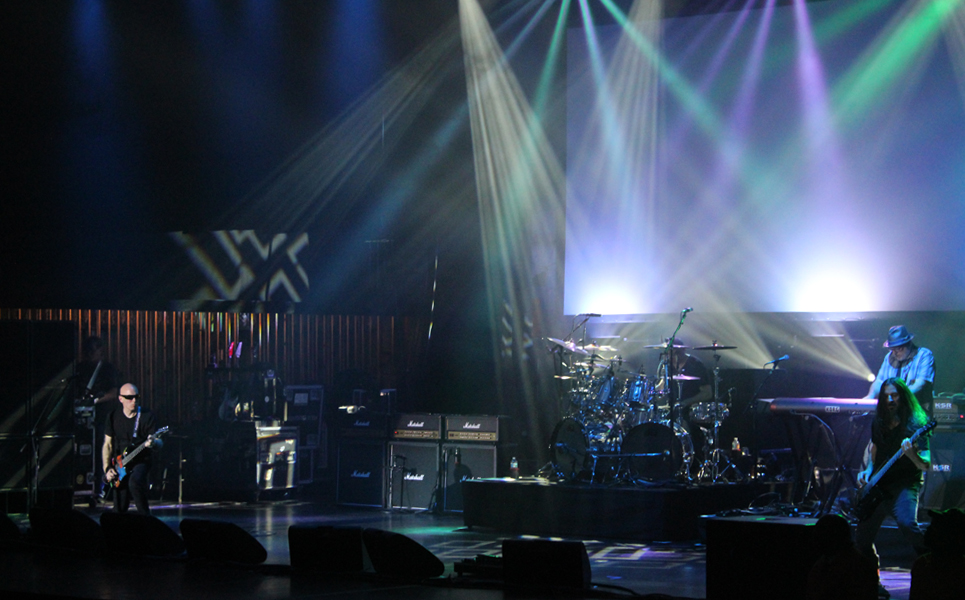 After a very brief intermission, Satriani began his set with the first 2 songs from his new album What Happens Next, "Energy" and "Catbot."  The show and the production were a step up from the opening sets but then again, Satriani always puts on an exemplary show.  He is a guitar showman as much as a guitar genius. The set was made largely of songs from the new album.  Interesting and inventive songs like "Cherry Blossom" and "Thunder High on the Mountain" fit in perfectly and captivated the audience.  Of course, he closed the set with his live staples "Always With You, Always With Me" and "Summer Song."  Satriani is a master, but only for what he can play, but how he plays it, as well as the songs he composes.  Live, there are few who can compare and this is why he continues to dazzle us year after year.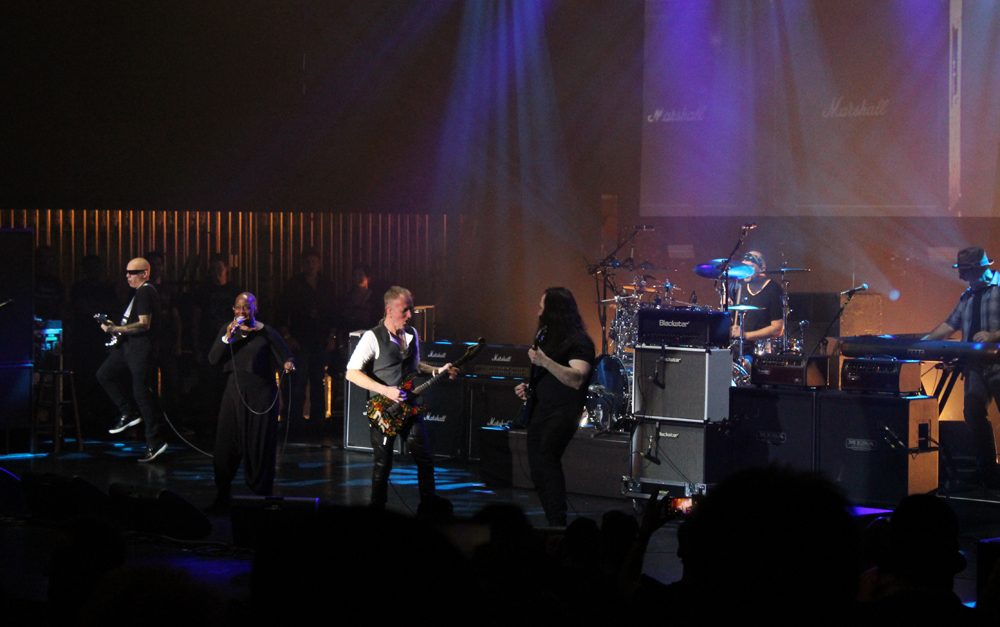 Of course, no G3 show is complete without a jam session to close things out.  The set was made of three rock classics, Deep Purple's "Highway Star", Stevie Wonder's "Superstitious" and "I'm Going Down."  The jam lasted a while but allowed the three guitarists to have some more fun and treat the fans to as much music as possible over a nearly 3 hour night.  G3 was as good as ever thanks to these incredible musicians.