Photo Credit: Andy Ford
After performing the song live on tour to eager fans, today, Juno Award-winning, rock duo Crown Lands – Cody Bowles (vocals and drums) and Kevin Comeau (guitar, bass, and keys)— release their anticipated single, "Lady Of The Lake" through Spinefarm Records/Universal Music Canada, the country's leading music company.
"Lady Of The Lake" dives deeper into the saga Crown Lands introduced with their 18-minute opus, "Starlifter: Fearless Pt. II" released earlier this month. Bowles explains, "Steeped in a myriad of mythology, our song 'Lady of the Lake' tells a tale of an ancient battle for control over the realm and a powerful goddess who is called upon to dispel the darkness. This takes place in the same world as Fearless, but long ago."
Bowles vigilantly sings the lyrics like retracing a legend: "Now she has awoken, Her wrath will shake the world… All will bow before, The power she holds", while the song arrangement builds an energy that allows the listener to fully submerge into the story.
"I love the textures we've got in this song. I doubled the electric guitar with a 12-string acoustic for most of it. There are lots of Mellotron and Moog Taurus moments in this piece that give it that medieval-meets-outerspace fantastical quality. I'm particularly proud of the Leslie-soaked guitar solo in 15/8," Comeau affirms.
The track is released today alongside the accompanying music video, a ritualistic celebration of the story's first hero who emerges from the water, soaked with power and purpose. "We wanted to invoke the feeling of something grand and mystical with this piece while re-contextualizing fragments of our own real-world mythologies. Blurring these lines, we hope you're taken to another place altogether and a little further into this fun world we're creating," Bowles describes.
'Fearless' was announced with the release of the album opener, "Starlifter: Fearless Pt. II" a track Guitar World dubbed as "a jaw-dropping voyage through off-kilter riffs, blockbuster guitar tones and dynamic contrasts that not only parallel the Rush playbook but even go beyond it."
'Fearless' follows Crown Lands' self-titled debut (2020). It was recorded in 80A Studio at Universal studio in Toronto with producer David Bottrill (Rush, Muse, Tool, Mastodon) and came together over a six-month period, in short, intense bursts between tours. Where the debut record showcased Crown Lands aptitude for raw blues rock, 'Fearless' embraces more of the band's earliest passions in prog-rock.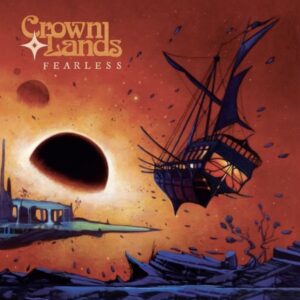 'Fearless' Track List:
1. Starlifter: Fearless Pt. II
2. Dreamer Of The Dawn
3. The Shadow
4. Right Way Back
5. Context: Fearless Pt. I
6. Reflections
7. Penny
8. Lady Of The Lake
9. Citadel
HE NEVER REMEMBER TOUR (2023) / JULY TALK
March 10—Massey Hall—Toronto, ON (supporting July Talk)
March 11 – Massey Hall—Toronto, ON (supporting July Talk)
March 13- Farm League Brewing – Cambridge, ON
March 16 – Geraldton Country Club- Geraldton, ON
March 18- Royal Canadian legion-Fort Frances, ON
March 19- Red Lake Legion – Red Lake, ON
March 22- The Exchange – Regina, SK
March 23 – The Vat – Red Deer, AB
March 25 – Showshoe Sam's – Kelowna, BC
March 28—Royal Theatre—Victoria, BC (supporting July Talk)
March 30–Commodore Ballroom—Vancouver, BC (supporting July Talk)
April 1—Grey Eagle Resort and Casino—Calgary, AB (supporting July Talk)
April 4—Winspear Centre—Edmonton, AB (supporting July Talk)
April 6—Burton Cummings Theatre—Winnipeg, MB (supporting July Talk)
April 9—London Music Hall—London, ON (supporting July Talk)
April 10—National Arts Centre—Ottawa, ON (supporting July Talk)
April 11 – MTELUS – Montreal, QC (supporting July Talk)