'ON' is the new album by Jane Getter Premonition released on Madfish.  The album features a number of amazing guests including keyboardist Adam Holzman (Miles Davis, Steven Wilson); bass player Bryan Beller (Joe Satriani, The Aristocrats); jazz/rock drummer Chad Wackerman (Frank Zappa, Allan Holdsworth, Steven Wilson) and special guests including vocalist Corey Glover (Living Colour), jazz/metal guitarist Alex Skolnick (Testament, Savatage, Ozzy Osbourne Band) and British saxophonist, flautist and clarinetist Theo Travis (Steven Wilson, Robert Fripp).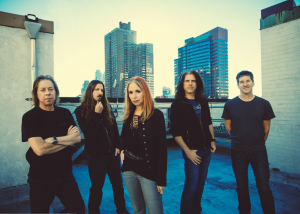 Jane Getter has played with many jazz and rock greats while garnering increasing recognition as a bandleader, gifted writer and instrumentalist.  Her debut CD "Jane" in 1998 received worldwide critical acclaim and the 2006 follow up "See Jane Run" was released on Alternity Records (home of Allan Holdsworth). In 2012 she released the progressive jazz/rock album Three. Jane also received widespread exposure playing in the Saturday Night Live Band.
Check out the track "Surprised" which also features Corey Glover on vocals.
'ON'   TRACKLIST:
Surprised
Where Somewhere
Pressure Point
Train Man
Diversion
Falling
Logan (would've sounded great on this)
Transparent
JANE GETTER ONLINE:
http://janegetter.com/
https://twitter.com/janegetter
https://www.facebook.com/pages/Jane-Getter/237319986301449