Prog legends Stick Men will be releasing their new album "Prog Noir" on October 21, 2016, which is now available for pre-order as a single disc edition and a super deluxe box set, which contains an additional bonus CD with exclusive material, a double vinyl version of the album, a t-shirt and poster. The band, featuring members of King Crimson Tony Levin and Pat Mastelotto, have also released a new lyric video for 'The Tempest'! A departure from their previous efforts, "Prog Noir" also includes 'song' oriented material featuring vocals on several tracks.
With riveting performances by the modern prog-rock legends Stick Men – Tony Levin, Markus Reuter and Pat Mastelotto – ,  "Prog Noir" is ambitious, achieving and immediately essential. Cinematic themes, towering grooves and intricate arrangements are all on tap, and shower down in abundance. Proving conclusively that the whole is indeed greater than the sum of its parts, this herculean effort exceeds any perceived limitations of the trio format — satisfying even the most devout and demanding of listeners.
Long-time fans of Stick Men and King Crimson will revel in ecstasy, as the three sonic adventurers gleefully waltz to the outer fringes, while remaining sure-footed through every scene. The chemistry of Levin and Mastelotto has never been more evident, keeping a solid, propulsive undercurrent flowing beneath the soaring presence of the ingenious 'mad scientist' antics of Reuter. … and a profound presence Markus Reuter does prove himself to be. One could be quickly forgiven for mistaking his avid, searching, convicted playing for that of Master Fripp, if administered under blindfold!
The album's ten compositions showcase Stick Men at their most versatile and enterprising; there's even some superb vocals (and vocal arrangements). While most of the large following the band has amassed will undoubtedly be surprised by the more structured and preconceived nature of the tunes, the revelation is a pleasant one. The album triumphantly succeeds on every level, with the group even displaying a playful sense of humor, clearly enjoying and savoring the moment.
From the overpowering to the sublime; from an organic, instinctive avant garde, to intricate, Crimsonesque tapestries, to rich cinematic themes and potent melodies, the album embodies the go-for-it, pioneering spirit that fans of the genre have long savored. A modern prog epic!
Watch the new Stick Men video here: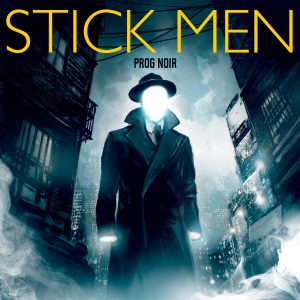 SINGLE CD, REGULAR EDITION of "Prog Noir" (10 tracks)
can be pre-ordered for $17 USD / 15 Euros plus shipping
DOWNLOAD of "Prog Noir" (10 tracks in WAV, FLAC, ALAC and/or MP3-320 formats)
can be pre-ordered for $10 US / 9 EUR
Exclusively available at:
https://stickmen-moonjune.bandcamp.com/album/prog-noir
        (orders placed from North, Central and South America, Middle East, Africa and Asia)