photo credit: Vince Edwards
Southern California psychedelic/progressive rock unit, Birth, released its full-length debut LP, 'Born', on July 15 via UK rock label Bad Omen Records. Featuring members of San Diego's revered retro rockers Astra, along with current or former members of Joy, Radio Moscow, and Sacri Monti, Birth owns a cavernous cache of credibility rarely found in developing musical groups.  In celebration of the album's release, Birth unveil a video for the album's penultimate track "Long Way Down". The clip, created by Vince Edwards (Behemoth, Motor Sister), sees the band performing the track amidst a kaleidoscopic, Beat-Club setting.
View Birth's "Long Way Down" here:
"'Long Way Down" is one of the darker tracks on the album. It was written out of frustration at the state of the world," says Birth's Conor Riley. "It's really about watching the slow decline and trying to hype myself up for the end of it. For the video, we wanted a vintage vibe that captured the darker and chaotic theme of the song. We worked with Vince Edwards who really helped us develop that vision."
Connecting with fans on both sides of the Atlantic the band's debut LP has landed on both the Official UK and North American Billboard Charts in its first week of release. 'Born' placed at #12 on the Official UK Independent Album Breakers Chart, #16 on the Official UK Rock / Metal Album Chart and garnered a #31 spot on the Official UK Independent Album Chart.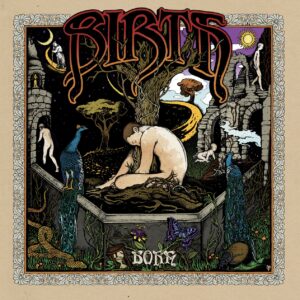 Simultaneously, the album also earned #17 on Billboard's Top New Artists Albums, #19 on its Current Hard Music Albums, and at #66 on the Independent Albums Chart while also placing #31 Hard Music Albums on the Canadian Billboard Chart and #110 on their Top Current Albums ranking. In its review of the debut,San Diego Magazine called Birth's sound "head-trip wizardry" and stated, "Born' showcases the kind of cosmic journey four seasoned veterans can conjure up when they get into the same room together."
Featuring guitarist/keyboardist/vocalist Riley and guitarist Brian Ellis, musicians who burst onto the prog-psych scene in the late aughts with Astra, a formidable, foundational group hailed as "prog goliaths" (AllMusic), who would shape the sound of things to come alongside co-conspirators such as Earthless, Diagonal and Dungen, and whose albums 'The Weirding' (2009) and 'The Black Chord' (2012) stand proud as two of the greatest progressive achievements of this century thus far, there is a palatable excitement surrounding Birth and the group has been pegged as one to watch in underground circles. Excitement surrounding the group kicked into a gear once a now-deleted demo ep was unleashed, on a pay-what-you-will basis, on the Bandcamp platform in 2021, which marked the spark of creation for the Birth universe, delivered a blast of vibrant progressive rock rich in cinematic scope and psychedelic intensity, and laid the groundwork for what was to come.
Track listing:
1.) Born
2.) Descending Us
3.) For Yesterday
4.) Cosmic Tears
5.) Another Time
6.) Long Way Down
Purchase here: https://www.subscribepage.com/foryesterday