One of this year's most highly anticipated releases is the new Liquid Tension Experiment album, out on March 26th. The first single "The Passage of Time" has been released already. Mike Portnoy and John Petrucci join Roie Avin and Geoff Bailie on the podcast to talk about the new Liquid Tension Experiment album, and help put together the Ultimate Rush Album with tracks from that band's huge catalog.
For the full audio click the podcast link or download the podcast on
iTunes · Google· Stitcher · PodBean • Spotify
Subscribe to the podcast to automatically receive future podcast episodes.
You can also subscribe to our YouTube channel
During the recording of the new Liquid Tension Experiment album, 'LTE3', Mike Portnoy, John Petrucci, Jordan Rudess, and Tony Levin spoke The Prog Report's Roie Avin about reuniting and making the new record. The full interview can be found in the Deluxe box-set and Blu-ray art-book out on March 26, 2021.
Watch a clip from the interview here:
Pre-order 'LTE3' now here: https://liquidtensionex.lnk.to/LTE3/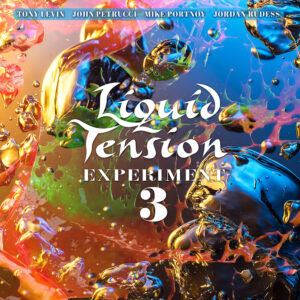 Tracklisting:
1. Hypersonic (8:22)
2. Beating The Odds (6:09)
3. Liquid Evolution (3:23)
4. The Passage Of Time (7:32)
5. Chris & Kevin's Amazing Odyssey (5:04)
6. Rhapsody In Blue (13:16)
7. Shades Of Hope (4:42)
8. Key To The Imagination (13:14)
Bonus Disc: Includes almost an hour of improvised jams.