The New Live Release Spotlight is a roundup of new and recently released live albums.
---
Frost* – Island Live  (June 23rd, 2023)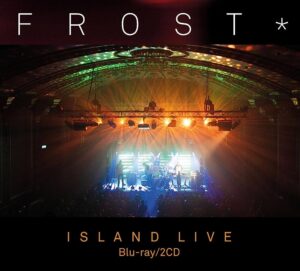 Frost* release their first live Blu-ray from their Day and Age tour in 2022. Shot from the show at Bath's Komedia in November of last year, the show is the ultimate showcase of one of prog's best bands from the last decade and a half. Everything here is top level from the performances to the sounds to the exquisite visuals, which are as good as any concert Blu-ray out there. The obvious highlight from the second half of this set is the epic "Milliontown", which is absolutely incredible. Each member shines on this set, especially John Mitchell with some outstanding guitar work. For any Frost* fan, this is a must, but it is also a great introduction to this band if you never checked them out before.
Order here: https://frost.life/
Tracklisting:
1. Day and Age
2. Terrestrial
3. Black Light Machine
4. Dear Dead Days
5. Skywards
6. Island Life
7. Hyperventilate
8. Milliontown
9. Heartstrings
10. Repeat to Fade
Line-up
Jem Godfrey / vocals, keyboards
John Mitchell / vocals, guitar
Nathan King / vocals, bass
Craig Blundell / drums
---
NMB – An Evening of Innocence & Danger (July 14th, 2023)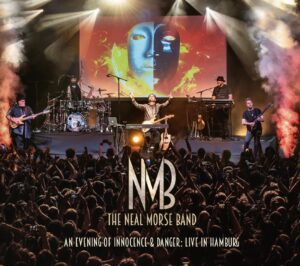 NMB (Neal Morse Band) return with a new live concert set, this time as just audio. Recorded live in Germany in 2022, this 3-disc release captures the band in fine form, presenting 'Innocence & Danger' & more over nearly 2 and a half hours of music. Discs 2 & 3 alone are worth the price of admission with Disc 2 having just 2 long epics covering nearly 60 minutes. Disc 3 meanwhile has a single track titled "The Great Similitude Medley" which is a mix of songs from the two concept albums The Similitude of a Dream, and The Great Adventure. If you're not a fan, this might be a massive undertaking, but it will be a worthwhile entry into this band's incredible catalog. Nevertheless, this is a brilliant document of an incredible tour and a must-have for fans. There are very few live bands as good as this one.
Order here: https://thenealmorseband.lnk.to/AnEveningOfInnocenceAndDanger-LiveInHamburg
Tracklisting:
CD 1 (Innocence) (53:30)
1. Do It All Again (10:23)
2. Bird on a Wire (8:08)
3. Your Place in the Sun (4:18)
4. Another Story to Tell (4:50)
5. The Way It Had to Be (9:18)
6. Bridge over Troubled Water (8:43)
7. Waterfall (7:50)
CD 2 (Danger) (55:53)
1. Not Afraid Pt. 2 (21:45)
2. Beyond the Years (34:08)
CD 3 (Encore) (29:58)
1. The Great Similitude Medley (29:58)
Total Time 139:21
Line-up
Neal Morse / vocals, keyboards, guitar
Eric Gillette / guitar, vocals
Bill Hubauer / keyboards, vocals
Randy George / bass, bass pedals, vocals
Mike Portnoy / drums, vocals
---
Devin Townsend – Empath Live in America (August 4th, 2023)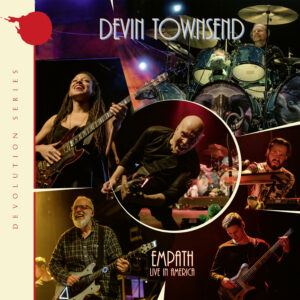 Following the release of his latest solo album 'Lightwork' released late 2022, Devin Townsend now drops the 3rd release in his Devolution series – 'Empath Live In America'. The set is from the Empath tour from 2020 that was cut short due to the pandemic. The line-up for this album saw Devin joined by Mike Keneally, Nathan Navarro, Diego Tejeida, Morgan Ågren & Ché Aimee Dorval. Running through an eclectic set which features some high-voltage Devin classics like "Supercrush" and "Hyperdrive," alongside stranger material like the operatic "Why?" and the Casualties of Cool jam "Forgive Me," this is a great addition to any Devin collector.
Order here: https://devin-townsend.lnk.to/DevolutionSeries3-Empath-LiveInAmerica
Tracklisting:
1. Intro / Evermore 7:11
2. Supercrush! 5:40
3. March of the Poozers 6:47
4. Why? 6:24
5. Hyperdrive! 3:31
6. Fuck Around Section 5:01
7. Ih-Ah! 4:18
8. Gigpig Jam 4:27
9. Forgive Me 5:45
10. Love? Live in America 5:18
11. Kingdom 6:25
Devin Townsend – guitar, vocals
Mike Keneally – guitar, keyboards
Nathan Navarro – bass
Diego Tejeida – keyboards
Morgan Ågren – drums
Ché Aimee Dorval – guitar, vocals