The New Release Spotlight is a roundup of new and recently released albums.
---
District 97 – Stay for the Ending  (Oct. 20th, 2023)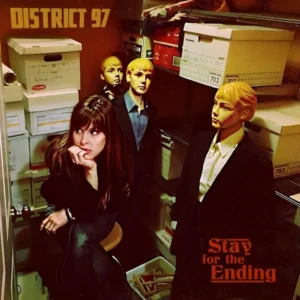 Chicago-based group District 97 have released the new album Stay For The Ending, their 5th studio album and their first since 2019. While it took some time for this album to get completed, the wait was certainly worth it as it is perhaps their most compelling work to date. The band's technical chops are ever present, but musically they take more risks and incorporate more melodies and hooks than in previous releases. From the opening title track, the band lay the groundwork with a brilliant yet concise track that perfectly encompasses the band's vibrant new sound. Singer Leslie Hunt sounds great using all of her exceptional range, while the band sounds perfectly in sync. "Mirror" is another highlight that could sit atop a list of their best tracks. Kudos also to the production on the album as the mix really allows all the members to shine. If you haven't ventured to District 97 before, this might be the time to do so.
Order here: https://district97.bandcamp.com/album/stay-for-the-ending
Tracklisting:
1.Stay for the Ending
2.Mirror
3.Many New Things
4.Crossover
5.Divided We Fall
6.Life Cycle
7.X
8.X-Faded
9.Deck is Stacked
10.The Watcher
Leslie Hunt-Vocals
Andrew Lawrence-Keyboards
Jim Tashjian-Guitars, Vocals
Tim Seisser-Bass Guitar
Jonathan Schang-Drums & Percussion
---
That Joe Payne – Bread & Circuses (Sept. 22nd, 2023)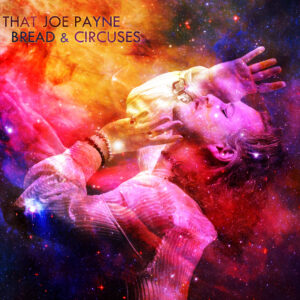 Vocalist That Joe Payne (formerly of British Prog group The Enid) is back with a new solo album following 2020's By Name. By Nature. The album is only 8 tracks but Payne does find a way to cover quite a bit of territory. The opening track "Falling In Love is Easy" is a perfect throwback to 80s pop-rock, and in that era would've undoubtedly been a hit. "River Run Dry" transports the listener from the 80s to today's pop style you might hear on the radio now. "Live the Dream" is pure Vaudeville, while the tongue-cheek "Fucking Fucked" is a sarcastic take on life's problems done with a Mary Poppins flair. Meanwhile, tracks like "Plastic Grass," and the title track, find Payne in more familiar territory combining a bit of his prog background with pop melodies. This is short but entertaining album. While it isn't necessarily Prog, Payne is an adventurous songwriter and one of the best voices around today, making this worth a listen to lighten things up a bit.
Order here: https://thatjoepayne.bandcamp.com/album/bread-circuses
Tracklisting:
1.Falling in Love is Easy 04:00
2.River Run Dry 05:36
3.My Heart 05:54
4.Plastic Grass 05:18
5.Live the Dream 04:00
6.Despite Everything 05:59
7.Fucking Fucked 02:28
8.Bread & Circuses 06:45
That Joe Payne – all vocals, piano and other keyboards. Max Read – guitar (track 8) and programming.
Oliver Day – guitar (track 5).
Esmeralda Edwards – bass (tracks 1 & 3).
Josh Green – drums (track 5).
Moray Macdonald – trumpet (track 5).
Jake Perrett – drums (tracks 1, 3, 6 & 8).
Joshua Ryan – guitar (tracks 1, 2, 3 & 8).
---
Dave Kerzner – Heart Land Mines, Vol.1 (Oct. 18th, 2023)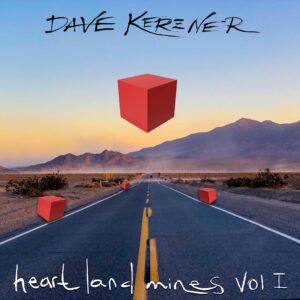 One of the most prolific artists of the last 10 years, Dave Kerzner releases his latest album Heart Land Mines, Vol.1 just a year after his last album The Traveler. His 4th solo album is an autobiographical concept album about leaving Los Angeles in the 90s after a break-up and driving cross country with a guitar to think, reflect, and write songs. As Kerzner describes it, "This album was many years in the making" says Kerzner "I've worked on it on and off since the mid-90s.The stories in the songs are based on true events in my life when I was in my 20's. Now, 25 years, I'm thrilled to finally present the first volume to be heard publicly!" Joining him on this album are many of the usual musicians you might see on a Kerzner project including Fernando Perdomo (Echo in the Canyon), Matt Dorsey (Sound of Contact), Durga McBroom (Pink Floyd), Elliott Randall (Steely Dan), Lyle Workman (Jellyfish, Beck), Joe Deninzon (Kansas) and more. The music here is less Sci-Fi prog than some of his previous albums, and lies at times in singer/songwriter territory, but the excellent musicianship on the album definitely brings these songs to life and provides enough progginess to keep his fans happy.
Order here: https://sonicelements.bandcamp.com/album/heart-land-mines-vol-1
Tracklisting:
1.True Story (Part One) 01:08
2.Eye of the Storm 04:56
3.Dreaming in LA 04:46
4.Genevieve 05:50
5.Back to One 05:27
6.Pushed Me Out 01:24
7.When The Heart Sinks Like a Stone (Another Miss Broadway) 04:17
8.Worlds Apart 06:32
9.Dirty Girl 05:30
10.Manic Calm 04:46
11.Too Far Gone 05:43
12.To The Eye (Reprise) 02:46
13.Sirens Song 01:26
14.True Story (Part Two) 00:46
Dave "Squids" Kerzner – Lead Vocal, Acoustic Guitar, Keys, Percussion
Fernando Perdomo – Electric Guitar, Acoustic Guitar, Electric Sitar, Bass, Drums
Matt Dorsey – Electric Guitar, Bass, Percussion
Derek Cintron – Drums
Joe Deninzon – Violins, Violas, Chin Cello
Daniel Kerzner – Horns
and others…