During the recording of the new Liquid Tension Experiment album, 'LTE3', Mike Portnoy, John Petrucci, Jordan Rudess, and Tony Levin spoke The Prog Report's Roie Avin about reuniting and making the new record. The full interview can be found in the Deluxe box-set and Blu-ray art-book which has now been changed to a release date of April 16th, 2021.  The band attribute the new date to manufacturing issues, which have been common across the industry over the past year due to increasing number of releases.
"Due to printing errors by the manufacturer we have the unfortunate news of sharing that we must push back the planned release date of LTE3 from March 26th to April 16th. This news came as a surprise to us and we have spent the last week working to resolve the situation but ultimately we had no other options. We appreciate the support and feedback so far on the songs we have released and can't wait for you to finally hear the full album when it's released on 4/16/21. We've all waited 22 years for this, what's 3 more weeks?"
Watch a new clip from the interview discussing "Beating the Odds" :
The band recently released the first video from the album for the single "Beating the Odds." You can watch the video, created by Christian Rios, here:
You can pre-order 'LTE3' now here: https://liquidtensionex.lnk.to/LTE3/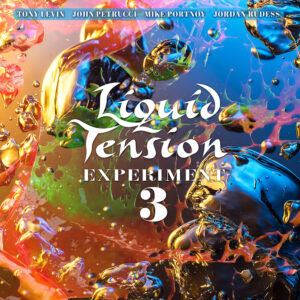 Tracklisting:
1. Hypersonic (8:22)
2. Beating The Odds (6:09)
3. Liquid Evolution (3:23)
4. The Passage Of Time (7:32)
5. Chris & Kevin's Amazing Odyssey (5:04)
6. Rhapsody In Blue (13:16)
7. Shades Of Hope (4:42)
8. Key To The Imagination (13:14)
Bonus Disc: Includes almost an hour of improvised jams.