Haken have released a new video for their 3rd single 'Invasion', taken from their forthcoming new album 'Virus'. Unfortunately, due to unforeseen circumstances beyond the label and bands control, the release date for the album has had to be postponed to June 19th, 2020.
The band comment: "Lyrically, Invasion deals with themes including but not limited to anxiety, depression and suicidal tendencies. We thought that the discussion of a "Virus of the mind" tied in well to the psychological themes touched upon in the sister record 'Vector' and lent itself to the character development of Virus's manic protagonist."
The new video for 'Invasion' was created by Crystal Spotlight, who also produced the video for 'Canary Yellow'. Watch it now here:
Pre-order now here: https://haken.lnk.to/Virus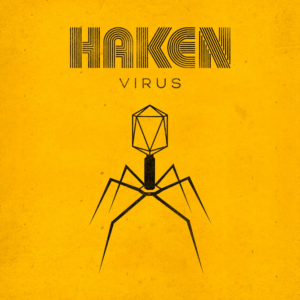 The track-listing is as follows:
1. Prosthetic
2. Invasion
3. Carousel
4. The Strain
5. Canary Yellow
6. Messiah Complex i: Ivory Tower
7. Messiah Complex ii: A Glutton for Punishment
8. Messiah Complex iii: Marigold
9. Messiah Complex iv: The Sect
10. Messiah Complex v: Ectobius Rex
11. Only Stars
'Virus' is the culmination of a musical thought experiment which started with the 'Vector' writing sessions in 2017 and holds intriguing potential for the band's future, as vocalist Ross Jennings explains, "whilst 'Virus' can absolutely be enjoyed as a stand-alone work, it is thematically and conceptually linked with 'Vector', so our intention is to perform both albums back to back for a special performance someday".