Haken have revealed the brand new video for the track 'Darkest Light' taken from the upcoming EP, Restoration, due on October 27, 2014 (US digital release date: November 11).  The band had this to say: "Darkest Light' was our first chance to work creatively with our new bass player Conner Green. It was a natural fit right from the start as not only did he bring with him some insanely cool bass playing, but also a great positive energy that made the whole Restoration EP incredibly fun to make.'
'Restoration' is comprised of three reworked and updated songs which originally appeared on their 2007/08 self-produced demo, and the release has been mixed & mastered by Jens Bogren at Fascination Street Studios. It will be released as a digital download, and a vinyl LP including CD.
The track list and playing times are as follows:
1. Darkest Light (6:44)
2. Earthlings (7:52)
3. Crystallised (19:23)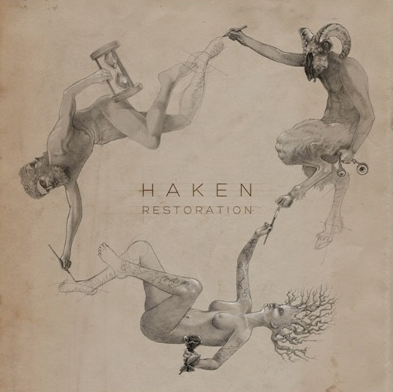 The final track is a no holds barred epic including guest 'cameo' appearances by Pete Rinaldi (Headspace) and Mike Portnoy (Transatlantic / Flying Colors).
The vinyl with CD is now available to pre-order from the following places:
Burning Shed: https://www.burningshed.com/store/InsideOutMusic/product/523/6122/
HAKEN online:
www.hakenmusic.com
www.twitter.com/Haken_Official
http://www.facebook.com/HakenOfficial