Walking With Giants is the name of the latest project from guitarist and singer, Gary Noon.  This hard rock outfit features Sevendust's Clint Lowery on guitar and Morgan Rose on drums and Brian Marshall of Alter Bridge and Creed on bass for 2016's full-length debut, Worlds Unknown.  The album features a collection of straight forward rock with arena style hooks and killer guitar riffs.  We spoke with Gary about the project.  You can get the album and find out more info at http://www.wwgiants.com/
What got you into music and when did you start playing?
I grew up surrounded by music. Home, Church, the Tape Player in the car – you name it – we listened to it. All the time. I was able to benefit from the broad spectrum of styles listened to by my parents and my 5 siblings.  Oldies, Gospel, Metal, Rock, Pop, R&B. I fell in love with Metal and began playing guitar at 17.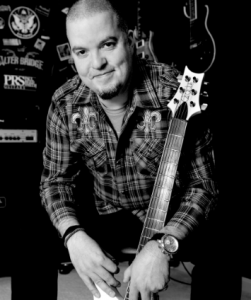 Were you always a singer or just a guitar player first?
I was a guitarist first, but didn't start singing until the mid-90's, apart from doing sing-alongs to my favorite tunes.
How did you meet Clint Lowery?
I was introduced to Clint in late 2008 through our mutual friend, Jon Wheeler.  He and I seemed to have a lot in common musically, so we kept in touch ever since.
What inspired the name Walking with Giants?
The name 'Walking With Giants' was inspired by what I was attempting to do: create music with my idols-turned-friends.\
Is there a theme behind the songs on the album?
Most tracks have a concept behind it. I share the concepts and ideas for each song on the Walking With Giants site: http://www.wwgiants.com/worlds-unknown/
Is the album like a journey, by the end, with Solid Ground, there is a resolution?
I intended the record to progress from a more pensive feel in the beginning to something very strong and positive at the end. The instrumental bookends were intended to foreshadow the melodic idea and uncertainty of Broken Truth, and then echo the melodic idea and strength of Solid Ground.
Are there any plans to tour?
Walking With Giants is primarily a studio project.  If I decide to go live, it will be with a new group of.  It would be a major thrill to play live with Clint, Brian and Morgan, but I have a lot of work to do before I'll feel confident enough to even think about attempting that.  =)
What's next for the group? More music in the works?
For now, we're going to Worlds Unknown reach whomever it may, and with a little luck, enough fans will invest their music dollar in it so I can keep making music.
What are the bands you are listening to today?
I 'm taking a break from listening to music for a while. Working on a record can consume your mind for a long time. To 'download' a bit, I'm enjoying some good audiobooks right now. When I decide to listen to music again, it'll be: Alter Bridge, Sevendust, Tremonti, Projected, Saint Asonia, Sister Hazel, Vertical Horizon, Breaking Benjamin, Splender. Stuff like that.