Show: United We Rock Tour with Styx, REO Speedwagon, Don Felder, July 2nd, 2017
Venue: Hollywood Casino Amphitheatre – St. Louis, MO in Maryland Heights, Missouri
Review and Pics by; Jon Fiala
To help celebrate the country's oldest classic rock radio station's 50th birthday, St Louis' KSHE 95 had the United We Rock tour make a stop at the Hollywood Casino Amphitheatre for their annual Pig Roast. Veteran classic rock groups Styx, REO Speedwagon, and Don Felder were at the top of their game again.
Touring in support of their latest CD, The Mission, Styx worked together as a well oiled machine. As the entry music, "The Overture" from The Mission, played, each member came up one at a time to take their position on stage. Todd Sucherman, drummer since 1995, Ricky Phillips bass since 2003, Lawrence Gowan on keyboards since 1999, and finally the dual guitar mainstays of Tommy Shaw and the Godfather of Styx, James 'JY' Young. "The Overture" seemed like it was written specifically for this grand entrance as they hit its final chord together for a dramatic extension until Todd counted in the opening song "Gone, Gone, Gone", with its Jeff Beck inspired opening lick. Lawrence led it perfectly as he bounced all around the stage and was in command of the crowd of near-capacity of 20,000 in the 90 degree weather. When the perfect harmonious blended chorus hit, one knew that they were at a Styx show.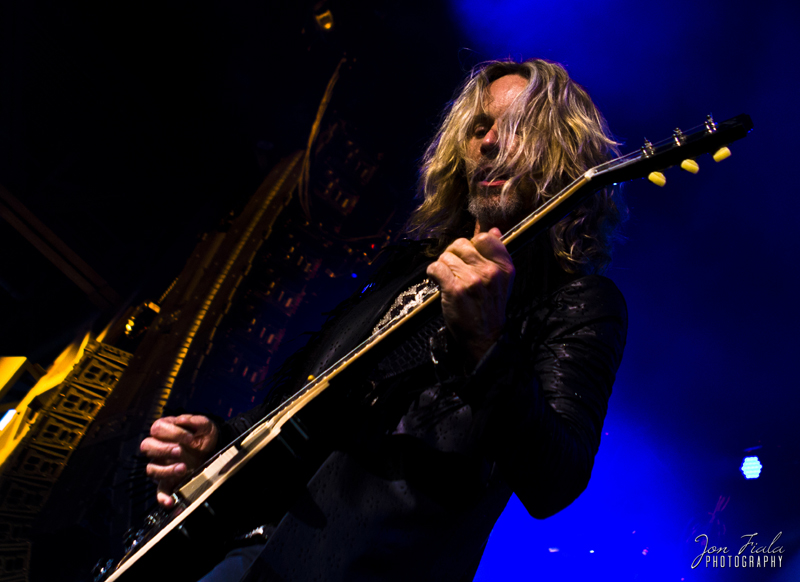 They then brought the crowd back into their classic catalog, going back to 1978's "Blue Collar Man" and celebrating the 40th anniversary this Friday of their breakthrough album The Grand Illusion by playing the title track, which included an extended key changed guitar solo. The crowd, whose average age of the crowd was seemingly above age 50, went wild as the boys began the song that jumpstarted their career, going back to 1973's "Lady." 1975's Equinox's "Light Up", with its perfect harmonies, sounded just like the album. JY took the lead vocals on it and the current cover holder of Modern Drummer magazine put his own spin on the fills that made it shine. The addition of Todd Sucherman to the band has really brought a new dynamic to the group and his own spin which he puts on the classics is very exciting to hear.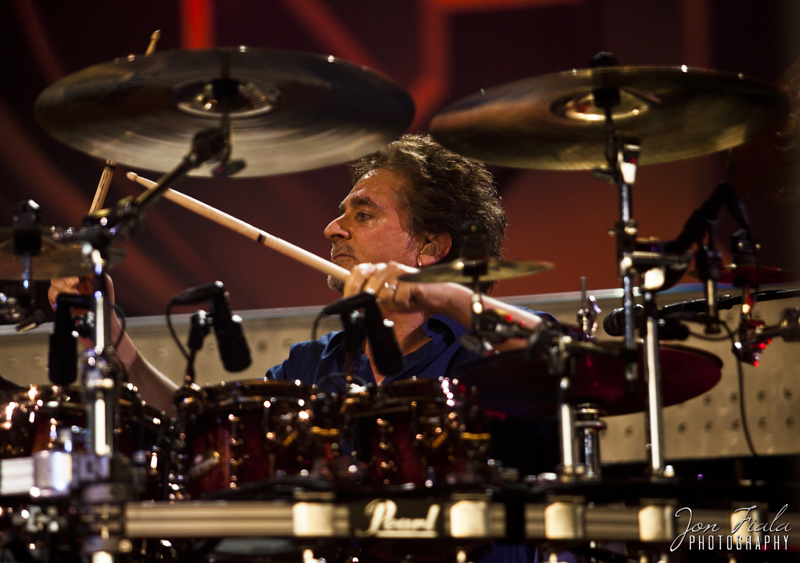 The new CD was visited again with its second release, "Radio Silence," seeming to channel its inner Man in the Wilderness. JY brought started celebrating our nation's independence a couple of days early with his classic Miss America, which never sounded better. Founding member and original bassist Chuck Panozzo was brought up for the "Foolin' Yourself" as he played his Rickenbacker while Ricky switched to a double neck guitar. Next was Tommy's "Too Much Time on My Hands" has always been a fun song to watch the band play.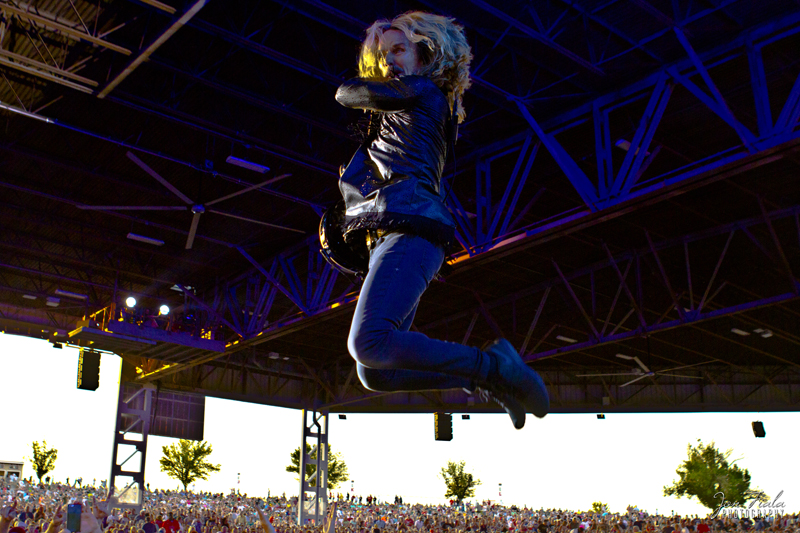 Lawrence is a very accomplished keyboardist, and he took a quick solo spot to play a short piano piece, "Khedive," from the new CD and then getting the enthusiastic crowd involved in the singing as asked them to play off of him for the operatic portion of Queen's "Bohemian Rhapsody", and then a short portion of the Beatles' "Golden Slumbers." Lawrence then began the classic intro to their most played song in concert, "Come Sail Away" as the rest of the band made their way back to the stage to conclude the show with pure raw energy, as Lawrence spun around like someone in their twenties, not sixty. Chuck rejoined for this conclusion as he and Ricky made it a double bass encounter which is always a treat. It was truly magical.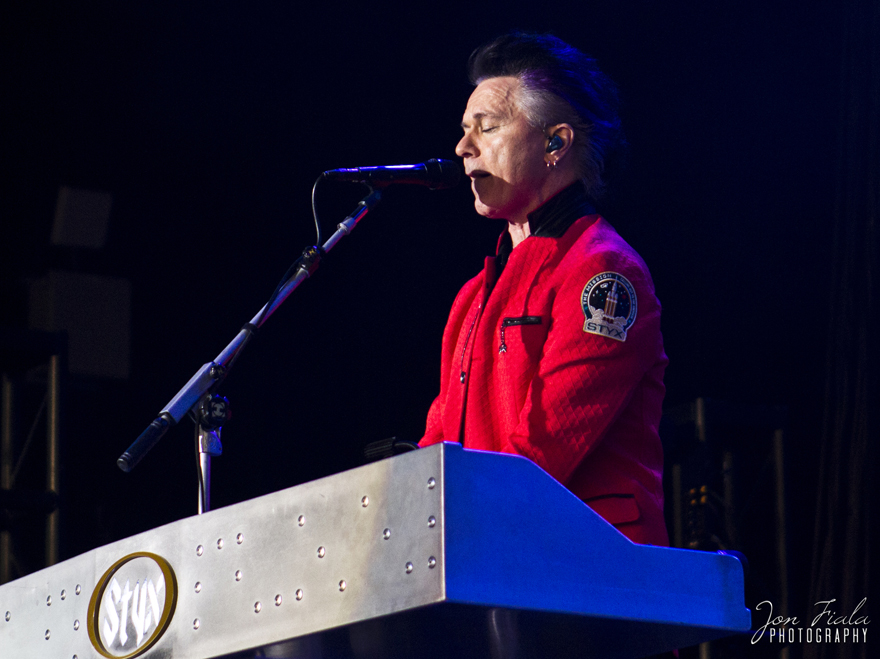 The encore saw even more energy with 1980's "Rockin' the Paradise" and Tommy's classic "Renegade" as JY threw enough guitar picks into the crowd to probably earn a silver medal behind Cheap Trick's Rick Nielsen. Todd's thumping gong drum made the a cappella middle portion sound even more powerful. The crowd was totally theirs for the entire set as they PA played the end of The Mission's Outpost, which sealed the deal for the crowd.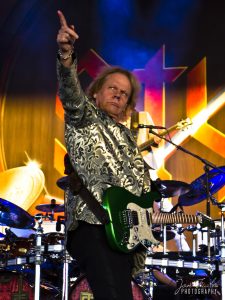 As someone that grew up in a small, rural town in Nebraska, and whose junior high years were dominated by radio and vinyl, I spent much of my spare time delving into everything that was Styx, definitely annoying all of my classmates and family. My prized possession was the poster of the band that came with the Grand Illusion album which I proudly displayed above my bed. It is incredibly comforting to know that my fondest childhood memories are even more vibrant. Even with some major lineup changes, this band is still at the top of their game and never disappointed in any way.
The evening also included a short set from the Michael Stanley Band whose first album dates back to 1969. The Eagles' Don Felder was up next. He and his band played what seemed like every non-Desperado Eagles' song and sounded just like the original. Tommy Shaw joined him on stage for Take It Easy on guitar, and switched to banjo halfway through. REO Speedwagon concluded the long evening by also playing a stellar set loaded with classic rock radio staples.