Canadian instrumental prog metal trio THE DEAD CENTURIES are premiering their track "Overdrive" exclusively on The Prog Report. The song is off their upcoming debut album "Race Against Time."
"Overdrive is a very melodic, upbeat song, with the focus being on fun singable melodies. Starting with a half tempo clean theme, the song then picks up, keeping the melody, but adding heavier rhythm and more energy. There are several guitar harmonies throughout, a staple of the album. The song also features the album's second guest, James Krul (Mandroid Echostar), again by way of a guitar solo trade off." comments guitarist Adam Tremblett.
"Race Against Time" is due out Jan 26th, 2018 and available for pre-order here:
https://thedeadcenturies.bandcamp.com/
About the band:
Visionary and highly influential writer Michael Moorcock, who worked with the bands Hawkwind and Blue Oyster Cult, memorably stated that 'it is the business of the future to be dangerous.'
Ottawa three-piece The Dead Centuries are both futuristic and dangerous…which is as it should be. Influenced by Protest The Hero, Periphery, Paul Gilbert, Sithu Aye and Intervals, The Dead Centuries can easily hold their heads up in such exalted company.
In their current form, The Dead Centuries compose and perform technically precise instrumental music, rich in virtuosity, melody, compositional skills, and most importantly…they create superb music to listen to. This isn't the sound of three musicians showing off their undoubted skills, rather they are serving their songs above all else, with every fibre of their beings, every neuron firing in their minds, every tendon in their bodies. In a sense it is as if the three musicians that make up The Dead Centuries have become one mind in their own music!
Adam Tremblett describes the sound of The Dead Centuries as "technical, melodic, energetic, heavy, precise." Indeed The Dead Centuries are so precise, they are like some kind of cosmic clock; they are always on time.
The Dead Centuries had a natural evolution into the special band they are now, originally consisting of two guitarists, a bassist, female vocalist, and drummer; as members left over time, those that remained rose to the occasion and created more technical and original music.
Adam feels the fans will love their new album "Race Against Time", they should expect ten tracks of "melodic, high energy, refreshing material."
Live, though, The Dead Centuries music evolves into different forms.
"We perform at a very high technical level, with the emphasis on accuracy, precision and energy. Live shows are light hearted and fun, a welcome change from most heavy bands. The Dead Centuries take their music very seriously…but not themselves!"
https://thedeadcenturies.bandcamp.com/
https://all-free-films.net/moneyslot/kazino-vulkan-dlinnye-nardy-na-dengi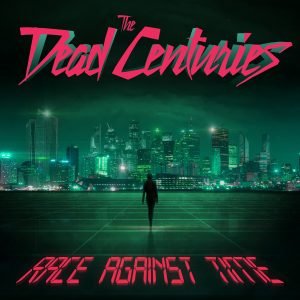 Release Date: Jan 26, 2018
Track Listing:
1. Freddy Lounds (4:07)
2. Gotham (4:18)
3. Reboot (3:33)
4.Tree Fort (5:49)
5. Blood Dragon (4:34)
6. Attack of the Mutant (3:57)
7. Venus Gospel (4:52)
8. Overdrive (4:29)
9. Attack of the Mutant Pt. II (4:40)
10. Souvenir (5:14)
Also available here:
https://itunes.apple.com/ca/album/race-against-time/1321687310
https://play.google.com/store/music/album/The_Dead_Centuries_Race_Against_Time?id=Biemkneljmnb7oktkan53jca4si&hl=en