Big Big Train are proud to announce the trailer for the release of 'Summer Shall Not Fade – Live At Loreley', a blu-ray and double CD set of the band's legendary performance at the Night Of The Prog festival on July 13th, 2018 at Loreley in Germany.
The thirteen song set runs to over two hours. It includes classic material from The Underfall Yard, English Electric, Folklore and Grimspound studio albums, and fan favourite deep cuts Kingmaker and Summer's Lease. The performance features the full Big Big Train live band, including the late David Longdon, plus a five-piece brass section and is made even more remarkable by the fact that it was only the band's eighth live show in this incarnation.
Watch the new trailer here:
Over the following years, the show has taken on an almost mythical reputation among the band's fans, aka The Passengers, as one of the best the band ever performed.
Big Big Train founder Gregory Spawton says of the show: "Loreley was a real coming of age experience for Big Big Train as a live band. The stars aligned perfectly for us. It was a truly magical night with the band performing brilliantly and a wonderfully welcoming audience as they and we enjoyed the glorious outdoor setting." Gregory's sentiments are shared by drummer Nick D'Virgilio: "I have been blessed to play some amazing shows with Tears For Fears, Cirque du Soleil, Spock's Beard and many others during my career. But the BBT show at Loreley was off the charts. It's hard to believe that this was only our eighth performance together. Every second was simply awesome."
The show features the late David Longdon on vocals and flute. Rikard Sjöblom, the band's guitarist and keyboard player, remembers David's performance well: "David was an absolute star, his vocal performance and the way he commanded the stage were both extraordinary. Loreley is an amazing record of our precious time together with him. The show is one of the highlights of my life."
The audio for Summer Shall Not Fade has been mixed in both 5.1 and stereo by Big Big Train's resident sound engineer, Rob Aubrey.
Blu-Ray & 2CD due out on October 14th, 2022
Available for Pre-Order Now:
https://burningshed.com/big-big-train_summer-shall-not-fade_2cd_blu-ray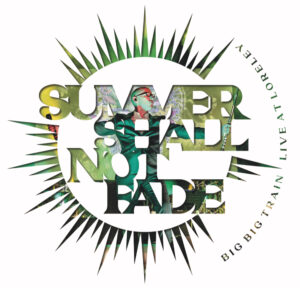 BLU-RAY (all regions)
The First Rebreather
Folklore
A Mead Hall In Winter
Kingmaker
Summer's Lease
Brave Captain
Prelude and Fugue
Judas Unrepentant
The Transit Of Venus Across The Sun
The Permanent Way
East Coast Racer
Encore
Drums and Brass
Wassail
CD1
1. The First Rebreather
2. Folklore
3. A Mead Hall In Winter
4. Kingmaker
5. Summer's Lease
6. Brave Captain
CD2
1. Prelude and Fugue
2. Judas Unrepentant
3. The Transit Of Venus Across The Sun
4. The Permanent Way
5. East Coast Racer
6. Encore
7. Drums and Brass
8. Wassail